MACKIE Spike
Hardware : XD-2 USB Audio/MIDI Interface
Software: Tracktion Software

24-bit/96kHz audio recording & MIDI production on a Mac or PC.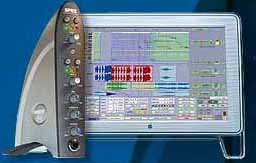 XD2 larger size


Applications: home studios, project studios, live performing & recording
Compatibility: Windows XP & Mac OS X , ASIO 2.0, WDM, and OS X Core Audio


---
euro 450

---


XD-2 USB Audio/MIDI Interface
The XD-2 is a two-channel, mic/line/instrument USB audio and MIDI interface with 24-bit, 96kHz , high quality internal effects for tracking and monitoring, and support for ASIO 2.0, WDM and OS X Core Audio.This compact interface has an onboard SHARC processor allowing low-latency monitoring and powered dynamics processinall controllable via a on-screen graphic display.
2-channel 24-bit/96k USB audio and MIDI interface for Mac or PC
2 mic/line/instrument inputs with high-headroom Mackie mic preamps
Onboard SHARC chip for full channel dynamics & EQ with intuitive computer-based control - all without a drain on the host computer
Low-latency monitoring with effects
DSP available for mixdown
Easily fits in a laptop bag with unique, "swivel foot" design



Tracktion Software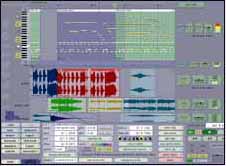 larger size

Tracktion is an intuitive audio recording and MIDI production software based around a refreshingly simple user interface.
Tracktion integrates the major features of a professional digital audio workstation into a simple working environment. And with full VST plug-in support, you can use your favorite plug-ins from other applications.
Tracktion Features
Unlimited track count (Depending on your computer's CPU)
Support for sample rates up to 192kHz
Importing and exporting of all major file types
Simple drag-and-drop audio editing
Track freezing for conserving CPU power
VST instrument and plug-in support
ReWire support for use with Reason software
MIDI programming and editing with step recording
Built-in Quicktime support
64-bit mix engine for sound quality
Built-in sampler
MIDI mapping for external controllers
MTC input/output, MIDI Clock output, and MMC send/receive
Project management features
• Full suite of "name-brand" plug-ins from IK Multimedia, Lin Plug, reFX, Bismark, Acuma Labs, Raw Materials and more


Effects
For starters, the XD-2's onboard DSP provides channel dynamics & EQ for tracking and mixdown, plus low-latency monitoring with no drain on host computer's CPU.
The bundled Tracktion software includes built-in Reverb, Chorus, Delay, EQ, Compressor, and Phaser. It also allows users to run any of thousands of VST effects plug-ins (sold separately) and comes bundled with all the Maxim Digital Audio (MDA) virtual instruments and plug-ins.
To get started, Spike also includes the Warmer Phaser plug-in by Nomad Factory: a special edition VST plug-in with all of the characteristics of a traditional analog phaser, plus panning, vibrato and tube simulation.





---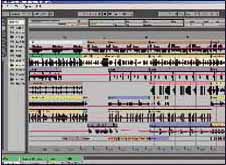 Ableton Live Mackie Software
Ableton Live Mackie is a version of the Ableton Live software application. This program acts as a real-time audio sampler and sequencer, which you can play like an instrument.
Live Mackie integrates complete multi-track recording and editing functionality into a unique user interface that lets you play your studio arrangements on stage, or record live improvisations and edit them in the studio. Live Mackie lets you manipulate the speed and pitch of any audio while its streamed from disk with flexibility and fidelity.


---



FAQ

What's the difference between Spike and the XD-2?
The XD-2 is the hardware USB audio/MIDI interface itself. Spike is the name for the entire system, which includes Tracktion and the Nomad Factory plug-in.

Can I use the XD-2 with my laptop?
Yes. The XD-2 was designed with portability in mind. Built out of die-cast aluminum and a unique swivel foot, the XD-2 can easily fit into the pocket of a typical laptop bag. All you need is a USB port.

What is Dual Mode Operation?
The XD-2 can be used in two separate modes: Rec/Play Mode and USB Mode. In Rec/Play Mode, the XD-2 acts as a standard USB audio interface with active inputs and monitoring features. In USB Mode, the XD-2 acts as a DSP resource in which the on-board channel dynamics and EQ can be used for a recording or a stereo mastering pass. For USB Mode, the user can control all the Mackie dynamics and EQ from the XD-2 Graphic User Interface, and all hardware inputs are disabled.

How much processing can the SHARC DSP chip handle?
The XD-2 DSP has enough processing headroom to power two independent channels of dynamics and EQ at 96kHz, which can be two analog recording inputs with monitoring, stereo outputs for an analog or digital two-track master, or two channels in and out all via USB. . Each channel has three separate DSP modules--a compressor/limiter, a gate/expander, and a four-band parametric EQ--all of which can be arranged in any order along the signal pathway. In addition, each input channel has a high-pass filter (HPF) that is activated or de-activated by the channel HPF buttons on the front panel of the XD-2. Each HPF can be set to the desired roll-off frequency, and a secondary Low-Pass Filter (LPF) can be either enabled or disabled from the software as well.

Can the XD-2 support 24-bit/96kHz operation?
Yes - the XD-2 implements 24 bit/96kHz recording capabilities as a standard base functionality. The XD-2 will support word length between 16 and 24 bits, as well as sampling rates of 44.1, 48, 88.2, or 96kHz.




---
---