Only six months after Mackie Designs Inc. announced they would assume all marketing, support and distribution activities for Soundscape branded products, Mackie's new Recording Market Development Team has rolled out a completely updated version of Soundscape's recorder series. At Las Vegas NAB, Mackie Designs Inc. launched the Mackie Broadcast Professional family of products with an updated Soundscape product line that includes the new Soundscape 32 Embedded Hard Disk Recorder and the I/O 896 Audio Interface module. These new Soundscape products are designed specifically for both high-end broadcast and post production facilities.

Soundscape 32
Based on the SSHDR-1 and R.Ed. digital audio workstations (DAW), the new Soundscape 32 is vailable in either 32-track or 16-track versions, providing all the tools and features common to almost any DAW, without the instability of a native (motherboard-based) record engine. Soundscape 32 has its own dedicated microprocessor board and embedded record engine. This means that audio travels straight from the I/O to hard disk&emdash;unaffected by the instability of a PC motherboard or operating system. The Soundscape 32 mackie provides digital and analog audio I/O, real-time mixing through a user defined environment, DSP-based effects, comprehensive automation package, professional synchronization support, and extensive EDL (Edit Decision List) compatibility with a variety of video editing systems. It also supports a variety of popular name brand plug-ins including Cedar Audio, Aphex Systems, Wave Mechanics, and TC Works.

I/O 896 Audio Interface
Co-developed by Mackie and Apogee, the I/O 896 is a high-quality I/O box that is the ideal partner for
the Soundscape 32.
The I/O 896 includes eight channels of AES/EBU digital I/O, eight channels of analog I/O and eight channels of ADAT' optical. In addition, the I/O 896 supports MADI (multi channel audio digital interface).

One Soundscape 32 provides thirty-two tracks of 24-bit recording at up to 96kHz sample rates, digital and analog audio I/O, real-time mixing, DSP-based effects and fade processing, clock timing and synchronization. Each Soundscape 32 has two internal IDE hard drives and two pullout drive bays for drives up to 137GB each, providing over half a Terabyte (548GB) of storage capacity. Over 1000 hours of 24-bit 48kHz audio can be recorded. An expanded Soundscape 32 system can have up to four hardware units, with 128 simultaneous audio tracks played from over two Terabytes of hard drive storage and up to 112 inputs and 128 simultaneous outputs.



Soundscape 32 Hardware Features



Two internal and two external (removable) EIDE hard drive bays

(3) T/DIF digital I/O

2-in / 4-out AES/EBU digital

(2) 24bit, 96kHz microphone inputs

(4) 24bit, 96kHz balanced line level outputs

RS-422 (Sony 9-pin) Remote Device Control

MIDI I/O for MMC and/or MTC

Ethernet support for network access thru TCP/IP

Multi-pin connector (connects to host interface PCI card)

VITC, LTC and Word Clock synch I/O

Optional Sync A/V board (video, word clock, smpte I/O)

| | |
| --- | --- |
| Analog Inputs | 2x XLR inputs,balanced +4dBu nominal with 20 dB headroom. Input level +14dBU to +24dBu,fully adjustable (internal) |
| Analog Outputs | 4 x XLR outputs,balanced +4dBu nominal with 20dB headroom.Output level +14dBu to +24dBu,fully adjustable |
| A/D Conversion | 24-bit,96kHz AKM AK5393 analog to digital converters with enhanced dual-bit delta-sigma,128x oversampling |
| D/A Conversion | 24-bit,96kHz AKM AK5393 digital to analog converters with multi-bit sigma-delta modulator with dither |
| Input S/N Ratio | Better than 100dB un-weighted,113dB A weighted |
| Input THD+N | Less than &endash;95dB@1kHz FS |
| Input Crosstalk | Better than &endash;100dB |
| Output S/N Ratio | Better than 125 dB un-weighted (data zeroed),better than 100dB unweighted active |
| Dynamic Range | 113dB A weighted at 48kHz |
| Output THD+N | Less than &endash;92dB@1kHz &endash;12dB FS |
| Output Crosstalk | Better than &endash;100dB |
| Frequency Response | 20Hz to 20kHz,&endash;0.4dB |
| Wow &Flutter | Unmeasurable |
| Power | 100/110/220V,50-60 Hz |
| Physical | 19" (483 mm) W x 2 RU x 12" (305 mm) D |
Soundscape 32 Software Features: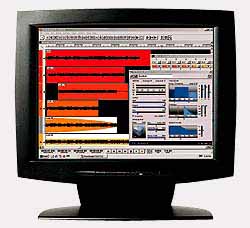 Customized Mixing - 24 bit digital mixing with configurable routing, 16 busses, user-designed channel strips, 256 virtual tracks on-screen, and "Arrange" window for utilizing pre-recorded audio takes
Surround Applications &endash; mono to stereo, LRCS, 5.1 with equal power panning modes, surround channel strips & panners, Dolby Pro-Logic plug-in
Edit Functions &endash; Copy, cut, glue, solo, trim, slip, delete, undo, real-time fades, on-the-fly editing, auto "deglitching" algorithm, sample-level zooming
Flexible Dynamics Package - Volume trim, noise gates, multiple 2-band parametric EQ, sample delay, unlimited pre/post sends & inserts
DSP &endash; Normalize, Repeat, Reverse, Time Stretch/Compress, Pitch Shift, Sample Rate Conversion
Third Party Plug-ins &endash; Compression, Gating, Limiting, Chorus, Flange, CEDAR declick, Apogee MasterTools UV22, Aphex Aural Exciter & Big Bottom Pro, Wave Mechanics Reverb, plus many more.
Automation &endash; 128 dynamic automation tracks w/unlimited layers per track for automation of any parameter, snapshot automation, touch record/update moves, auto-glide settings, and virtual automation for A/B testing
Multiple Undo/Redo - 99 levels of undo/redo, also non-destructive disk formatting with disk recovery mode. Automatic recovery from power down during recording.
Video Editor File Support &endash; Import audio from multiple edit decision lists (CMX, GVG or Sony formats), direct support for Avid OMFi, discreet edit and Lightworks/Heavyworks project file formats.






Audio File Import/Export &endash; Wave (.wav) or Broadcast Wave (.bwf), MPEG Layer 1 via QDesign ACM MPEG codec, and MPG (Layers 2 & 3) via Fraunhofer ACM MP3 Professional Codec
CD Writer &endash; Burn Red-Book compatible CDs with Point CD Audio software by PoINT Software & Systems
Cue Sheets &endash; Printable arrangements in standard cue sheet formats.
Additional Soundscape 32 software and editing features
Supports all SMPTE formats, including 29.97 and 29.97 Drop frame
9 customisable Tool Pages - can be configured for different users
Zoom in/out history (8 levels)
Mixdown tool (mono/stereo digital mix-down through mixer)
SFile Manager sorts audio/automation takes, mixers, arrange or PC files stored on the SDisk
Synchronisation: MIDI Song Position Pointer + MIDI clock or MIDI Time Code (Master/Slave)
Time axis display in SMPTE (hours, minutes, seconds & frames) or Measure (bars & beats); readout of time between locators




Takes, Arrangements, Mixers and Effects settings can be saved as separate files on the host PC or on the internal or removable SDisks, allowing material to be easily transferred to another system for dubbing or mixing
Non-destructive disk formatting, with in-built 26-session hard drive recover utility
Hard Drive defrag utility
Backup to any logical PC drive (e.g. DVDRam, CDR, Tape drive, network drives, Jaz etc.)
Batch Import/Export of MP3 and MPEG1 Layers 1&2 audio files via ACM codecs (purchased separately)
Import/Export of OMF projects for compatibility with Avid, Protools and other audio/video editing systems
Digital Video - AVI video file support with full synchronisation and scrubbing of full screen video with audio (using video capture card)
Control from a wide range of external hardware fader units, mixing consoles and machine controllers.
Move/Copy/Trim/Slip/Solo/Repeat/Delete/Cut/Glue edit functions plus Multi-Function tool
99 Levels of Undo and Redo n Reverse/Phase Invert/Compute tempo n Nudge edit mode (seconds/frames/sub-frames)
Stereo link editing tool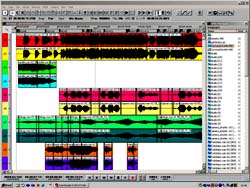 Solo and Multi-track audio scrubbing to 10x play speed
Insert Left/Right Locators "on the fly"
Non-destructive sample-resolution editing with 'glitch-less'join
999 named markers (insert 'on the fly')
Punch In/Out Recording 'on the fly' (tape machine style) or using Left/Right Locators
Loop Recording mode with stacked Takes and pre/post roll n Realtime fade In/Out (8 selectable curves)
Volume contouring
Varispeed +/-10%
Soundscape 32 EDL Software V.2
Support for Avid OMF-1 and OMF-2 files (either consolidated or with separate AIFF/WAV audio files)
Support for Discreet editand Lightworks/Heavyworks Audio Project formats
Support for A-mode CMX340/3600 (with AVID enhancements), Sony 2000/5000 and Grass Valley Group EDL formats
Support for multiple EDLs and Audio Projects in one EDL Processor project
Auto-conforming from VTR or DAT via analogue or digital inputs using RS422 machine control (Sony 9-pin protocols) Auto-conforming digitally from Tascam DA-88 tapes via the 8 channel TDIF port
Auto-conforming requires RS422 card and cable (available from Soundscape)
Manual remote transport control for those 'difficult to record' clips (eg.where there is no timecode pre-roll etc.)
Full visual feedback of autoconforming progress
Automatic recording of audio clips with discontinuous or 'time of day' timecode, even when no EDL exists - can be used for recording film "rushes"
Support for auto-conforming directly from audio files over a network
Track and source reel re-mapping (useful when the list contains mono events, but stereo clips are required, or when the source reels have been changed). Also for reversing incorrectly recorded stereo or MS tracks in realtime .Real-time recording and decoding of MS encoded audio tracks
Individual event and source reel offsets
Selectable handles and crossfades for each source reel
Every event in the EDL or Audio Project can be transferred to the Soundscape Markers, including events where only video edits occur (eg. scene change), so that there is always a fast way to locate to a video reference point
Support for multiple timecode formats changes in an EDL via 'FCN' statements, used where source reels have different timecode formats
Automatic decoding of 'Audio Mapping' and 'Patch' statements in the EDL, minimising manual editing of the list or manual intervention during auto-conforming
Auto-conforming of 'Guide' audio track at destination timecode, so that the entire guide track does not need to be recorded.
I/O 896 Audio Interface




Eight analog inputs with Apogee A/D conversion
Eight analog outputs with Apogee D/A conversion
ADAT (light pipe) Digital Optical I/O
AES/EBU inputs and outputs
T/DIF inputs and outputs
Word Clock I/O
Two RS-485
Optional MADI card bay
Optional Firewire host I/O card bay
| | |
| --- | --- |
| Analog Inputs | 8 balanced +4dBu nominal with 20 dB headroom. Input level +14dBU to +24dBu, fully adjustable, 24-bit Apogeeô A/D converters with 128x oversampling |
| Analog Outputs | 8 balanced +4dBu nominal with 20 dB headroom. Input level +14dBU to +24dBu, fully adjustable, 24-bit Apogeeô A/D converters with 128x oversampling |
| Sample Rates | 44.1, 48, 88.2, 96kHz ±10% |
| Relative THD+N | Less than &endash;116dB @ &endash;0,5 dBFS input |
| Interchannel Crosstalk | Better than &endash;120dB |
| Stopband Attenuation | 110dB |
| Dynamic Range, &endash;60dB | &endash;116dB, A-weighted |
| Sync | Word Clock, Input Reference Lock |
| Frequency Response | 20Hz to 20kHz, &endash;0.4dB |
| Power | 100/110/220V, 50-60 Hz |
| Physical | 19î (483 mm) W x 2 RU x 12î (305 mm) D |
Minimun system requirements
The minimum specifications for running Soundscape 32 are as follows:
PC (Pentium or AMD processor)
16MB RAM minimum
mouse, track ball or tablet & pen
Windows 95/98/ME, NT4/2000
SVGA colour monitor 800x600 resolution
Optional MIDI card for interfacing with sequencers or remote controllers
Optional RS-422 card or Com port converter (contact Soundscape dealers for details) for interfacing with VTRs, Tape Machines or other RS422 devices
Optional Video Capture card. Contact Soundscape dealers for a list of recommended models.
---
Mackie Designs offer a simultaneous Soundscape DAW upgrade and E-MU Ensoniq Paris DAW cross-grade program. Starting in April, and running through September 2002, this program is designed to help loyal Soundscape, as well as Paris DAW customers make the switch to the new generation Soundscape 32 DAW.
Mackie Designs will credit $2500 per Soundscape SSHDR-1 or E-MU Ensoniq Paris DAW traded in for a Soundscape 32 through an authorized Mackie Broadcast Professional distributor.
For more information local Mackie Broadcast Professional distributor.



---
---
Mackie Designs, Inc. - 16220 Wood-Red Rd. N.E.- Woodinville, WA 98072 USA - e-mail
Within the US call:1-800-258-6883 Fax:425-487-4337 - Internationally call: 425-487-4333 Fax:425-485-1152
Italy - Mackie Italy e-mail 39.0522.354.111

Argentina - Audio Ingenieria e-mail +54-341-4499242
Australia- Australian Audio Supplies e-mail 61 2 4388 4666
Austria - Music Import - Handels e-mail 43 05522 42124
Baltic States- A&T Trade e-mail 1 323-951-9114
Bosnia, Serbia - Oktava e-mail 385 1 2334324
Brazil - Royal Instrumentos Musicais e-mail 55 11 535 2003
Bulgaria - Rabat e-mail +359-32-944877
Canada - SF Marketing e-mail 514-856-1919
Caribbean - Hermes International e-mail 52 5 547 2111
Central America - Tropical Music e-mail 305-740-7454
China - Amoisonic e-mail 0592-5058123
Croatia - Oktava e-mail 385 1 2334324
Cyprus - S & V MegaSound e-mail 35 795 74397
Czech Republic - ProDance Light & Sound e-mail +420-2-806054
Denmark - New Musik e-mail +45-86-190899
Finland - Luthman e-mail46 8 640 4242
France - Mackie France e-mail 03.85.46.91.60
Germany, Netherlands - Mackie Designs e-mail 49.2572.96042.0
Greece - Diamantopoulos e-mail 30 1 382 3840
Hungary - Intermusica e-mail 36-23-338-041
Iceland -Verslunin Pfaff e-mail 354 533 2222
India - Narain Prof. Audio e-mail 91223857259
Indonesia -PT Santika Multi Jaya e-mail 6221 650 6040
Japan - Heavy Moon e-mail +81-3-5433-7080
Jordan -Technolinks e-mail 962 6 464 9751
Kenya - Unicorn Importers e-mail +254-2-745242
Latin America, Messico - Hermes International e-mail 52 5 547 2111
Luxembourg - EML e-mail 32-11-232355
Malta - Olimpus Music e-mail 356 385 166
Montenegro (Yugoslavia) - Oktava e-mail 385 1 2334324
New Zealand - Accusound Pacific NZ e-mail 64 9 8159203
Norway - Siv. Ing. Benum e-mail 47 22 13 99 00
Pakistan - New National Traders e-mail +92 42 731 2000
Philippines - Audiophile Components e-mail 632 526 5239
Poland - MUSIC INFO e-mail +48 12 267 24 80
Portugal - Daniel Ruvina e-mail 351 2 202 68 16
Romania - Stage Expert e-mail +40-1-334-99-24
Russia - A&T TRADE e-mail 7 095 796 9262
Slovak Republic - Audio Sales e-mail 421 7 654 22 249
Slovenia - Dat Con 386-63-7033300
South Africa - That Other Music Shop e-mail 27 11 403 4105
South America - Tropical Music e-mail 305 594 3909
Spain - Letusa e-mail 34 91 486 2800
Sweden - KB Luthman Scandinavia e-mail 46 8 640 4242
Switzerland - Go Wild e-mail 41 41-720-0520
Thailand - The Satellite Mastering e-mail 662 712 8062
Tunisia - Sybel Light & Sound e-mail +216 1 764404
Turkey - Dinakord e-mail 90-212-2967778
Ukraine - A & T Trade e-mail 1 323-951-9114
United Arab Emirates - Sonia Electronics e-mail +971-26-778822
United Kingdom - Mackie U.K. e-mail 44.1268.571212
Uzbekistan - A&T Trade Inc. e-mail 1 323-951-9114
Vietnam - Vistar Company e-mail 84 4 824 3058

---
---