KORG TRITON EXTREME
workstation

61 keys, 76 keys, or 88 keys (Real Weighted Hammer Action2)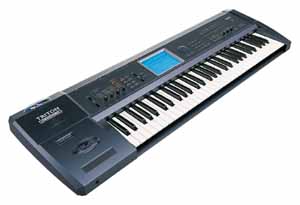 ---
Korg Triton Extreme 88-Key euro 2,900
Korg Triton Extreme 76-Key euro 2,500
Korg Triton Extreme 61-Key euro 2,260

---


TRITON Extreme is available in both 61 and 76 key synth (action models) both with variable velocity and aftertouch response. TRITON Extreme 88 is equipped with Korg premium RH2 keybed, featuring progressive graded hammer action, aftertouch, and a piano feel.

The 160 MB of wave ROM (@48kHz ) includes new samples : guitars (both acoustic and electric), woodwind and brass instruments captured with true natural vibratos, authentic choirs and an all-new concert grand piano. TRITON Extreme also includes the entire sample sets from Korg's Trance Attack, Orchestral Collection and Vintage Archives expansion boards; and from Korg's Dance Extreme, Studio Essentials and Pianos/Classic Keyboards collections; and, the complete Triton Studio sample set.
The preload data, created by top programmers, includes 1,334 Programs and 50 Drum kits, 1,280 Combinations, each composed of up to eight Programs, split, layered, zoned and velocity allocated across the keyboard. Additional banks of GM Level 2 Presets contain 256 Programs and nine Drum kits.
The Tone generators has120 notes of polyphony. Korg's Hyper Integrated synthesis engine provides audio quality and sound editing control. Each oscillator is processed through a multi-mode filter and multiple advanced envelope generators for precise sound shaping. Each of the two LFOs offers 21 waveforms, and each LFO can be synced to the arpeggiator, sequencer, or to your other MIDI gear. Plus, you can use 42 alternate modulation source (AMS) types and 51 modulation destinations. Also you can supercharge your TRITON Extreme by adding six-voices of DSP modeling (stolen from the legendary Korg Z1) with the optional MOSS (EXB-MOSS).
Dual polyphonic arpeggiators can spit out machine-gun cascades of notes, hold down a groove or generate a simple acoustic guitar picking pattern. 489 arpeggiator patterns come preloaded.
TRITON Extreme is also a 16-bit, 48kHz sampler. Korg's exclusive Open Sampling System let you resample your TRITON Extreme performances , including performances enhanced by the sequencer playback and the arpeggiators. Auto-Setup functions automatically optimize multiple parameters for a variety of sampling situations. One of the most important features of the TRITON Extreme's sampling engine is "In Track Sampling," where you can sample audio directly into the sequencer as it plays. You can add vocal lines, guitar solos and other audio performances to your sequenced songs. You can sample or resample directly to CompactFlash or Microdrive media. Resampled songs saved to media can be converted to audio and burned to CD via USB.
Expandable to 96 MB, TRITON Extreme ships with 16 MB of sample memory. Sample memory is added through a pop-open hatch on the front panel. A complete set of grid-assisted sample editing tools is provided, including time slice, loop, truncate, and time stretch functions. TRITON Extreme is compatible with .WAV, AIFF, AKAI S1000/S3000 and KORG format sample data. Advanced Conversion Load allows AKAI programs to be loaded into a new Program or multi-level Combination with the filter settings, envelope settings, and velocity switching parameters preserved for enhanced compatibility.
In addition to its TouchView display panel, TRITON Extreme provides realtime controls, including a joystick, ribbon controller and Color two assignable switches. Four realtime control knobs can switch between Valve Force parameters (Input Trim, Ultra Boost, Tube Gain, Output Level), sound editing functions (Cutoff, Resonance, EG-Intensity and Release) or any four parameters of your choice, including controlling external MIDI gear. The back panel accommodates multiple pedal types that can be assigned to a variety of functions.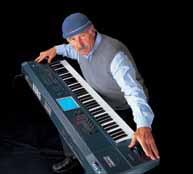 Effects
Korg's Valve Force (taken from Korg's ESX-1 and EMX-1 Electribes) has been enhanced in the TRITON Extreme. This new tube-driven Valve Force circuitry can be used as an insert effect or on the final outputs, adding . You can even sample an external sound through the Valve Force circuit to impart "tube" quality to the sound. It alsoalso incorporates an Ultra Boost element designed to punch up the low end without muddying up the sound.
In addition to Valve Force, TRITON Extreme also has five Insert effects, two stereo Master effects as well as a Master EQ effect for eight simultaneous effects. Multiple timbres can be routed to the same Insert effect, and you can chain Insert effects together to create custom multi-effects. Master effects can run side by side or in series. Effect parameters are freely editable, can be modulated in realtime and are saved with the sound. Effects can be applied to both internal and external sounds, even as a sound is being sampled. By resampling an effect laden performance you can free up effects and use them over and over.

Sequencing
Sixteen tracks, 200 songs and 200,000 notes. Step time, real time, looping and pattern based recording mode. Quantize functions tighten up your timing or add swing to a steady beat. Twenty-four Tone Adjust parameters let you edit the timbre assigned to any track without exiting the sequencer, and leave the original program untouched. Sys Ex recording allows you to automate your mix : muting tracks, soloing others, loading new effect programs during different sections, and more. TRITON Extreme also uses song "templates" to give you a head start when laying down tracks. Each template assigns timbres to each track, assigns and routes effects, and can even offer up a variety of rhythm patterns to get you going. Sixteen song templates, each tuned to a different musical style, are preset and you can also create 16 all your own, eliminating repetitive steps when you want to get your ideas down.
You can compose individual songs for the verse, chorus and bridge etc.; the Cue List function allows you to string these individual parts together. Once you have decided on the right order (and you can try a number of versions) simply convert the Cue List into a single song. With Korg's Realtime Pattern Play and Record (RPPR) function, short sequenced patterns can be assigned and played back from individual keys on the keyboard.

Back panel
In addition to the main left and right outputs, there are four assignable individual outputs to send your sound where you want it. Two audio inputs with adjustable gain and MIC/LINE level switching allow you to sample from a wide range of sources, as well as access the internal effects. Digital In and Out is provided in S/P DIF optical format. Also there are the CompactFlash media slot, MIDI connectors, and the damper/footswitch/footpedal jacks,
two USB connection ports.
By connecting a CD-R/RW drive to USB Port A, completed songs (once they have been resampled as .WAV files) can be burned to CD as audio. This connection also allows you to use external USB data storage units with the TRITON Extreme. USB Port B allows an external computer to access the media in the CompactFlash slot, allowing you to share files back and forth.



---



Sound Generation Method
HI (Hyper Integrated) synthesis system

Tone
HI synthesis system: 48kHz Sampling frequency, 160Mbyte PCM ROM, 962 multisamples plus 1171 drum samples.
Sampling: 16 bit, 48 kHz stereo/mono sampling, resampling, 16Mbytes SIMM, expandable to 96Mbytes. Maximum of 1,000 multisamples/4,000 samples. Up to 128 indices can be assigned to a multisample.
AIFF, WAVE, AKAI S1000/S3000 and KORG format sample data can be loaded.

Sound Source
60 voices (60 oscillators) / Max 120 voices (120 oscillators) single mode, 30 voices (60 oscillators) / Max 60 voices (120 oscillators) double mode

Keyboard
61 keys,76 keys, or 88 keys (Real Weighted Hammer Action2)

Effects
Stereo digital multi-effect system-2 master effects (mono in, stereo out), 5 insert effects (stereo in/out), and 1 master EQ (3 band stereo) simultaneously

Valve Force
Ultra boost circuit system + Vacuum tube: 12AU7

Number of effects
102 (insert effects/ master effects)


Programs/Combinations

1,536 user programs, 1,334 preload, (128 programs for Korg's MOSS tone generator can be added after installing the separately sold EXB-MOSS option)

1,536 user memory combinations, 1,280 preload, 144 user drum kits, 50 preload, GM Level 2- 256programs+9 (drums) ROM preset program
Sequencer Section

16 multi timbres, 16 tracks, 1/192 resolution quarter note, 150 preset/100 user patterns (per song), 200 songs, 20 cue lists, 200,000 notes maximum, reads and writes Standard MIDI File (Format 0 and 1)
RPPR (Realtime Pattern Play / Recording)

One set per song, 150 preset patterns

Arpeggiator
5 preset patterns, 507 user patterns (489 preload)


Control Inputs
Damper pedal (Responds to half-pedaling), Assignable (SWITCH, PEDAL)

Outputs
Main - L/MONO, R,
Individual - 1, 2, 3, 4,
S/P DIF (optical 24bits, 48kHz),
Headphones

Inputs
1, 2, Level Switch MIC/LINE, Level Knob, S/P DIF (optical 24bits, 48kHz)

Card Slot
Compact Flash, Microdrive (both +5V Compatibility only)

MIDI
IN, OUT, THRU

Interface
USB Type A (For external USB device), USB Type B (For PC)

Display
TouchView Graphical User Interface, 320 x 240 dots

Power Consumption: 38W

Dimensions

61 Keys: 1,108.5(W) x 359.9(D) x 117.2(H)mm /43.64"(W) x 14.17" (D) x 4.61" (H),

76 Keys=1,315.5(W) x 359.9(D) x 117.2(H) mm/51.79"(W) x 14.17" (D) x 4.61" (H),

88Keys=1,452.0(W) x 419.6(D) x 143.6(H) mm/57.17"(W) x 16.52"(D) x 5.65"(H)
Weight

61 Keys = 14.4kg/31.75lbs,
76 Keys = 37.26kg/43.21lbs,
88 Keys = 28.5kg/ 62.83lbs.

Accessories
AC cord, 2P-3P converter, CD-ROM (KORG USB-MIDI Driver for Windows XP)



---

System compatibility for connecting computer

Macintosh
-Supported OS:
Mac OS 9.0.4 or later, Mac OS X or later for using USB Storage
Mac OS X v10.2 or later for using USB MIDI
-Supported Computer:
Apple Macintosh supported systems above with USB port

Windows
-Supported OS:
Microsoft Windows 98/Me/2000/XP for using USB Storage
Microsoft Windows XP Home Edition / Professional for using USB MIDI
-Supported Computer:
PC supported Windows XP with USB port (Intel USB Host Controller recommended)
KORG USB-SCSI storage driver is necessary for Windows 98.


---

Accessories
EXB-MOSS
EXB-MOSS 6-Voice MOSS Synth Option

EXP-2
Foot Controller/Expression Pedal

DS-1H
Piano Half Damper Switch

PS-1
Single Momentary Footswitch