KORG MS 2000 B
New Enhancements to the Korg's MS Analog Modeling Synthesizer
also available MS 2000 BR (4U rack-mount version)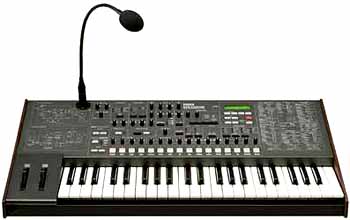 The MS2000B comes dressed up with retro-style rosewood side panels, and both units are packed with other features of the past, including a versatile 16-band vocoder, and an arpeggiator offering six types of arpeggio patterns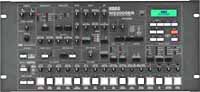 ---



Based on the MS2000 and MS2000R, these models deliver an updated sound set ranging from authentic analog synths to dance music, along with a new, sleek black metallic finish. The MS2000B Analog Modeling Synthesizer comes with a dedicated removable gooseneck style microphone, allowing the player instant access to the built-in vocoder. The rack-mount MS2000BR is designed so it can also be used as a tabletop unit.
Both instruments feature Korg's DSP-powered analog modeling system. It has been refined to produce a wide range of fat analog sounds and offer additional functionality reminiscent of Korg's VC-10 vocoder and SQ10 analog sequencer, including a three-track MOD Sequencer to create stunning tone changes. All main sound creation parameters are available on the front panel, with 35 dedicated knobs for creating and manipulating sounds in real-time. In addition, any external audio source can be processed by the MS2000B and MS2000BR filters and effects.

Oscillators
The oscillator section consists of two oscillators and a noise generator. Oscillator 1 lets you select from eight waveforms, including analog staples such as sawtooth and pulse, to selections like VoxWave and 64 DWGS (Digital Waveform Generator System) waveforms first featured on the Korg DW-8000. Modulation can be applied to each waveform for an even wider timbral selection and to create movement.
Oscillator 2 lets you select from three types of waveforms. In addition to detuning Oscillator 2 relative to Oscillator 1, you can also use it to apply sync or ring modulation to generate complex sounds. The audio input jacks allow external sound sources to be processed by the internal filters, effects, etc.
Envelope Generator and LFO
The EG (Envelope Generator) uses familiar four-stage ADSR (Attack, Decay, Sustain, Release) controls to apply time-variant changes to sound parameters.
The LFO (Low Frequency Oscillator) allows you to choose from four types of waveforms to apply cyclic changes to sound parameters, and can be synced to MIDI clock for cool rhythmic effects. Two EGs and two LFOs are provided for each timbre.
Filters
The MS2000B provides four filter types: 12dB low pass, 24dB low pass, band pass, and high pass. Resonance is provided, and can be set to self-oscillate. In addition to volume and pan controls, the amp section provides a distortion on/off setting so that even soft sounds can be transformed into aggressive solo parts.
Effects
The effect section provides up to three effects simultaneously: a modulation effect (ensemble, phaser, or chorus/flanger), a delay (stereo delay, cross delay, or L/R delay), and an equalizer, programmable for every sound.
Virtual Patch
The MS2000B provides a "Virtual Patch" function that simulates the patching capabilities of the Korg PS series and MS series synthesizers. Not only EG and LFO, but even velocity and keyboard tracking can be used as modulation sources to affect parameters such as pitch, noise level, and pan. You can create four Virtual Patches for each sound.
Step Sequencer
The three-track Mod Sequence function is a step sequencer that applies time-variant change to sound parameters in a way similar to varying the control voltage on analog synthesizers of the past. In addition to the 28 parameters on the front panel, you can also sequence changes to the pitch or step length to create your own riffs and phrases. Using the Mod Sequence to change DWGS (PCM waveforms) even allows you to simulate wave-sequencing.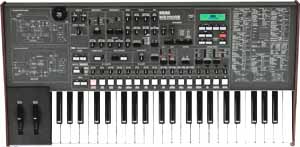 Features
-44 note velocity sensitive keyboard (MS2000B only)
-128 Programs
-Two multi-waveform oscillators and a noise generator
-70 possible waveforms, including 64 DWGS (PCM) waves that can be wave-sequenced
-MOD Sequencer, 16 steps (max) x3
-Powerful 16-band Vocoder, modeled on the classic Korg VC-10
-MIDI syncable Arpeggiator with 6 pattern types
-Effects: Modulation Effect (ensemble, phaser, or chorus/flanger),
-Delay (stereo delay, cross delay, or L/R delay), Equalizer
-16 Channel BandPass Filters (x2)
-Inputs: AUDIO IN 1, 2, Level switch LINE/MIC
-Outputs: L/MONO, R Output
-Control Inputs: Assignable Pedal, Assignable Switch


Sound Generation Method:
Analog Modeling Synthesis System-Synthesizer Program Multi Timbral = 2 (max., Split/Dual Mode) Voices = 4 voices Sound Source = 2 Oscillator + Noise Generator, EG x 2, LFO x 2, Virtual Patch x 4, MOD Sequence 16 steps (max.) x 3 -Vocoder Program Voices = 4 voices Sound Source = 1 Oscillator + Noise Generator, EG x 2, LFO x 2, 16 Channels vocoder, level and pan of each channel can be edited, Formant Shift function

Programs: 128

Effects: Modulation effects (3 types), Delay (3 types), Equalizer

Arpeggiator: 6 types

Inputs:
AUDIO IN 1, 2, Level switch LINE / MIC, [AUDIO IN 1, 2(LINE)]Input impedance = 39 k-ohms, Maximum output level = -3.5 dBu (Audio In knob maximum), [AUDIO IN 2(MIC)] Input impedance = 22 k-ohms, Maximum output level = -33 dBu (Audio In knob maximum), Input source impedance = 600 ohms

Outputs:
L/MONO, R, Output impedance = 1.1k-ohms (MONO = 550 ohms), Maximum output level = +6.5 dBu, Load impedance = 100k-ohms, Headphones, Output impedance = 10 ohms, Maximum output level = 35 mW, Load impedance = 33 ohms

Control Inputs: Assignable Pedal, Assignable Switch

MIDI:
IN, OUT, THRU o Display : 16 charactors x 2 lines with backlight

Power Supply: DC 9V (AC adapter)

Power Consumption: 8W

Dimensions:
MS2000B = 737.8(W) x 371.3(D) x 147.7(H)mm / 29.0"(W) x 14.6"(D) x 5.8"(H), MS2000R = 482.0(W) x 233.2(D) x 87.1(H)mm / 19.0"(W) x 9.2"(D) x 3.4"(H) 4U rack-mountable

Weight: 7.1kg/15.6 lbs

Accessories: AC adapter (DC 9V, 600mA)

Keyboard: 44 notes


---
MS 200 B ---> 1100,00 eur
---