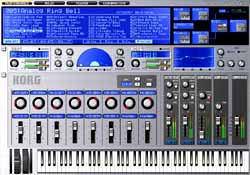 ---
KORG Electribe A mkII price: euro 505

---
---

Macintosh / Windows support for stand-alone and plug-in operation
All of these software synthesizers can be used on Macintosh/Windows in stand-alone form, and also as VST/Audio Units plug-in instruments within a compatible host application. The effects can be used as VST/Audio Units effects plug-ins within any compatible host program.
All software is optimized for the Apple G4 Velocity Engine and Intel Pentium 4 SSE2 to obtain maximum performance.


---

KORG Legacy Collection resurrects Korg's legendary synthesizers
- Software versions of Korg's classic and ever-popular MS-20, Polysix, and WAVESTATION, plus a dedicated controller for the MS-20 software.
- The MS-20 and Polysix use Korg's proprietary CMT (Component Modeling Technology) to precisely model the electronic circuitry of the original analog instruments, capturing the exact sound and parameter response of the originals.
- In addition to replicating the original sounds, the MS-20 and Polysix software synthesizers also provide a wide range of new functionality for contemporary sound creation, such as 32-voice polyphony (max), up to 16-voice unison settings, and freely assignable external modulation settings.
- Create completely new sounds using Legacy Cell, a combination structure that lets you freely combine the MS-20 and Polysix software synthesizers together with insert/master effects and use them as a single instrument.
- The WAVESTATION software synthesizer encompasses all the waveforms, effects, and sound programs of the WAVESTATION series, delivering perfect simulation of the original sound, along with compatibility with user/third-party files (in .SYX format). It features a new graphical user interface that provides a revolutionary leap in ease of operation.
- Also included is a special edition MS-20 USB-MIDI controller dedicated for use with the MS-20 software. The controller provides all the knobs, controls and patch points of the original unit at 84% of the original size, as well as providing a velocity-sensitive mini-keyboard.
- Plug-in effects are also provided , the MS-20FX lets you run audio through the MS-20's audio input and filters, and the MDE-X plug-in lets you use any of the Legacy Cell's nineteen different effects.

MS-20 software synthesizer
Since the MS-20 went on sale in 1978, this semi-modular monophonic synthesizer has enjoyed unbroken popularity for its thick and solid sound, aggressive analog filters, and inexhaustible potential for creative patching.
With two oscillators (which can be ring-modulated), high-pass/low-pass self-oscillating filters with unique distortion, and a patch section with an external signal processor that can accommodate external audio input, the MS-20 software synthesizer provides a complete simulation of its legendary original. In addition, it gives you modern advantages such as up to 32 voices of polyphony and up to 16-voice unison (with detune/spread function). Flexible external modulation settings and MIDI clock synchronization have also been added, giving you even greater creative potential.
Along with the provided Programs, a number of templates are included providing instant setups for running audio through the filter and other commonly-used functions.


MS-20 Controller Included
Also included is a USB-MIDI controller that reproduces the original MS-20 at 84% size, with the addition of a velocity-sensitive mini-keyboard. From the shape of the knobs, the way in which the LEDs blink, the panel silk-screening, right down to the color of the included patch cords, the MS-20 Controller perfectly replicates the original MS-20. Simply connect it to your computer via USB, then turn the knobs and use the patching facilities for complete realtime control of the MS-20 software.

Polysix software synthesizer
The Polysix programmable six-voice polyphonic analog synthesizer was introduced in 1981. With a surprisingly full-sounding voice structure, chorus/phase/ensemble effects and performance functions such as chord memory, arpeggiator, and unison the Polysix became a world-wide hit.
In addition to replicating the sound of the original, the Polysix software synthesizer also adds enhancements such as 32-voice polyphony (max), up to 16-voice unison (with detune/spread function), flexible external modulation settings, MIDI clock synchronization, and a function that adjusts the spaciousness of the effects.
The interface provides reorganized knobs and switches that resurrect the Polysix in a contemporary "rack-mountable" form .

Legacy Cell
MS-20, Polysix, and effects as a single software synthesizer
Legacy Cell is a "combination structure" that lets you use one of five different combinations of synthesizers (MS-20 + Polysix, 2 x MS-20, 2 x Polysix, 1 x MS-20, or 1 x Polysix) plus two insert effects and two master effects, all as a single software.
You can freely specify key and velocity layers/splits and velocity curves to switch between the combination of synthesizers. For the insert and master effects, you can choose from 19 different effect algorithms that Korg has developed and refined through its many years of technology. There's also a controller section where you can assign any synthesizer or effect parameter, giving you virtually infinite possibilities for music production and performance.
Legacy Cell provides 256 different performance programs including controller assignments. The programs include spacious pads that shift over time thanks to the advanced modulations possibilities, fat sounds that take advantage of the new Unison parameter, and phrase-type programs that combine the MS-20 and Polysix software synthesizers to play a kick, bass, and pad from a single key. Korg's sound designers have created programs that match classic Korg sounds to today's music scene.
Legacy Cell has built-in native support for the separately sold microKONTROL MIDI Studio Controller; simply connect the microKONTROL via USB and you can completely control every aspect of the software using the many sliders, encoders and pads and more.

WAVESTATION software synthesizer
The WAVESTATION synthesizer appeared in 1990 with its new "advanced vector synthesis system" which combined and shifted between multiple complex waveforms. The user could operate a joystick to "mix" or "morph" between four oscillators selected from the large onboard collection of waveforms, or create a wave sequence by placing waveforms in a specific order to create rhythmic or melodic sequence patterns, opening up a revolutionary new world of sound .
The WAVESTATION software synthesizer provides all 484 waveforms and 55 effects found on the WAVESTATION series (including the WAVESTATION-SR), with 32 digital oscillators, 32 digital filters, 64 envelope generators, and 64 LFOs that allow replication of the three-dimensional WAVESTATION sound, famed for its time-varying timbral change.
In its new software incarnation, the original editing structure has been preserved, while giving you a redesigned graphical user interface that takes advantage of the intuitive operation possible with software.
All of the WAVESTATION's factory preset programs, 550 performances, and 385 patches are included. You can also import any WAVESTATION series data that has been stored in .SYX format.

Effects
The MS-20FX lets you use the MS-20 software synthesizer as an effect processor, running audio into the filter and modulation capabilities of this synth. You can use this unique effect to apply powerful filtering to drums, vocal, or any audio source. In addition, MDE-X makes the selection of 19 different effects provided by Legacy Cell (compressor, limiter, overdrive, equalizer, talking modulator, flanger, phaser, chorus, delay, reverb, etc.) available as effects plug-ins for your production needs.


---