KORG D 12
digital recording studio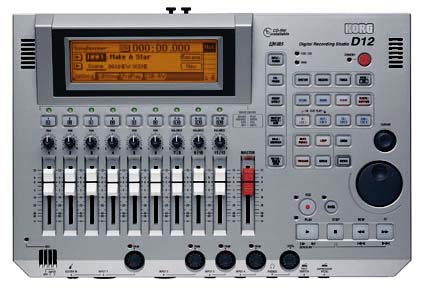 D12: recording system that features a 12-track digital recorder, 16-channel 4-bus mixer, built-in effects, PCM rhythms and hard-disk. Designed for the songwriter or home-recordist.

The D12's recording section provides uncompressed recording at either 16 or 24-bit, 44.1 kHz resolution. Four tracks can be recorded simultaneously, with 12 track playback in 16-bit mode and six track playback in 24-bit mode. The D12 can record up to 100 songs, plus each of its 12 tracks has eight virtual tracks, for a total of 9,600 tracks.

Track editing includes cut, copy and paste operations, normalize, time compression/expansion, fade, reverse and up to 99 levels of Undo. A unique 12-to-2 bounce-down merges track data, to increase the number of tracks that can be recorded. Tracks or whole songs can also be optimized, to prevent fragmentation of the recording drive.

The D12 includes a 6 GB hard drive (providing 19.5 track hours of recording), and a SCSI connector for adding fixed or removable media drives (to provide extended recording time), as well as for exporting track data as WAV files. A special bay allows an optional, internal CDR/W drive (CDRW1) to be added for backing up/restoring data, burning final audio CDs, or importing WAV files. The user then has a completely self-contained system that goes from recording, to editing, to final mastering.

The D12 features a 16-input, 4-bus digital mixer. Each channel has a 3-band EQ with sweepable mid frequencies. Four balanced inputs include two with combination XLR-1/4" connectors, and a dedicated guitar input eliminates the need for an external DI box. The system includes 20-bit, 64x oversampling A/D converters and 20-bit, 128x oversampling D/A converters for high quality sound. In addition, a 24-bit S/PDIF optical I/O is included (with sampling frequency converter) for digital connectivity. Both Master and Monitor outputs are provided, as well as the ability to create a separate monitor mix. An Aux Send allows tracks to be routed to external signal processors if desired.

The D12's effects section allows up to eight insert effects, two master effects and one final effect to be used simultaneously. The effects section includes Korg's REMS effects modeling technology, featuring microphone, amplifier, cabinet and vintage effects modeling algorithms. 128 presets and 128 user program locations are provided for insert effects, with 32 preset and 32 user program locations provided for both master and final effects. The 106 different effects that are provided can be linked into multi effect chains of up to five effects each. An expression pedal input is also included, allowing for realtime control of effects parameters.

Scene Memory allows the user to store Fader, Pan, EQ, Aux Send, FX level and FX program settings at different locations within a Song to perfect the mix. One hundred Scenes can be created per Song. Fader, Pan and FX send changes can also be automated via MIDI Control Change messages in conjunction with an external MIDI sequencer for completely automated mixing control.

Other features include a graphic display, a metronome (with 215 PCM-based drum rhythms), a built-in auto-chromatic tuner with microphone, and compatibility with Korg D8 and D16 song data.



Uncompressed recording and playback
On the D12 Korg's PASE (Pure Audio Sound Engine) provides uncompressed 24 bit, 44.1 kHz high-quality recording.

12-track recorder section with virtual tracks
For each of its twelve tracks the D12 provides eight virtual tracks, so you can use up to 96 tracks (12 x 8 virtual tracks) for each song. These tracks can be used in any way you choose, to try multiple passes at a guitar solo, to capture a variety of vocal performances, etc. Then you can select or assemble your 'take' from these many tracks. By specifying a virtual track as the recording destination when bounce-recording, you can also combine the data of all tracks into two tracks without losing any data. You can even create different mixes and select the best one.

Non-destructive, sophisticated editing
Since this recorder is fully digital, operations such as copying, pasting, or erasing phrases are as easy. The Undo and Redo functions give you up to 99 levels of undo so it's easy to compare edits and arranging ideas. Plus, you can choose 1, 8 or 99 levels of Undo to make the most efficient use of your hard disk space. You can also set Locate points (four per song) and Mark points (100 per song, with names), which makes accessing song locations for playback or editing fast and simple. The Time Expansion/Compression function makes it possible for phrases of differing tempo to be matched after they have already been recorded, or to make a phrase fit into a specific time. Also included Normalize and Fade commands.

Create CDs without external equipment
The D12 features a slim-line CD-R/RW bay that makes it possible to write digital audio directly to a CD. The optional CDRW-1X8 (sold separately) can be used to backup/restore data, to create audio CDs, to playback and record directly from an audio CD.

6 GB of built-in hard disk space
The included 6 gigabyte hard disk yields up to 18 hours of recording time (at 16 bit recording/playback, 1 track).
(The D12 allows 4 track simultaneous recording / 12 track simultaneous playback for 16 bit recording/playback, or 4 track simultaneous recording / 6 track simultaneous playback for 24 bit recording/playback.)

Digital mixer section
The D12 features a 16 channel, 4 bus digital mixer with 9 faders, which let you make precise level adjustments. A variety of audio sources can be connected directly, ranging from mic level to a +16 dBu level. All analog inputs use balanced preamps. The D12 provides two XLR jacks with mic preamps. All phone type inputs are balanced TRS jacks and a dedicated guitar input jack is also provided.

EQ
Each analog input and mixer channel has its own high and low shelving EQ, plus adjustable-frequency mid EQ. Because the D12 has separate EQs for the inputs and the mixer, so the EQ settings for recording remain distinct from those set for playback.

Mix Automation
Mixer settings such as fader, EQ, pan, and effects can be stored in a scene, and up to 100 scenes can be stored for each song. Scenes can be recalled automatically as the playback time progresses for detailed mixing, or you can manually select them whenever desired ..
D12 mixer data, such as fade and pan, can be transmitted and received via MIDI. This makes it possible to perform mixer automation from an external sequencer, keyboard or computer.

Effect section
The effects section of the D12 consists of multiple effects units: up to eight insert effects that can be used with either mono or stereo inputs and outputs, two types of master effects driven by sends from each channel, and a final effect applied to the master out.
Many of these effects feature Korg's exclusive REMS (Resonance structure and Electronic circuit Modeling System) technology. These effects include numerous replications of classic guitar amps, and accurate simulations of the characteristics of well known recording microphones.
Each effect program is created using one of 98 different algorithms, and the D12 delivers a total of 192 preset programs (128 insert, 32 master, 32 final). Effects programs that you create by editing these presets can be stored in the 192 user program areas.


Synchronization and digital I/O to support a variety of systems
The D12 lets you input numerical tempo values to create a custom Tempo Map, or use Tap Tempo or MIDI Clock to record the tempo. MTC (MIDI Time Code) can also be received for synchronization, and MMC (MIDI Machine Control) can be transmitted to control external MMC devices, letting you synchronize a pair of D12s to create a 24 track system. Using a MIDI patch bay, you can connect three or more units.
For increased connectivity, the D12 provides 24-bit optical S/PDIF digital IN/OUT, a SCSI connector, and AUX OUT jacks. The S/PDIF digital input has a built-in sampling rate converter, and can automatically convert and record 48 kHz or 32 kHz sources. Audio from an external digital source such as CD or MD can be recorded digitally, and a song you create can be sent directly to a DAT or MD recorder via digital output for mixdown. The SCSI port can be used to connect various types of fixed and removable media to record, playback, and back up your data.

Feature packed extras
Auto chromatic tuner: in addition to tuning a guitar or bass, you can check the tuning of a playback track.'
High-quality rhythms: along with 96 different metronome sounds, the D12 contains a PCM drum machine with 215 rhythm patterns. You can record along with these rhythms, or record them onto a track too.


---
SPECIFICATIONS

Recorder Section:


Tracks:

96 tracks (including virtual tracks),
12 tracks simultaneous playback,
4 tracks simultaneous recording @16bits,
6 tracks simultaneous playback,
4 tracks simultaneous recording @24bits



Recording Format:

24bit/16bit uncompressed, 44.1kHz



Recording Time:

16 bit recording 19.5 hours maximum/24bit recording 9.8 hours maximum (one track, when 6 Gbyte hard disk is used)


Maximum Storage Capacity:

Internal + External 1,000 Gbytes x 7 drives


Songs:

100 per drive



Locate Points:

4 per song



Mark Points:

100 per song (marks can be named)



Metronome/Rhythm Patterns:

96/215 patterns


Synchronization:

MTC transmission / reception, MIDI Clock transmission, MMC transmission / reception, Tempo map (200 points per song), Sync track (1 track per song), Tempo rec


MIDI functionality:

Mixer control, effect control, MIDI In/Out


CD-R/RW Functionality:

Create audio CD, backup/restore, import WAV file (ISO 9660)


SCSI Functionality:

Recording/playback/copy song (playable), create audio CD, backup/restore, import (FAT 16, ISO 9660)/export (FAT 16) WAV file


Track Editing:

Copy, insert, erase, delete, swap, reverse, time expansion/compression, fade, normalize, optimize (tracks can be copied between songs)


Song editing:

Copy, move, delete, rename, protect


Counter/Locator Format:

Min / Sec / mSec, Meas / Beat / Tick, Min / Sec / Frame (30 NDF only)



Mixer Section:


Signal Processing:

32 bit 44.1kHz


Structure:

16 channel input, 4 bus, 1 AUX, 1 MASTER


EQ:

High (f:10kHz G: ±15dB),
MID (f:100Hz - 20kHz G: ±15dB),
LOW(f:100Hz G: ±15dB)


Scene Memory:

100 per song


Multi-Effect Section:

Structure:
Insert x 8 (max.),
Master send x 2,
Final x 1

Signal Processing:
44 bit 44.1kHz



Programs:

Insert (128 preset, 128 user),
Master (32 preset, 32 user),
Final (32 preset, 32 user)



General:


Display:

240 x 64 pixel, LCD with backlight


Power Supply:

AC9V 3A AC/AC power supply


Power Consumption:

19W (AC 9V 2.2A max., D12 alone),
23W (AC 9V 2.6A max, with CDRW-1 installed)


Dimensions:

14.06"(W) x 9.65"(D) x 3.19"(H)
357(W) x 245(D) x 81(H)mm
(including protrusions)


Weight:

4.4 lbs. / 2.0 kg (main unit only),
5.3 lbs. / 2.4 kg (with CDRW-1 installed)



Audio Specifications:


Frequency Response:

10Hz - 20kHz ±1dB @+4dBu, 10k-ohm load


S/N:

95dB (Typical) @IHF-A


Dynamic Range:

95dB (Typical) @IHF-A


THD+N:

0.02%, 20Hz - 20kHz @+16dBu, 10k-ohm load


A/D Conversion:

20 bit, 64 times oversampling


D/A Conversion:

20 bit, 128 times oversampling


Sampling Frequency:

44.1kHz



Inputs 1 and 2:


Connectors:

XLR-3-31 type, 1/4î TRS phone jack (balanced)


Input Impedance:

10k-ohm


Nominal Level:

-60dBu @TRIM=max., +4dBu @TRIM=min.


Maximum Level:

-48dBu @TRIM=max., +16dBu @TRIM=min.


Source Impedance:

600ohm



Inputs 3 and 4:


Connectors:

1/4"TRS phone jack (balanced)


Input Impedance:

10k-ohm


Nominal Level:

-60dBu @TRIM=max., +4dBu @TRIM=min.


Maximum Level:

-48dBu @TRIM=max., +16dBu @TRIM=min.


Source Impedance:

600ohm



Guitar Input:


Connector:

1/4" phone jack (unbalanced)


Input Impedance:

1M-ohm


Nominal Level:

-60dBu @TRIM=max., +4dBu @TRIM=min.


Maximum Level:

-48dBu @TRIM=max., +16dBu @TRIM=min.


Source Impedance:

600ohm



Master Output L/R:


Connector:

RCA phono jack


Output Impedance:

150ohm


Nominal Level:

-10dBu


Maximum Level:

+2dBu


Load Impedance:

10k-ohm or greater



Monitor Output L/R:


Connector:

RCA phono jack


Output Impedance:

150ohm or more


Nominal Level:

-10dBu


Maximum Level:

+2dBu


Load Impedance:

10k-ohm or more



Aux Output:


Connector:

1/4"phone jack (unbalanced)


Output Impedance:

150ohm


Nominal Level:

-10dBu


Maximum Level:

+2dBu


Load Impedance:

10k-ohm or more



Headphone Output:


Connector:

1/4" stereo phone jack


Output Impedance:

100ohm


Maximum Level:

50mW @32ohm



S/P DIF Input/Output:


Connector:

Optical


Format:

24 bit S/P DIF (IEC60958, EIAJ CP-1201)



SCSI:


Connector:

D-sub half pitch 50 pin


Format:

SCSI-2 compatible



External Pedals:


Footswitch:

1/4" phone jack (PS-1 sold separately)


Expression Pedal:

1/4"stereo phone jack (XVP-10 or EXP-2, sold separately)



Accessories:


AC/AC power supply

---
---
---
---
---
Korg Italy: Syncro, E-mail tel.(+39) 0717391914
Korg Australia: MUSIC LINK E-mail tel.61-3-97656565
Korg Austria, Germany: MUSIK-MEYER E-mail -Tel 49-6421-9890
Korg Belgium, The Netherlands: VOERMAN AMERSFOORT E-mail Tel.31-33-4612908
Korg Brazil: PRIDE MUSIC E-mail Tel.55-11-6975-2711
Korg China: TOM LEE MUSIC E-mail Tel.852-2737-7688
Korg France: GAFFAREL MUSIQUE E-mail Tel. 33-1-34483838
Korg Hungary: ATEC HUNGARY E-mail Tel. 36-27-342-595
Korg India: AUDIO PLUS E-mail Tel. 62-21-6125368
Korg Russia: A&T TRADE E-mail Tel. 7-095-796-9262
Korg Spain: LETUSA E-mail Tel. 34-91-486-28-00
Korg UK E-mail Tel. 44-1908-857100
Korg Usa E-mail Tel. 1-516-333-9100
Korg Ukraine: A&T TRADE E-mail Tel. 7-095-956-1105