IceAudio Audio Finder for Mac OS X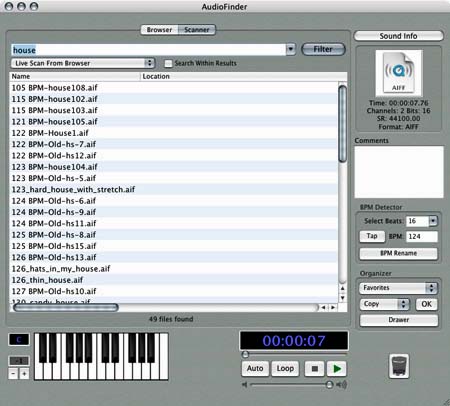 Currently AudioFinder supports AIFC, AIFF, WAV, SDII, MP3, and some REX audio-file formats.




If you're a digital musician wih hordes of sound sample files scattered all over your hard drive, this handy app will help you locate and audition them to find the ones you want to use in a project. It works like an audio file browser, culling through your hard disk to find sound files (AIFF, AIFC, SDII, REX, and WAV formats supported), and then allowing you to play each file from within its easy-to-use interface. From there, you can flag all the desired files in the favorites directory and then simply import them from the directory to your audio sequencer of choice. It also has a BPM feature that will either guess the beats-per-minute in a drum loop or song sample for you, or let you tap out the beats of the rhythm on its BPM Tap Pad to manually determine the tempo.

Sample Extractor
While some professional sample CDs come in WAV or AIFF format the bulk are in Audio CD format, with each track containing multiple samples. In order to use the individual samples from Audio CD traditionally one would have to import the track and then open it in an audio editor application and manually find each sample section, cut it out and make a new file. AudioFinder's Sample Extractor automates the sample cutting and editing process so that sounds with multiple samples can be sliced into individual files almost instantly.






Audio file with 6 samples




---


Features
-Sample Extractor
-Instant Sound Preview
-Instant Pitch Control With Mini-Keyboard
-Loop BPM Detection With Auto-rename
-BPM Tap Pad
-Fast Sound Scanning
-Advanced Sound Searching System
-Generate detailed reports for importing into spreadsheets and databases
-Power File Renaming
-Bookmarks and Navigation Tools
-Tools Menu For Helper Applications
-Favorites Directory
-Autopilot Play with Shuffle Mode
-Play standard MIDI files through the build in DLS synth
-Support Sysex Transmition to manage MIDI Sysex data
-AudioFinder supports the AAC, MP3, AIFF, AIFC, WAV, SD2, REX-1, MIDI and SYX formats, the primary formats for all professional music software.



---

download AudioFinder demo-Version 2.9
Requires: Stuffit Expander 8.0
(After using AudioFinder several times some features will be disabled unless authorized)



---
---
Price: 40 Euro

---
---
---
contact
---
---
---