Gibson Digital guitar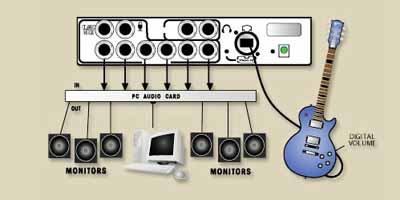 Classic Mode Output

The Gibson Digital Guitar is a 100% stage-shaking, lighter-flicking, chick-screaming Les Paul guitar. Through its "Classic Mode" output section, it delivers the pure tone, feel and power you expect from a fine Gibson instrument.
Through the "Classic Mode" output the guitarist can obtain the same sound the Les Paul is renowned for. Even without the power of its new digital possibilities, this guitar provides a user/interface of known and appreciated quality.

Classic Mode engages the humbucking pickups only and also activates the traditional Tone and Volume controls for each individual pickup. The Digital Guitar offers two ways to access the Classic Mode Output: directly from the guitar Jackplate or from BoB.





From Jackplate: The standard quarter-inch guitar jack on the jackplate bypasses all digital electronics and operates as a conventional, completely analog electric guitar. Use a standard guitar cord and plug directly into a processor or amplifier.

From BoB: The signal to BoB's Classic Mode jack starts out as analog from the humbucking pickups, gets converted to digital inside the guitar in order to send it through the Cat-5 cable as data packets, and then is converted back to analog inside BoB. Use a standard guitar cord to connect from BoB to a processor or amplifier. Connecting through BoB using a Cat-5 cable allows your guitar signal to be sent over 100 meters without the interference, signal degradation and other tonal drawbacks of a standard guitar cord.

How it works

The Gibson Digital Guitar is a genuine Gibson Les Paul, with all of the features and capabilities of a traditional Les Paul, with digital technology.
The Hex Pickup captures a separate signal for each individual string and sends it to the Onboard digital converter which uses Gibson's patented MaGIC digital transport technology to send the signal out of the guitar via the Cat-5 Ethernet Cable. The cable is capable of carrying the signal 100 meters with no latency issues or loss of quality (thanks to MaGIC technology). The cable is plugged into the Breakout Box (BoB), which converts the digital information back to analog and outputs it in Sum, Stereo or Hex configuration. In order to minimize noise, all input jacks and output jacks on BoB are balanced.

Six Strings of Separation
The Gibson Digital Guitar system delivers signal processing on a string-by-string basis, providing increased quality and flexibility. This provides control with the ability to adjust volume, pan and equalization of each string individually. You could use six guitar amplifiers, one for every string or record all six strings individually into a computer or send the six-string digital signal to a compatible guitar processor.

HEX output, each string with its own ouput.
This connection requires six separate analog audio inputs such as six amps or a PC audio card with six inputs. Plug each analog input into one of BoB's from guitar output jacks.

The guitarist can have a heavy metal sound on the low strings, medium distortion on the middle strings and a clean sound on the high strings. Through advanced Gibson technology, each string's signal is isolated, converted from analog to digital and routed individually, giving the player a myriad of live performance and recording options.

Other features
-Classic Mode delivers traditional sound from the humbucking pickups only.
-Headphone with volume control lets you listen to a monitor mix or any other incoming audio signal.
-Audio out adds a microphone or any other audio signal to the digital mix.



Enhanced Live Performance
Our BreakOut Box (BoB) sends your signal out to 2, 3 or even 6 standard guitar amplifiers. Through its input recognition feature, BoB automatically detects which outputs you're using, counts them up and routes your signals accordingly. Imagine sending your bottom 3 strings into a high gain half stack and your top 3 strings to a clean, jazzy combo in 3X2 stereo separation. Now move effortlessly between rhythm and leads without a single step or button to worry about. With new opportunities for spatial placement, the digital guitar allows you to run each string to its own amplifier and amaze your audience as each string signal moves across the stage in complete sonic freedom.



Limitless Post-Production/Recording Capabilities
The Gibson Digital Guitar gives the ability to record each string separately, which then allows you to manipulate the sound of each string without having to re-record. So imagine sending each string on your guitar to its own input on a hard disk recording system. Now, add signal processing from your favorite Plug In to each string individually. How about dropping the E to a D to fatten up a verse, without having to tune down and record again?