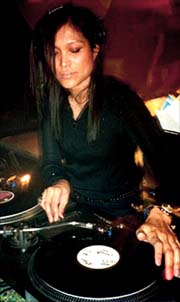 April , 2004
"Palazzo vol. 2" - CD
mixed by San Gayle
Release April 5, 2004



---




Gayle Sans career already began in the late 80s in her hometown Sinapore. She started as a warmup DJ for Bands such as "Kool and the Gang" "Earth Wind and Fire" and the "Commodores"
Leaving her native Singapore some in the early 90s, nobody expected such a massive success for Gayle in the music business. Gayle's first steps into the London clubs were via DJing at record company parties, various one-off guest spots and fashion shows. These slots soon led to Gayle being made resident at 'Reach for the Sky' at London's Limelight club, where she played alongside global DJs which Gayle describes as "the steepest learning curve possible".
Having honed her DJing skills and broadened her
understanding of music, Gayle began to experiment with the harder side of dance music, particularly the lesser known techno sounds coming into Britain from Europe and the US.
Her chance to pioneer this music in England came when Gayle became resident at Universe's Final Frontier club, at Club U.K. in south London, which then moved on to become Universe Voyager at their new club, the Complex in north London. Widely regarded as one of the best club nights in the world, it was not long before Gayle had amassed a following of techno pilgrims who would make journeys from as far as Edinburgh to hear her play.
Gayle's reputation spread like wildfire over the techno centres of Europe, most notably a residency once a month at the Omen club in Frankfurt, the socalled 'Mecca of techno'. Other European and American dates have included some of the most underground clubs in the world, like Bionic in Detroit, Pure Pleasure parties in Chicago, Soma in Montreal, Twilo in New York, Zouk Club in Singapore, Florida 135 in Spain, Fuse Club in Belgium and many more all over Europe and the U.S.A.
In 2000 she was voted number 6. of the most popular international DJs in Germany. Regaring the massive competition of the worlds DJs it was the honour of her hard work in the last years.
DJing has naturally led to various studio work. Gayle has developed a sound that takes the beats of the underground, funky/hard/groove techno sound mixed with her very own style.
She has recorded tracks under the name Transmakus namely Universe Anthem and Violator which have been included on the Tribal Gathering 94 and 95 albums respectively.
Gayle has also recorded a single 'Way of the Dragon' for Rainforest Records, mixed a live set for the official Tribal Gathering 96 album. On her own label Equator she released some solo Eps and collaboration Eps with Mark Williams.
In 1998 she mixed the CD from the Fine Audio Mix CD series. The success of this CD overwhelmed everyone who was involved in this project. The CD was sold out in just two months.
In 1999 she released a new EP on Touch Tone. Again this release was sold out in a recordtime. In february 2000 she released her Brickliners EP on Fine Audio Rec. The first pressing was in a limited edition on white vinyl and after the sellout of this, the next pressing came in black and was sold out before the actual releasedate already.
In the beginning of 2000 she released her second Mix CD called 'Gayle San at the wheels of steel' on the new label Galvanic. For that release Gayle went on a big Worldtour bringing her into more then 30 clubs in just three months. The tour went from the USA to Europe (Germany, Hungary, Czech Rep., Belgium, Netherlands, France) to Asia. This CD was votet the best Mix CD of the releasemonth in many magazines.
Also in the year 2000 she started a new collaboration with Jam el Mar (Jam and Spoon, Dance 2 Trance). This collaboration runs under the name Jamsan. The first release was released on the label Cry Baby and was highly rated in many magazines and recordshop salescharts.
In March 2000 she released her Backbone ep on Black Nation from Kalamazzo, USA and in April her The Lab ep on Primate UK.
And she mixed the Titan Edition Techno on the austrian Label XXX and did the official Compilation of the famous german rave Time Warp
In Summer 2001 she relaunched her own label Equator. The first release from the new series is a cooperation with Jay Denham and releases from Flatner Ingram, Justin Berkovi, Bryan Zentz, Cristian Varela, Keita Shinohara and many more will follow. Gayles idea is to give also lesser known producers from all over the world a platform to release their productions.




---


San Gayle
Discography
---
2004 - Masters of disaster "Palazzo Mix CD vol.2"
2003 - Real Sessions "Uncontrol Passion"
2003 - Audio 38 " Mind your own bsiness EP"
2003 - Donkeyhead 04 - various artists
2002 - Funk Ultimatum - Master of disaster
2002 - Various artsits - Pornography Rec.
2002 - Various artsits - Real vinyl UK
2002 - Merlion EP - Equator 07
2002 - Huomourless EP - Sok 27
2002-DJ Mix Series 7 (Fine Audio Recording)
2001 - rmx of Si Beggs welcome to the disco , Compressed
2001 - Contact EP, Equator 004 UK
2001 - Time Warp Mix Compilation, SUb Raum
2001-More Favorite Tools Vol.1 , Mixed By San Gayle
1998-Secretion (Vinyl Maxi Single)
2000-Gayle San at the Wheels (Galvanic)
2000-Backbone (Ep) (Black Nation -usa)
2000-The Lab (Ep) (Primate - UK)
2000-Titan Edition Techno (mixed by Gayle) ) (xxx -Austria))
1999-Poison (Vinyl Maxi-Single) , Gayle San & Mark Williams
1999-Conflict EP





---
---
---

San Gayle: "I started out playing Chicago and Italian house,and as my music music got harder ,I still didn´t have a real direction,until I started playing/listening to dj like Jeff Mills,who was my mentor at the time and still am. "


---

San Gayle (on her own label Equator) : "... I wanted to produce stuff that I felt like producing and putting out without anyone telling me its not the rights sound etc...also to put out records from newcomer djs/artists who have talents and producing good stuff but being overlooked because they are unknown "


---
---


DJing 2004

April 2004
03.04.2004 Ypsilon, Idar Oberstein (Germany) CD Releaseparty
09.04.2004 Waterfront, Rotterdam (Netherlands)
11.04.2004 Tronic, Kortrijk (Belgium)
16.04.2004 U60311, Frankfurt (Germany)
17.04.2004 Parkhaus, Kenzingen (Germany)
23.04.2004 Paradogs, Prague (Czech Repl.)
24.04.2004 Cube, Munich (Germany)
30.04.2004 we want more of diz, Erfurt (Germany)
May 2004
01.05.2004 Groove Club, Madrid (Spain)
15.05. 2004 Cazin, Linz (Austria)
19.05.2004 Union Hallen, Frankfurt (Germany)
22.05.2004 Phonodrome, Hamburg (Germany)
28.05.2004 Highlander, Sarospatak (Hungary)
29.05.2004 Palace Dance Club, Siofok (Hungary)
30.05.2004 Sing Sing, Szeged (Hungary)



booking
Guteramstrasse 2-Halle 3
69115 Heidelberg
Germany
Tel (D) +49) 6221 9140660
Fax 6221 9140667
Mobile 172 6244607
e-mail




---
---