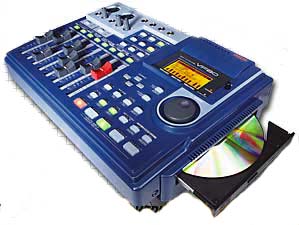 DIGITAL RECORDING
Full digital 8-track multitrack recorder
Optional internal CD-R/RW drive for mastering & back-up
8 recording tracks plus 16 additional ghost tracks for multiple takes. 24 recording tracks in total
No compression recording to internal, user upgradable, 3.5" E-IDE hard disc
Up to 7.8 hours of 8 track recording on 20GB hard disc
WAV file support (via CD)
DIGITAL MIXING
New A.S.P.+ digital channel effects. 44 effect types including stunning amp simulations & distortion
Mastering Mode (using tracks 7 & 8) with EQ, compressor and effects
10 preset Mastering Libraries: Flat, Wet Mix, Light Mix, Live Mix, Pop Mix, Dance, Hard, 70's, Hall and Lo-Fi modes
2 x inputs with phantom powered balanced XLRs and unbalanced 6mm jacks. Trim controls, on/off switches and peak LED indicators
Stereo Out
7 x track faders and 1 x Master fader (stereo buss) - all 60mm
Full MTC/MMC compliance, MIDI clock & song position pointer
2-band EQ on channels 1-6 (shelving type) plus 36 EQ presets
99 mix scene memory per program with title edits
Non-destructive, non linear Copy/Move-Paste / Erase audio editing
Jog wheel audio scrubbing with wave-form display
Clipboard data available to be pasted to the same, another, or multiple tracks and automatically repeated up to 99 times.
S/P DIF digital I/O
UN-COMPRESSED AUDIO
VF80 allows you to record and playback full un-compressed linear 16bit / 44.1kHz quality digital audio.
And, although it might be called an 8-track recorder, you've actually got 24, as an additional 16 ghost tracks are provided, boosting flexibility.
You can record different versions of vocals, drum grooves, guitar parts, etc., then choose which of the 8 tracks you wish to reproduce and mix.
VF80 has a completely digital mixer packed with EQ and digital effects (reverb, panning, hall, reverb, chorus, flange, pitch shift).
New for VF80 is an enhanced A.S.P. +digital effects engine.
Plus, now amp simulation includes as standard.
TRAINING MODE
The VF80 also includes a unique Training Mode. This handy feature allows you to practice while playing back only tracks 7/8 with the 'centre cancellation' technology 'muting'sounds at the centre of the stereo mix and slowing down the playback speed without altering the pitch.

MIXING
The inputs are balanced XLR and unbalanced jack inputs, trim control and switchable +48V phantom power. Whatever you throw at them, they can handle it from the lowest of low level mic signals to the hottest instrument signal.
Also on board 2-band EQ (on 6 channels) and a handy EQ library of 36 preset patterns.
Fostex A.S.P.+ digital effects are available for 6 tracks (switchable pre or post).
And the 99 mix scene memory per program allows you to store a complete mix (fader positions, EQ/effect settings), for later recall or scene sequence.
MASTERING
Just one button push 'bounces' any or all of the content of tracks 1 - 6 to stereo,
(using tracks 7 & 8).
Then apply dedicated Fostex A.S.P.+ Mastering Effects and master out to external digital recorder, analogue tape deck or direct to CD.





---
---
---
---
FOSTEX Contacts:
Fostex Corporation (Tokyo, Japan) Phone: +81 (0)42 546 4974 Fax: +81 (0)42 546 9222



ITALY
PROEL s.p.a. - Via alla Ruenia 37/43 - 64027 Sant'Omero (TE)
Tel. (++39) 086181241- Fax (++39)0861887862 e-mail



ARGENTINA-Arte Musical S.A.- TEL : (+54) 11-4374-8049
AUSTRALIA- Syntec International- TEL : (+61) 2-9417-4700- e-mail
AUSTRIA , SLOVAKIA,SLOVENIA - Atec Audio Technology -TEL : (+43) 2234-74004 e-mail
BELGIUM - EML NV - TEL : (+32) 11-232355 e-mail
BRAZIL- Habro Comercio, Importacao & Exportacao Ltda.-TEL: (+55) 11-2249787 e-mail
CANADA- Jam Industries - TEL : (+1) 514-457-2555- www.jam-ind.com/eriksonpro
BULGARIA - Shark Art -TEL : (+359) 52-600172
CANARY ISLANDS- Musicanarias, S.L.- TEL : (+34) 922-821664
COLOMBIA Musicland Digital-TEL: (+1) 305-668-0153 e-mail
CZECHO - Praha Music Center spol s.r.o. - TEL : (+420) 2-248-10-981 e-mail
DENMARK - SC Sound ApS - TEL : (+45) 4399-8877 e-mail
FINLAND -Noretron Audio Oy -TEL : (+358) 9-525-9330 - URL : www.noretron.fi
FRANCE - Guillard Musiques -TEL : (+33) 4 72 26 27 00 - URL : www.guillard-musiques.fr
GERMANY - Studiosound & Music GmbH -TEL : (+49) 6421-92510 - URL : www.ssm.de
GREECE - Bon Studio S.A. - TEL : (+30) 1-3809605-8, 3302059 - URL : www.bonstudio.gr
HUNGARY - ATEC Hungary - TEL : (+36) 27-3-42-595 e-mail
ICELAND - .D.elrf.electronic Ltd. - TEL : (+354) 588 5010
MALTA - Audio & Auto Sound -TEL : (+356) 24-2431
NETHERLANDS - IEMKE ROOS AUDIO B.V. - TEL : (+31) 20-697-2121 e-mail
NEW ZEALAND- Digital Music Systems- TEL : (+64) 9-279-4289- e-mail
NORWAY- Siv. Ing. Benum AS - Norway -TEL : (+47) 22-139900 e-mail
POLAND -MEGA MUSIC SP. Z.O.O.TEL : (+48) 58-551-18-82 e-mail
PORTUGA L- Caius - Tecnologias Audio e Musica -TEL : (+351) 22-608-0610
RUSSIA - MS-MAX - TEL : (+7) 095-234-00-06 URL : www.ms-max.ru
SPAIN - Multitracker, S.A. - TEL : (+34) 91-4470700, 91-4470898 e-mail
SOUTH AFRICA- Eltron (Pty) Ltd.-TEL : (+27) 11 7870355 e-mail
SWEDEN -TTS Scandinavia AB -TEL : (+46) 8-59798000 - URL : www.tts-protel.se
SWITZERLAND - Audio Bauer Pro AG - TEL : (+41) 1-4323230 e-mail
TURKEY -Zuhal Muzik Aletleri Tic. ve San. Ltd. - TEL : (+90) 212-249-8510
UK - SCV London - TEL : (+44) 0207-923-1892 e-mail
UKRAINE -Combo Ltd. - TEL : (+380) 612-335-106 e-mail
U.S.A., MEXICO / CENTRAL AMERICA- Fostex Corporation of America- TEL : (+1) 562-921-1112 e-mail
---