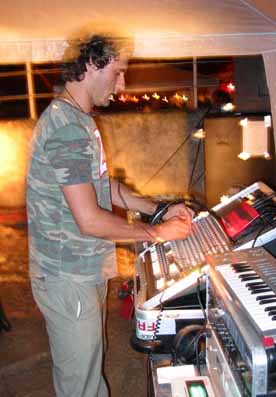 January 23 , 2004
Terence Fixmer and Douglas McCarthy will play their first gig together for Fixmer/Mccarthy project the 23 january in Loft Club in Barcelona


December 2003
The EP Destroy / Freefall by Fixmer/McCarthy is available


---




Terence Fixmer, born in Lille (north of France at the Belgium border) in 1972, discovered the EBM (electronic body music) when he was 15 and became a Nitzer Ebb, Front 242, Klinik, and DAF fan. At the beginning of the 89-90's he was a party freaker and his interest for the electronic sound increased with the apparition of the New-Beat and Techno in Belgium. At this time he started to buy records and " flashed" on Vortrex from Final Exposure (+8). In 1992, he decided to produce his own music and he started to throw parties called "Cosmos" and "Space" in a club called Pyramide. One and a half year later he released his first EP on the Belgium label Diki Rec/hit the beat.
In 1993 he moved to Rotterdam for his studies and produced some other EPs for different labels, under different pseudonyms. In 1995, he worked with his old school mate Emmanuel Top.
In 1998 Terence decided to start his own label Planete Rouge Records. The second release on it (after Gemini 9 EP) was the first one under his real name: TERENCE FIXMER :"Electrostatic". The 3 tracker was played by the biggest DJ's world wide, such as Dave Clarke, Sven Vath Jeff Mills, DJ Hell .. "Electrostatic" was voted among the biggest tune of the year 1999 by many magazines and DJ's. In the same year Terence remixed DJ Hell´S "This is for you" (Disko B) and released his 2nd EP on Gigolo: 'Electric Vision'. At the same time he presented his first live act with Sven Vath at Cocoon club in Frankfurt.
Terence finally remixed Sven Vath's : "Ein Waggon voller Geschichten" (Virgin), which was voted to the 10 best remixes of the year 2000 by many magazines. Terence had played live now all over the world in the best events and clubs (MAYDAY, NATURE ONE, LOVEPARADE,AMNESIA, TRESOR, U60311, FUSE, REX, TRAX ...).
In 2001 Terence moved to Berlin, released the 'Body Pressure' EP on Gigolo. In October 2001 he released his first full-length-album "Muscle Machine": straight, high-energy, 7 dancefloor-tunes. The album was again in many top ten charts and has been voted the best album n.3 for 2001 in Groove Mag. Also he remixed Dave Clarke's "Compass" on Skint Records. And Nitzer Ebb for Novamute. in 2001 he relaunched his label Planete Rouge Records, a label with only few releases per year with a special direction & style.
Terence is working on a new album project with Douglas Mac Carthy, the singer of Nitzer Ebb. The seccond album will be released early 2004.



---
Terence Fixmer
Discography / remixes / collaborations
---

2003/12
Fixmer /Mccarthy
Destroy - Freefall (EP)
(on Planet Rouge )

2003/10
Terence Fixmer
Cerveaux Sans Ames - Peplum (EP)
(on Gigolo Records)


2003/09
Ionic Vision
My Cell (Terence Fixmer Remix) (EP)
(on Planet Rouge)


2003/02
Terence Fixmer
Aktion Mekanik Theme (EP)
(on Music Man)


2003/02
Terence Fixmer presents
Aktion Mekanik (2EP - CD)
(on Music Man)


2002/11
Nitzer Ebb
Let Your Body Learn (Terence Fixmer Remix) (EP)
(on Novamute)


2002/11
Terence Fixmer
She Said Destroy/ Breathe (EP)
(on Planet Rouge)


2001/10
Terence Fixmer
Muscle Machine (2EP, CD)
(on Gigolo Rec)


2001/0
Dave Clarke
The Compass (Terence Fixmer remix) (EP)
(on Skint Uk)


2001/07
Terence Fixmer
Armée des Ténèbres (EP)
(on Gigolo Rec)


2001/04
Terence Fixmer
Body Pressure/ Warm (EP)
(on Gigolo Rec)


2001/03
Sven Vath
Ein Waggon Voller Geschichten (Terence Fixmer remix) (EP)
(on Virgin)


2000/12
Terence Fixmer
Electric Vision/ Rage (EP)
(on Gigolo Rec)


2000/10
Dj Hell
This is For You (Terence Fixmer remix (EP)
(on Disko B)


2000/03
Terence Fixmer
Electrostatic/ Out in the Space/ Rage (EP)
(onGigolo Rec)


1999/10
Terence Fixmer
Electrostatic / Out in the Space / Apollo 11 (EP Limited Edition)
(on Planet Rouge)


1998/10
Gemini 9
Alarm / Black Side (EP)
(on Planet Rouge)



---



TOUR DATES 2004

2004-01-31
Tor 3 Dusseldorf/Germany

2004-01-24
Fixmer/mccarthy live. Coppelia Madrid/spain

2004-01-23 (Friday)
Fixmer/Mccarthy Live ! loft club Barcelona/Spain

2004-01-17
Tryptique /Paris

2003-12-28
Brazil tour 28 december/08 january

2003-12-26
Nurnberg/germany




---
---
---

Terence Fixmer: "I like Dave Clarke, I like the way he produces his music and I like his kind of energy"

---

Terence Fixmer: "When I was 14, I was into new wave music. When I was growing up, there was a lot of electronic music"
---

Terence Fixmer: "For me, I can see drugs everywhere. If techno stopped I don't think the drugs would stop"

---
---
---