---
---
Etek
Opera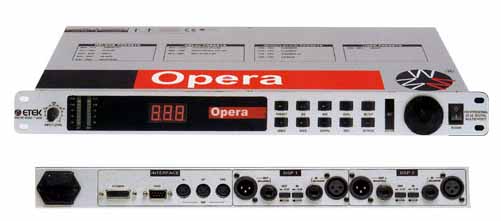 Opera is a professional Digital Audio Effects Processor, that employs the use of 256 presets, 128 resident in the ROM (Read Only Memory) and 128 User Programmable presets in a RAM (Random Access Memory).
The numbered presets can easily be recalled by means of the Data Wheel that scrolls backwards and forwards through the numbers.
The numbers that appear on the display identify three families of effects: REVERB, DELAY and MODULATION.
The REVERB effects comprise algorithms for 'Ambient', 'Room', 'Hall', 'Plate' and 'Reverse', while those for 'DELAY' produce 'Stereo', 'Ping Pong' and 'Multi' effects. The MODULATION family has algorithms for 'Chorus', 'Flange', 'Tremolo' and 'Leslie'.
The MIDI implementation enables the parameters of the OPERA module to be modified in Real Time by means of the Exclusive System.
Furthermore the OPERA processor includes an RS-232 Serial Interface for computers, which enables the connection of a Personal Computer both for the total editing and for the uploading of new algorithms, as well as the updating of both of the presets and the operational software.
For this reason, the OPERA will never become obsolete, but will maintain its value throughout the years.
Working with a computer, the user can modify, sum and directly edit the algorithms, thereby creating original and personal effects.
A full implementation of controls and display instruments enable intervention on all the parameters and monitoring of the signals in any phase of the elaboration process.



---
12 Channels (4 Mono + 4 Stereo)
-256 Programmable Mixer Configurations
-Semiparametric EQ (Parametric by PC)
-Solo
-Mute
-Pan Pot
-Phantom Power 48V/DC
-Midi IN/OUT/THRU
-Digital Effect Processor (128 Effects)
-Alpha-Editing by the Same Control Knobs

A/D Converter Inputs
-Impedance 30 kOhm
- Nominal Operating Level 3 Vpp
- Max Input Level 3.15 Vpp

Analog Outputs
- Load Resistance 10 kOhm min.
- Max Output Level 3.25 Vpp

System Specifications
- Bandwidth 20 Hz ? 20 kHz, +/-0.5 dB
- A/D Noise Typ 98 dB
- D/A Noise Typ 96 dB
- Crosstalk Typ 110 dB

Expansion Interface
- Type 50 Pin Connector

Digital Processing
- DSP Processor 24 bit Audio data, 32 bit Coefficients
- Converters 2 x 20 bit Sigma-Delta,64/128 times oversampling
- Sampling rate 48 kH

Display
- Type 20x2 alphanumeric LCD-Display

Power Supply
- Main voltage 100-120 V AC, 200-240 VAC, 50-60 Hz
- Power Consumption 10 Watts

Dimensions (mm):
40 (h) x 220 (w) x 300 (d)
- Weight: 2 Kg


---
---
Corso Persiani, 77 - 62019 Recanati (MC), Italy
Tel : +39 0733 226271 - Fax: +39 0733 226546

---