---
---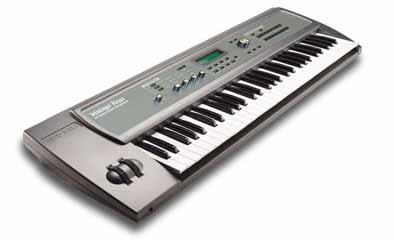 Vintage Pro delivers the keyboard sounds that defined popular music in the '60's, '70's and '80's in a single rackspace. From the venerable Hammond B-3 organ and Wurlitzer EP to legendary analog and digital synthesizers like the ARP 2600 and CP70, Vintage Pro gives an all-in-one, collection of over 30 classic keyboards,meticulously sampled from the finest vintage instruments available.You'll also find all of the features of E-MU's industry-standard Proteus 2000 sound module, including 128 voice polyphony, over 100 synthesis parameters per preset, expressive E-MU filters, three expansion slots and more.

61-note synth action keyboard
4 Analog Outputs
E-MU Filters
Over 100 Synthesis Parameters per Preset to tweak your sounds
Expandable to 128 MB of Sounds using any Proteus ROM

Includes samples from the Hammond B-3, Wurlitzer EP, Fender Rhodes, Hohner Clavinet, Farfisa, Mellotron, Moogs, Prophets, Oberheim OBX, Jupiter, Juno, 808, 909, ARPs, DX7, CP70, Matrix, SH101, TB303, E-MU Modular, Fairlight, and many more.

---
Tel : +39 0733 226271 - Fax: +39 0733 226546

---