.

Emu
pk6

.

Proteus
Keys


.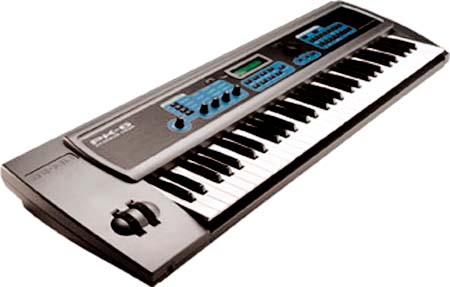 The new PK-6 offers Proteus sounds and features in a keyboard package.
The PK-6 ships with the 32 MB composer soundset that can be expanded to a total of 128 MB using any of the Proteus expansion ROMs available. The 16 real-time controllers allow you to tweak the PK-6's synthesis architecture and filters, giving total performance control over sounds. AThe PK-6's 16 syncable/programmable arpeggiators and interactive Super BEATs Mode let you perform entire pieces in real-time.
Together with 24-bit DACs and a fast processor, the PK-6 offers professional results and playability.
---
61 keys
64 voice polyphony
32 MB Soundset w/ 640 factory/512 user presets (expandable to 128 MB)
16 programmable real-time control parameters/preset
16 simultaneous/syncable ARPs
SuperBEATs interactive Groove Mode (w/16 mute/enable buttons)
24-bit dual stereo effects processor
Four analog outputs
24-bit DACs
Two Footswitch inputs
---
Tel : +39 0733 226271 - Fax: +39 0733 226546