---
Emagic Logic Platinum 5

---
---

Updates (January 2003)
Logic Platinum 5.5.0 for:

Mac OS X
(the version of Logic Platinum 5 for Mac OS X with Audio Unit Support) is available download
Mac OS X 10.2 or higher and an existing XSKey authorisation for Logic Platinum 5 Mac is required to run this version. The installation also contains the Mac OS X driver for all Emagic MIDI interfaces. This driver is also available as a separate download.

Mac OS 9.x download

Windows 98Se/Me/2000/XP download

Free dowload for all registered owners of Logic Platinum 5.

Logic Series 5.5 features support for the Emagic EXS24 mk II the new version of Emagic software sampler.
Logic Series 5 contains demo periods for the EXS24 , if your demo has not already expired you can try a fully working version of the EXS24 mk II for up to 28 days.

---

Updates (Novembre 2002)
Logic Platinum 5.4 for Mac OS X
Logic Platinum 5.4 for Mac OS X, the first host program to support AU (Audio Units plug-in standard) for musicians and audio producers. Logic Platinum 5.4 for Mac OS X provides a ground-breaking, system-level standard for software instruments and plug-ins and includes support of all Emagic software instruments and plug-ins. Manufacturers can easily port existing software instruments and plug-ins to support Audio Units standard. In comparison to previous plug-in formats, Audio Units offers improved handling of multiple audio streams (for example, from stereo to x.1 surround), excellent compatibility with Mac OS X applications, robust graphics and editor support with individually sizeable windows, and all the advantages of a shorter development time. With the added flexibility of the Rex file format, Logic users will take full advantage of Rex libraries under Mac OS X.


---

AU (Audio Units new plug-in standard) in OS X
The OS X Audio Units (AU) component is the new interface for plug-ins. It can be used for audio effects and software instruments. Audio Unit plug-ins are perfectly integrated into Mac OS X, offer enhanced flexibility in contrast to previously offered standards: configuration parameters can be dynamically changed during operation, realtime parameters are scaled better, and plain text support is also superior. Furthermore Audio Units allows more advanced user-interface design. In contrast to previous formats, the AU standard is brilliantly documented (for manufacturers of both plug-ins and host applications) making development much easier.

Audio Unit plug-ins can be constructed with the help of Apple developer-tools, that are free of charge, unlike other formats which require the purchase of expensive development tools and compilers. This makes AU development very attractive, especially to authors of shareware.
The VST-To-Audio Units-Porting Lib is an useful item Emagic offers developers that facilitates the porting of existing carbonized VST-plug-ins to AU in minimal time.
Developers with questions, ideas and criticism about this subject, could send an email to developercontact



---
---
Emagic Logic Platinum 5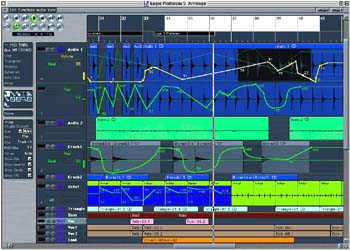 Logic Platinum features extensive audio hardware support including TDM (Mac OS), OMF and OpenTL support, and is capable of 192 tracks of audio playback at up to 24Bit/96kHz rates, in a variety of audio formats. The audio functionality also incorporates a digital mixer with Surround Sound up to 7.1, over 50 high-quality audio effect plug-ins, and fully-automated, sample-accurate mixing facilities. The 32 Bit internal signal path ensures that audio quality remains pristine throughout, and the incorporated high-end POW-r dithering process provides master-quality results. Logic supports a virtually unlimited number of MIDI tracks with timing accuracy to 1/3,840 of a note. A wide range of synchronization options ensures that Logic Platinum connects easily to both the digital and analog worlds. Most importantly for professionals working in music production, film scoring or post production facilities is Logic's renowned stability and reliability along with combination of tools, elegant user interface, flexible working methods and a comprehensive development.

Hardware Support

To ensure compatibility with existing, or future, audio interface hardware, Logic Platinum simultaneously supports: AV (SoundManager, MME & DirectSound), EASI, ASIO, Digidesign DirectI/O and Audiowerk on both Mac OS and Windows. In addition, Digidesign's TDM system for ProTools hardware, including Surround, is extensively supported on Mac OS. The optional ESB TDM marries Logic's native processing capabilities (outputs and EXS24) with those of the TDM hardware, enhancing the capabilities of the TDM system.

MIDI Timing and Synchronization

Logic incorporates a proprietary Emagic technology called AMT - Active MIDI Transmission. The combination of Unitor8 or AMT8 hardware and Logic ensures that MIDI timing is precise across all ports, even in the largest of MIDI systems. Literally hundreds of MIDI ports can be addressed, with MIDI data arriving simultaneously at each, no matter how dense the MIDI arrangement. For synchronization purposes, Logic Platinum will send and receive MIDI Clock, MTC, MMC and word clock signals, making it ideal for film, TV and post-production facilities.


Realtime Composition

The Arrange window is Logic's primary workspace. Individual MIDI sequences and audio regions can be recorded, arranged and edited, with audio and MIDI data handled in a virtually identical fashion. These audio and MIDI "objects" can be packed into nested folders for quick and easy song arrangement. Audio tracks can be individually zoomed, soloed or muted, and mixing and MIDI data is handled seamlessly by the new automation system. Markers can be created and recalled to "jump" to any location in the song, complete with production notes. Audio regions can be managed. MIDI edits such as quantization, transposition, note length changes and more are calculated in realtime. Audio and MIDI objects are easily resized, soloed, muted, looped and mixed in the Arrange window in realtime, without stopping the sequencer.

Total Recall Mixing and Automation

Logic Platinum 5 introduces a refined track-based automation system found in the Arrange window. Automated parameters are displayed with full names and values for fast and optimal control over even the most complex automation situations. Every control movement can be recorded and edited using Read, Write, Latch and Touch modes , allowing realtime automated playback of all volume, pan, effects and instrument parameter movements. Supporting 32 Bit value resolutions, and offering sample-accurate precision, the mix automation is smooth and exact. The graphic creation of various curve shapes, copy/paste and moving of mix automation data (with or without the underlying MIDI or audio data) and scaling is fast and intuitive. Additionally, the adaptive track mixer reflects the track layout of audio and MIDI channels shown in the Arrange window. Multi format Surround mixing of audio channels, busses and instruments, including individual formats for each track, bus or instrument, is supported, even using Digidesign's TDM system. And every setting of the mixer, the effects and the instruments, as well as the complete automation, is saved with the song. The result of automated mix, including all tracks, live inputs, instruments and effects, can be mixed down to a single stereo file or multiple Surround files. This can benefit from the transparent POW-r dithering process, assuring that 24Bit/96kHz recordings retain their true sonic character even at 16Bit/44.1kHz CD resolution.

Plug-In Processing

Logic's fully automated effects system offers 8 sends to 16 busses, 8 inserts and 4 EQs per audio track, with inserts and sends also available for audio instruments and live inputs. Insert effects to be used in inputs, tracks, instruments, busses and outputs include VST (Windows and Mac OS) and DirectX plug-ins, as well as over 50 built-in effects. These range from the traditional as dynamics, reverbs and EQs, through to a range of sound sculpting tools such as the Autofilter or Spectral Gate and mastering processors such as the Multiband Compressor and Limiter. The optional EVOC20 provides vocoding and filterbank effects. All plug-ins operate at 32 Bit resolution, making signal overloads virtually impossible, and ensuring audio quality.

TDM Support

In addition to the built-in effect system, Digidesign's TDM system for ProTools hardware is completely supported (Mac OS), including Surround. Depending on the configuration, up to 64 audio tracks and 64 busses are available. TDM plug-ins from all major developers can be used and fully automated. I/O inserts even allow the integration of external audio effect processors.

Audio Instruments

Up to 32 software-based synthesizers and samplers such as Emagic's optional ES1, ES2, EVP88, EXS24, or VST2 instruments, can be used in Logic's Audio Instrument channels. Three powerful software synthesizers for monophonic, ensemble and polyphonic sounds are now included as standard. Audio Instruments are seamlessly integrated into Logic's mixer, making the entire palette of effects available for creative processing. Playback timing is sample-accurate. The audio output of external software instrument applications, such as Rebirth and Reason, can be streamed into Logic's mixer via ReWire and allows full access to Logic's extensive array of effects and mixing facilities.

The Editor Windows

Logic's linked editors provide the power to fine-tune music at any level. View a composition in its entirety or select and make changes to the smallest detail with the Matrix, Event List or Hyper Editors. The fully integrated Stereo Sample Editor offers destructive manipulation of audio recordings, plus many creative DSP tools including time stretching and pitch shifting with formant correction. On the Mac, Audiosuite and Premiere format plug-ins can also be used.

Score Editor Window

The Score window is a MIDI editor that displays traditional music notation. It also provides layout functions which make it possible to create professional score printouts. Logic's interpretation converts MIDI recordings to clear and legible sheet music in realtime, without changing the original performance. Notation can be edited with or without affecting the MIDI data. Score Styles offer immediate changes to the display of each sequence according to preset or user-defined staff formats. Note colors make parts in polyphonic score styles more legible. Instrument Sets allow you to save and print the entire score, individual parts or any desired combination of instruments used in the composition. The new step input allows the computer keyboard to be used as a note typewriter. As further features: Vast range of notation symbols, optional use of 3rd-party fonts (Sonata, Jazz, Swing fonts), fast lyric input aligned to notes, voice separation tool for polyphonic parts, graphic export of any desired part of a page, automatic guitar tablature and drum notation, individual editing of notehead size and stem length, individual staff indents, cross-staff beaming, notation of alias sequences plus more.

The Environment

The Environment is a usefull onscreen "flowchart" of the connected MIDI equipment, providing unparalleled creative options for visually combining software-based processing devices such as faders, arpeggiators, delays and more in almost infinite ways: build remote controls for your MIDI gear, use a Mod Wheel to crossfade between audio tracks or create realtime instruments like step sequencers and rhythm generators. This level of MIDI control is still unmatched in today's music software marketplace.

Freely Configurable User Interface

Every Logic Platinum song offers up to 90 Screensets , which are customized combinations of edit windows. Each Screenset recalls the type of window(s) opened plus size, position and zoom settings within each. Logic also features over 800 user-definable Key Commands. These are computer or MIDI keyboard shortcuts accessing almost every program function. Default Screensets can be altered to match any personal needs via user-definable menus

Processor Specific Optimizations

Logic features native support for the latest Macintosh computers, including multi-processor, Velocity Engine models. Logic Platinum Windows features native SSE/SSE2 support for P3/P4/AthlonXP processors. These optimizations increase the number of tracks, effects and audio instruments for simultaneous use.

Built-In Support of Logic Control


Logic Control is the hardware controller for Logic. It features full transport controls, a jog/scrub wheel, nine 100mm touch sensitive, high-resolution Penny & Giles motor faders, 8 rotary V-pots[TM], a generous display which shows parameter names and values, various function keys and select/mute/rec/solo buttons per channel. With Logic Control, plug-ins can be called up and edited as easily as Logic's new automation system is controlled. Logic Control offers access to 8 channels simultaneously, and with the optional Logic Control XT you can extend your system with as many eight channel blocks as you need.
---
Logic Platinum 5 Features
General
Ultra-precise 32 Bit internal processing
Event resolution 1/3,840 note
Tempo resolution accurate to 1/10,000 bpm in the range from 0.05 to 9,999 bpm
Freely configurable user interface
90 freely configurable Screensets per song
Over 800 freely definable Key and MIDI commands for all important program functions
Interactive windows with Catch/Link/Content Link
Individually zoomable/resizable tracks
Optimized user interface offering fast navigation
New online help system
Localized menus, multilingual interface
Synchronized Quicktime/AVI/MPEG video support -with appropriate codecs installed (current MediaPlayer or QuickTime recommended)-
Adaptive, self-configuring Track Mixer for MIDI & audio
Comprehensive Logic Control system support
MIDI
Virtually unlimited number of MIDI tracks
Realtime MIDI quantize, Groove Templates
Matrix, Event, Hyper and Transform Editors
Time signature and key change Editor
Score Editor: realtime notation, coloured notes, steptime input window, professional layout/printout
HyperDraw[TM] for all event types in Arrange, Matrix and Score
Editor
Sophisticated MIDI processing Environment
Touch Tracks: live playing of folders/sequencies
AMT for precise MIDI timing with AMT8/Unitor8
Up to 128 (Mac)/64 (Win) MIDI ports supported
OMS/MTP (Mac OS) or MME (Windows) compatible
Full synchronization options with MTC, MMC, SMPTE
AutoLink with SoundDiver
Automation
All-new, track-based, sample-accurate automation engine for virtually every parameter including effect plug-ins and Audio Instruments
Independent of sequencer record status
Read, write, latch and touch modes
32 Bit automation data resolution
Automated parameters are displayed with full name and value
Color-coded automation data is displayed directly in Arrange window as envelope with break points
Break points can be freely drawn, edited and scaled
Automation curves freely adjustable between convex, concave, s-form or linear shapes
Automation data can be moved or copied with corresponding audio data, or independently
Plug-ins and Audio Instruments
Up to 32 Audio Instruments for insertion of Emagic and VST2 virtual instruments (dependent on computer resources)
8 inserts for plug-ins and 8 sends per Audio Instrument
3 new Emagic instruments included - ES M monophonic, ES P polyphonic and ES E for ensemble sounds
Optional ES1, ES2, EXS24, EXSP24, EVP88, EVP73
VST/VST2 realtime plug-in support
DirectX realtime plug-in support (Windows)
Over 50 effect plug-ins included: various delays, re-verbs, distortions, dynamics, modulation effects, BitCrusher, Auto Filter, Enveloper, Spectral Gate, etc. Of these, Phase/Clip Distortion, Denoiser, DeEsser, Tremolo, Stereo Spread, Exciter, SubBass, Limiter, Adaptive Limiter, Multiband Compressor are new.
Optional EVOC20 vocoder/filterbank package
Sidechains for plug-ins and Audio Instruments
ReWire1 support for ReBirth and Reason
Adobe Premiere + AudioSuite plug-in support (Mac)
Audio
Audio resolution up to 24 Bit/96 kHz
Up to 96 stereo audio tracks (single hardware) (dependent on computer resources)
Up to 192 stereo audio tracks (multi hardware) (dependent on computer resources)
High-end POW-r dithering Algorithm
Hardware independent audio scrubbing
8 channel surround mixing in any of 12 formats
4 fully parametric EQ bands per track
8 FX inserts per track, 8 effect sends per track
Audio input objects with 8 FX inserts and 8 sends
16 stereo busses for subgroups and FX returns
8 inserts per bus, 8 inserts per output object
Bouncing with realtime effects
Integrated stereo sample editor with Time and Pitch Machine II[TM] with formant correction (developed in co-operation with Prosoniq), Audio to Score, Quantize Audio/Groove Machine and more
Cycle-Recording for Audio, quick Punch on the fly
Fit MIDI tempo to audio, Strip Silence function
REX2 file support in Arrange and EXS24
OMF (Avid/ProTools) and Open TL import/export
Supported Audio Hardware (tracks)
Emagic Audio Engine (up to 96 stereo tracks per driver class): Mac AV, PC AV (MME, DirectSound), EASI, ASIO, Direct I/O, Audiowerk2/8
Yamaha DSP Factory (16)
Roland VS (Arrange editing) (8/16)
Korg 1212 I/O (Mac) (96)
Sonorus Stud I/O (Mac) (96)
Digidesign DAE (Mac) (8)
Digidesign TDM (ProTools III/24/24MIX, 24MIX+, MIX3) including TDM plug-ins and Surround (Mac) (16-64)
Cascade 3 x Audiowerk8 for output expansion
Virtually unlimited multiple hardware support
---
System Requirements Windows
Minimum:
Athlon/Duron or Pentium 300 MHz
Windows 98 SE/Me/2000/XP
128 MB RAM
CD-ROM or DVD drive
free USB-Port for XSKey
Recommended:
CPU with SSE command set (Athlon XP, Duron from 1GHz, Pentium III, Pentium IV)
256 MB RAM or more
Low-latency audio hardware for software instruments
Multiple I/O audio hardware for Surround
Separate fast hard drive for audio data
MIDI interface, MIDI keyboard
---
System Requirements Mac
Minimal:
604/250 MHz processor
Mac OS 9.1 (Mac OS X support in development) or higher
128 MB RAM
CD-ROM or DVD drive
free USB port for XSKey
Recommended:
CPU with Velocity Engine support (G4/MP)
256 MB RAM or more
Low-latency audio hardware for software instruments
Multiple I/O audio hardware for Surround
Separate fast hard drive for audio data
MIDI interface, MIDI keyboard
---
System Requirements Hard Disk
Transfer rate >3 MB/s
Average access time <10 ms
Sufficient capacity (approx. 5 MB per track minute)
When using IDE drives, the CD-ROM should use the other channel
UW SCSI controller is recommended for use with external drives
---

EMAGIC SOFT- UND HARDWARE, Halstenbeker Weg 96, 25462 Rellingen, Germany
Tel.: +49-4101-495-0, Fax: +49-4101-495-199, info

Emagic Italy: Digimedia, tel.(++39) 0248702843, e-mail