---
---
---
---
Esi - EgoSys AUDIOTRAK PRODIGY 7.1
A PC audio solution for gamers, DVD movie fans, music lovers, DJs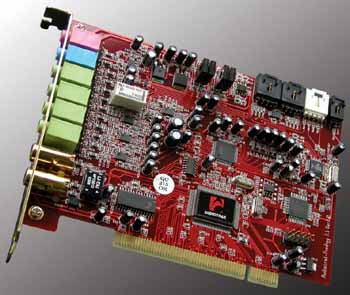 2 analog inputs and 8 (4 x stereo) outputs feature 24-bit 192 kHz D/A converters and 24-bit 96 kHz A/D converters for analog I/O with 106 dB dynamic range plus 24-bit 96 kHz coaxial input and output connectors.



---




Minimum System Requirements
--Intel Pentium III CPU or equivalent AMD CPU
--Motherboard with Intel/VIA
--128MB of RAM
--One available PCI slot
--Microsoft Windows 98SE/ME/2000/XP operating system


---
---
Prodigy 7.1 supports Advanced NSP (Native Sound Processing) technology that takes advantage of the E-WDM drivers and DirectWire. The E-WDM drivers support Prodigy 7.1 for compatibility with Windows XP, 2000, ME and 98SE while offering ultra low latency performance with all popular music production applications including Nuendo, Cubase, Cakewalk, Sonar, and Logic.




Prodigy 7.1 Features

--Surround Sound up to 7.1
--Transfer up to 24-bit 96 kHz Pure Audio with Coaxial Digital Input and Output
--Controllable Extended Input Connectors (Line, CD, Aux, and CD Digital) on Board
--24-bit, 8 Channel 192 kHz Playback and 96 kHz Recording
--Stereo Audio Sources with Expanded 7.1 Channel Surround Sound
--Emulate Multi-Channel Surround Sound with SRS TruSurround XT
--Expand Audio Versatility with Advanced NSP featuring E-WDM and DirectWIRE
--Plug In with Analog Inputs (2) and Outputs (8)
--Independent Surround Sound Channel Volume Control
--Integrated Headphone Amp and Microphone
--Audio Signals to Dolby Digital and DTS Decoders
--Support Windows Media 9 with 24-bit, 96 kHz 6-Channel Audio
--Support Game Surround Sound APIs such as EAX 2.0 and A3D



What you can do with Prodigy 7.1
--Utilize Advanced NSP technology for eight channels of individual real time processing with various enhancements including Bass Effect, Reverb, EQ, Dynamic Range, Compression, and Filtering
--Utilize Advanced NSP for ripping audio from a DVD to any multi-track recording application using DirectWIRE
--Record, Mix, and Master 24-bit 96 kHz audio with all major music software applications
--Play 5.1, 6.1, and 7.1 true surround sound through multiple digital and analog audio outputs with the included software DVD player
--Playback WMA 5.1 multi-channel audio for Windows Media 9
--Send and receive digital audio via the coaxial input and output to external devices
--Play games with Sensaura 3D sound and reverb engine, which supports all the major game sound formats including DirectSound 3D, A3D 1.0, EAX 1.0, EAX 2.0, Macro FX, Environment FX, Multi Drive, Zoom FX, and I3DL2
--Listen to two-channel MP3 music or movies in a virtual surround sound environment with SRS TruSurround XT featuring Dialog Clarity and TruBass






Featuring Advanced NSP ( Native Sound Processing )

Advanced NSP is the driver technology that enables the latest pro-audio quality sound effects to be applied to audio stream outputs from games, DVDs, and MP3s. Current software driver technology limits audio cards to process only the audio streams delivered from WDM driver to the audio card hardware. However, Advanced NSP best utilizes E-WDM driver technology to break the boundaries of the WDM driver and extends the WDM kernel processing limitations.

Specification

--24bit 192 kHz D/A converter; 106 dB Dynamic range
--24bit 96kHz A/D converter; 102dB Dynamic range
--24bit 96 kHz Digital Coaxial Input and Output
--Analog 2 In / 8 Out;
-10 dBV unbalanced 1/8" (3.5mm) mono and stereo input and
4 x stereo -10 dBV unbalanced 1/8" (3.5mm) output
--2 channel recording and 8 channel playback at the same time
--Supports multiple sampling rates : 44.1 kHz up to 192 kHz
--Full Duplex - Simultaneous record/playback
--Uses 32bit PCI slot: PCI bus-mastering support
--Microphone preamp with +5V phantom power
--Headphone amp
--Supports the E-WDM driver:
WDM and ASIO 2.0
Direct KS support for SONAR
OS: Microsoft Windows XP/2000/ME/98SE






Included WinDVD Player provides 24-bit 96 kHz High Resolution Playback Plus:

SRS TruSurround XT
SRS TruSurround XT processes any multichannel audio source, as is usually found on DVDs, and transforms the material into virtual surround sound from just two speakers or headphones.
SRS Dialog Clarity
SRS Dialog Clarity provides you with the power to bring crisp, clear dialog from your playback material.
SRS TruBass
SRS TruBass enhances the bass impact when you have small speakers.
Dolby Digital Decoder
Delivering sound with 5.1 channel systems, advanced audio processing also provides optimum sound with 4-channel gaming speakers and 3D enhancements for 2-channel systems.
Dolby Digital EX
Dolby Digital EX allows you to enjoy the highest quality audio by expanding 5.1 channel sources up to 7 channel speaker systems.
ICE (up to 7.1)
ICE takes 2 channel audio (stereo) such as an MP3 file and transforms it into 5.1 to 7.1 channel surround sound.