.
__________________________________________________________________________________________________________
Ipse dixi:t : "...... We did the first album almost entirely at night, the second one during the day, and since then we're not sure what we prefer. At the moment we go to a lot of different studios around the world while we're on tour, so it's not easy to establish and rituals or routine. But a good coffee is always great, for sure.. "(from interview by Hannah Shakir)

Ipse dixi:t ) :"............originally we come from a DJ background and then started producing. When we finally found the time to start thinking about a new album around last year, it felt like a band going back into the studio and starting a true writing process. So in a way, we had made a huge evolution from studio geeks into a proper 2-man band – just without guitars. " (from interview by jmsimon)
__________________________________________________________________________________________________________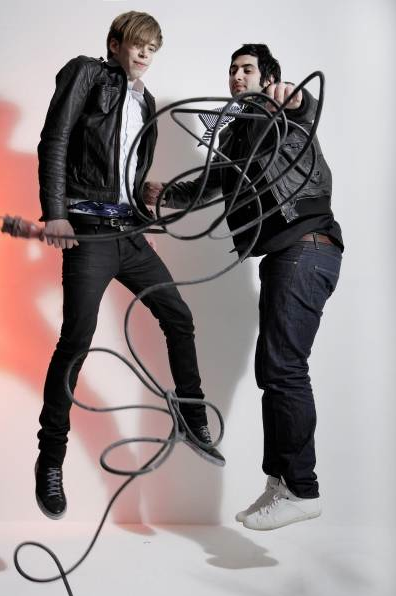 There are loads of rock bands making music for the dancefloor. Digitalism make electronic music that everyone can rock to. For the past two years, they have been the go-to men for indie remixes, having reworked the Klaxons, The Test Icicles, Cut Copy and The Futureheads.

Digitalism is Jens Moelle & Ismail Tuefekci from Hamburg. They met at the city's Underground Solution record store, soon bonding over their shared love of dance and rock records. When the store's owner, Ollie Grabowski, began casting around for a couple of fresh, young DJs to play at party, he suggested that Isi and Jens team up. "We were of the same generation," says Isi, "we liked the same records, so we were put in one room together."




Ever the innovators, the boys bought an adaptor for their first DJing gig, allowing them to plug two sets of headphones into one socket. "So you could hear the same thing," explains Isi. "You never drop out of the groove," Jens confirms.

As the duo's DJing reputation took off, so the harder the pair worked to find obscure, unheard records to animate their crowds. In 2001, the price of CD writers dropped sufficiently to allow the boys to burn their own records. "We stared with some edits," says Jens, "just for our DJ sets."




The first was a version of The White Stripes' Seven Nation Army. This eventually found its way onto vinyl and sold well, marking Digitalism out as electronic producers who could cross over into the rock camp. Its success also prompted the boys to put out another release. On their second record, they also included an original composition. The jagged, makeshift track, with its scrappy vocal hook ('I Have An Idea That You Are Here, I Have The Idea That You Were Near'), called 'Idealistic'. The record was re-pressed, allowing everyone from Errol Alkan to Pete Tong to pick up a copy, yet it was Gildas Loaec from Kitsuné in Paris who eventually contacted the duo with a serious label deal.




"I knew the record had done well," says Isi, "I was distributing it, after all. Yet I was really happy to get the call from Gildas. We were the first album artist signing to Kitsune."




Digitalism initial release on the French label remains their best known: 'Zdarlight'. The boys chose this peculiar spelling to distinguish the record from other 'Starlight' titled tunes by everyone from Muse to Model 500. They shouldn't have worried. The heavy dance tune, with its acidic undercarriage, lilting guitar line and stratospheric climax, is distinctive enough. It received strong support in 2005 from many including Soulwax, Tiga, Laurent Garnier, Blackstrobe, Tiefschwarz and The Glimmers, and remains a reliable club staple to this day.

Digitalism followed this release with 'Jupiter Room', another compelling electronic record that, despite its celestial overtones, was actually named after a sleazy bar in Montreal.




Digitalism are fans of earthbound rock 'n' roll. Their reinterpretation of The Cure's Fire In Cairo', entitled Digitalism in Cairo, was one 2006's cult re-edits. They managed to clear this version for their debut album 'Idealism', billed as owing as much to Joy Division or The Associates as to Daft Punk. As Sean McClusky, the legendary London rock club promoter, who booked the duo recently, puts it "Digitalism are as popular with indie kids as electro or techno clubbers."




Digitalism's own, ever-evolving gig set-up is becoming less like a porta-studio on stage, and more like a band set-up. This side of the band is set to grow even more this year.

Digitalism still record in the same bunker they started with. The building wouldn't look out of place in a dystopian film like 1984. Its thick concrete walls, blast doors and cell-like atmosphere suits the duo perfectly. "We drink something, we have fun," says Isi, "we don't have any daylight, any distractions; I think maybe our sound come from the bunker atmosphere." source: residentadvisor.net
















__________________________________________________________________________________________________________
Video - Digitalism Boiler Room DJ Set at MELT
www.youtube.com/watch?v=5uBsfHA5LBo

__________________________________________________________________________________________________________
Video -Digitalism live Bogota Feb 02 013
/www.youtube.com/watch?v=b10d3UpvT5M

__________________________________________________________________________________________________________
Video - Digitalism Tomorrowland 2013
www.youtube.com/watch?v=UqFwu7mDLnE
__________________________________________________________________________________________________________

Video - Digitalism s @ La Nuit SFR Live au Grand Palais, Paris - 2013
www.youtube.com/watch?v=X6kwAGBVp8o
__________________________________________________________________________________________________________









































Zdarlight Video Clip



Pogo video clip