---
---
Deadmau5

Deadmau5, aka Joel Zimmerman

---
---
---
______________________________________________________________________________________________________________________
Ipse dixi:t: "........ I'd love to do a soundtrack to a movie. I don't even want any credit, I just want to do it for my own personal satisfaction. Because, you know, aside from being a club conductor/electronic music maker guy, I'm also very keen on sound design and transparent recordings. .... "(from ResidentAdvisor interview by Todd L. Burns)

Ipse dixit: "............You're more likely to be successful if you can stand behind everything involved with your work. You don't want to be like (Jersey Shore cast member and DJ) Pauly D, standing there fist pumping on stage while some kid in Norway is writing and producing all of your music for you. That's just cheap, and no one respects that. If you can't do it all then you're just not going to stand out. " (from Guitar Center interview )
______________________________________________________________________________________________________________________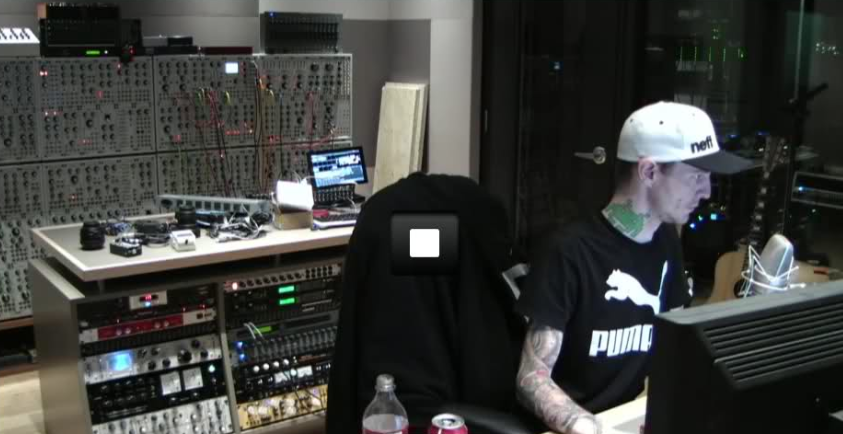 Joel Thomas Zimmerman (born January 5, 1981), better known by his stage name deadmau5 (pronounced "dead mouse"), is a Canadian progressive-house music producer and performer from Toronto, Ontario.
Zimmerman produces a variety of styles within the house genre and sometimes other forms of electronic dance music. His tracks have been included in numerous compilation albums such as the 2007 In Search of Sunrise 6: Ibiza CD. The February 2008 issue of MixMag's music magazine included a free CD which was titled MixMag Presents: The Hottest New Name In Dance! DEADMAU5 Tech-Trance-Electro-Madness, mixed by Zimmerman. Tracks have also been included and presented on Armin van Buuren's A State of Trance radio show. His debut album, Get Scraped, was released in 2005, followed by others in the next few years.
As well as his own solo releases, Zimmerman h2as worked alongside other DJs and producers, such as Kaskade, MC Flipside, Rob Swire of Knife Party and Pendulum, Wolfgang Gartner, Bighorse, and on a number of releases, Zimmerman has partnered with Melleefresh. The release date is currently unknown, but an early 12" single produced on vinyl titled "I Don't Want No Other" was released by Joel Zimmerman under the alias "Dred And Karma". The 2006 album titled Deadmau5 Circa 1998–2002 was released using the alias "Halcyon441" and the collaboration with Joel Zimmerman and Steve Duda was under the alias "BSOD" (which stands for "Blue Screen of Death").


2005-2006: Get Scraped and self-released compilations
Zimmerman released his debut studio album, titled Get Scraped on July 26, 2005. It features tracks of a variety of genres, including IDM, ambient/downtempo, noise pop and trip hop. The tracks "Just Before 8bit", "Nice Try, Kiddo" and "Uploading and Downloading" from Project 56 were edited and expanded upon in Get Scraped under the names "8bit", "Try Again", and "Unspecial Effects", respectively. Tracks "Bored of Canada", "Intelstat" and "I Forget" reappear on this album as is, as well as "The Oshawa Connection" from deadmau5 Circa 1998–2002.
Three self-released compilations, Project 56, deadmau5 Circa 1998-2002, and A Little Oblique, were finished in 2006 , with Project 56 seeing an official release in February 2008.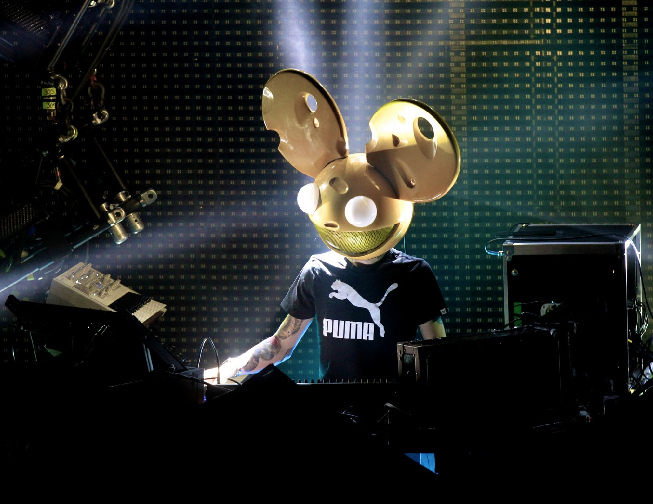 2007-2008: Mau5trap label and Random Album Title
In 2007, Zimmerman began his own record label "mau5trap", which, along with Ultra Records and Ministry of Sound, released the 2008 album Random Album Title, which saw the collaboration of Zimmerman and San Francisco producer Kaskade with "I Remember". Random Album Title, saw a digital release in September 2008 via Ultra Records in the United States and Ministry of Sound in the United Kingdom and Europe. Physical copies of the album were released in November 2008.
In the United States, Zimmerman's collaboration with Kaskade, "Move for Me", reached number one on Billboard magazine's Dance/Mix Show Airplay chart in its September 6, 2008 issue. Since then, Zimmerman has seen two more tracks, also collaborations ("I Remember" with Kaskade; "Ghosts 'n' Stuff" with Rob Swire), reach number one on Billboard's Dance/Mix Show Airplay chart, making him the only Canadian to have three number-one tracks on that chart. He is also the fifth Canadian to top that chart, following Deborah Cox, Nelly Furtado, Dragonette, and Justin Bieber, each with one apiece.

2009-2010: For Lack of a Better Name and 4x4=12
On September 22, 2009, Ultra Records released his album For Lack of a Better Name in the United States, and October 5 internationally. On a subsequent tour in the fall of 2009, Zimmerman's performances were recorded and made available for sale immediately following the concerts on USB wristband flash drives. For Lack of a Better Name includes two of Zimmerman's most popular songs, "Ghosts 'n' Stuff" (featuring Rob Swire) and "Strobe".
MTV named Zimmerman as the house DJ for the 2010 MTV Video Music Awards and MTV PUSH artist of the week on August 16, 2010. He expressed gratitude towards Lady Gaga and David Guetta for bringing dance into the pop music scene and paving the way for him to the mainstream. At the awards, Zimmerman performed with Jason Derulo and Travie McCoy.[14] His song "Ghosts 'n' Stuff" had been featured on the soundtrack for the MTV reality series Jersey Shore earlier.
His fifth studio album, titled 4×4=12, was released on December 6, 2010 in the United Kingdom and December 7, 2010 in the United States. Singles "Some Chords", "Animal Rights", "Sofi Needs a Ladder" have been released and have been featured on the album, with "Raise Your Weapon" released in 2011. "Some Chords" was featured on an episode of CSI: Crime Scene Investigation where Zimmerman made a cameo appearance, and an instrumental version of "Sofi Needs a Ladder" was featured in the film The Hangover Part II.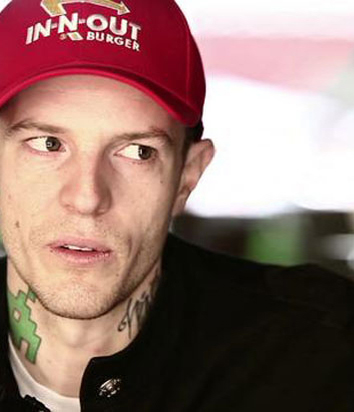 2011-present: Album Title Goes Here
On August 9, 2012, Zimmerman announced his upcoming sixth studio album, Album Title Goes Here, which was released on September 24 of that year. Singles from this album include "Maths", "The Veldt" (featuring Chris James) and "Professional Griefers" featuring My Chemical Romance singer Gerard Way. This collaboration was announced on Facebook prior to release. ] In December 2012, FUSE TV named "Professional Griefers" one of the top 40 songs of 2012


Origin of "deadmau5"
Zimmerman's father claims that when his son was in his early teens, he was chatting with a friend on his computer, which then abruptly shut off. According to Zimmerman's father, he said that it smelled like burnt wire and had a strange odor. Zimmerman started to dismantle his computer and happened to find a dead mouse. Zimmerman then became known as the "dead mouse guy" among friends. Joel tried to change his name to "Deadmouse" in the chat room, but it was too long, so he shortened it to "deadmau5", which is a form of leet In an interview with CBC Television, he mentioned that when he started making music, he went by the name "deadmau5". Joel created the original logo while learning how to use some 3D modelling software The "mau5head" appears in many different colors and designs, and has been shown on the cover of most of Zimmerman's albums, with the exceptions of At Play and Vexillology. He was given the idea to wear a headdress based on the logo by one of his friends, Jay Gordon of the industrial metal band Orgy. In an interview with CBC Television, Zimmerman said that he wants his logo to be an "icon". Fans often attend Deadmau5 concerts sporting their own copy of the mau5head.
He created "deadmau5.com" and began uploading songs to SectionZ and producing under the alias "deadmau5" in 2002 (sourse Wikipedia)





_______________________________________________________________________________________________________

Canadian native Joel Zimmerman, more commonly known asdeadmau5 (pronounced "dead mouse"), didn't set out to become a groundbreaking electronic artist. He just made some music and it happened to change the game and pop culture as we know it.

Up to this point, his career stands earmarked by a series of firsts and shattered records. At the 54th annual Grammy Awards in 2012, he gave a monumental performance as part of the prestigious ceremony's first-ever telecast celebrating electronic music. He's also the first electronic artist in history to grace the cover of Rolling Stone. His sold out show at Toronto's Rogers Centre, documented on the MEOWINGTONS HAX 2k11 DVD, and London's Earl's Court, documented on the deadmau5 live @ earl's court DVD, made him the first Canadian artist as well as the first electronic artist to headline both venues.

Deadmau5 dropped three critically acclaimed albums: 4×4=12, For Lack Of A Better Name and Random Album Titleand seen international chart success with singles "Sofi Needs A Ladder," "Ghosts 'n' Stuff" and "I Remember." In addition, he's notched multiple JUNO Awards and received three Grammy Award nominations.

He also performed at the 54th Annual GRAMMY Awards as part of its first ever telecast performance highlighting electronic music. His fan base speaks the loudest though. He's garnered over 6.5 million fans on his Facebook page and over 1.3 million followers on Twitter. Plus, deadmau5 remains an impressive concert draw, headlining the biggest festivals in North America Lollapalooza, Outside Lands, Sonar, Virgin Mobile FreeFest, Ultra Music Festival and Electric Daisy Carnival.

He was the first Canadian and electronic artist to sell out Rogers Centre in Toronto. He also broke a record held by Rage Against the Machine for most consecutive shows at the Roseland Ballroom in NYC with a staggering six nights at the iconic venue. He adorned the cover of Rolling Stone's summer double issue in 2012, another first for an EDM artist. ( deadmau5.com)




_________________________________________________________________________

Video - Deadmau5 - aural psynapse (Live ,Toronto)
www.youtube.com/watch?v=K5wsp7FYb4Y
______________________ __________________________

Video - Deadmau5 live streaming (2013)
www.youtube.com/watch?v=ZsEdwwXXXk0
_________________________________________________________________________

Video - Deadmau5 - Live @ Made , Philadelphia
www.youtube.com/watch?v=H9zUT-LdsdQ
_________________________________________________________________________

Video - Deadmau5 in the studio (2011)
www.youtube.com/watch?v=n03MW6bQxCA
_________________________________________________________________________









http://www.deadmau5.com
---
---
---
---