db Technologies
IEM-2200
professional In-Ear monitoring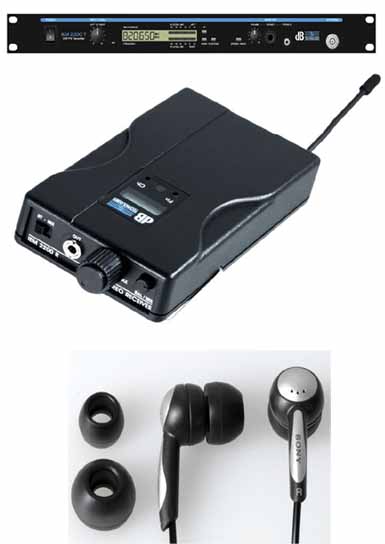 (IEM-2200 Set : transmitter, receiver, Sony high resolution earpiece)




Operating in the UHF band with 16 switchable frequencies, it can perform under the most rigorous conditions in multi-channel installations.
The system can operate in stereo or via the dual-mono function, and the receiver can be fed with two individual audio signals. It is possible to mix two separate channels on either the transmitter or receiver.
The 19" metal housed rackmount transmitter features a large LCD display for frequency, RF and AF levels. There is a front-mounted pan control for stereo balance which can be configured as a L+R mix control to combine audio sources. The output can be monitored with a gain control from either a 3,5mm or 6,5mm stereo jack socket. Balanced XLR inputs and outputs allow units to be cascaded.
The IEM 2200 system offers user safety through the use of limiter circuits in both the transmitter and receiver.


The advantages of In-Ear Monitoring
• Wireless operation enables total freedom of movement
• Individual monitoring mix with controlled levels offers hearing safety
• Greater immunity to feedback combined with cleaner mixes
• Less equipment to carry and more space on stage
• Faster sound checks and the capability for more individual mixes
• Lower sound levels on stage offering improved audience clarity




IEM 2200 R Receiver

In combination with every InEar Transmitter, you can use as many 2200R receivers as you like. Each system will receive the signal from the transmitter in its frequency is tuned to.

• Stereo, mono, dual mono mode
• UHF 16 switchable frequencies
• LCD display for frequency and AF level
• Battery level status LED
• Output level control
• Shatterproof carbon fiber casing
• Soft squelch function
• Limiter and compander circuitry
• 6 – 9 hrs. operation 9V alkaline battery (with originally supplied headphone)
• with Sonyheadphones.