.
---
Dana van Dreven was born in Amsterdam on the 8th of July 1974.
In her early years she already had a great passion for music.
After working as a courier, she got hooked on house music.
Within a few weeks she bought two turntables & a mixer & started rocking.
In 1993 she received her first bookings. In this year she played in De Drieluik, Pascha and Kabul.
Also at the 'Skorp' parties she was a well know visitor.
Very soon Dana preferred the harder styles of house. She quickly developed her talents within the harder sounds and played events together with artists like Gizmo (Ferry Salee), BuzzFuzz (Mark Vos) and Pavo (Paul van der Vooren).
From 1995 the schedule of Dana grew more and more busy. One of the bigger party organizations started to organize big Hardcore events like Thunderdome, Mysteryland. From 1994 Dana was present at every edition of 'Mysteryland' . She also was a well know face at the Thunderdome events. Her style was developing rapidly to one of the harder movements within the hardcore. At every performance she received massive responds from her fans.
Due to the big success of the Thunderdome events, the organization (ID&T) decided it was time to launch the Thunderdome concept worldwide. Thunderdome started touring across Europe.
Dana traveled to almost every country in Europe and played the most prestigious clubs in Belgium and Germany.
During this period hardcore started to gain popularity worldwide.Dana had almost 4 bookings every weekend. What once was a hobby became a full time job. She played events like: 'Masters of Hardcore' and Mystery World and visited clubs in Spain and Italy.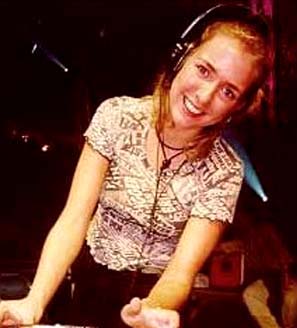 Around 1998 hardcore was on its return. It slowly moved from the mainstream back to the underground. There grew the interest for the styles from 1991-1992. Q-dance started with a series of parties under the name "Oldstyle Outburst". These parties where held at the famous Hemkade 48 in Zaandam. At this venue Dana was in the line up almost every month, presenting her best classics.
Shortly after the start of the "Oldstyle Outburst", Q-Dance started with a second classics-concept.
HouseQlassics became the older brother of the Oldstyle Outburst. After the first edition the event moved to the 'Vechtsebanen' in Utrecht. At every edition Dana was on stage.
From Germany and Italy came a new form of Hardhouse , more power and less speed, It was a combination of German hardtrance and Italian hardbass techno. The crowd in Holland gave a massive reaction on this new sound and Dana adapted rapidly to these new sounds and became one of the first DJ's who played this style of dance music in Holland.
Q-dance started a new event in the Hemkade 48 under the name Qlubtempo. On these events the artists played a combination of the UK hardhouse and the German/Italian hardstyle sound. To distribute the new sound to the rest of Holland, Q-dance started with 'Qlimax', which was a bigger version of Qlubtempo. Dana became a resident on this event.After a few successful editions of 'Qlimax', Q-dance launched the Qlimax CD series. The first volume was mixed by Dana.The second edition was in the hand of her colleague and friend DJ Pavo. For the 3rd they combined their forces to create a massive double album.
From the beginning of Qlubtempo, hardstyle grew to one of the most popular style of dance music in Holland. Besides Q-dance more party organizations started doing events in this style and Dana dedicated her live to hardstyle.
Nowadays Dana is the most popular hardstyle DJ in Holland. With unbelievable success she plays several parties every weekend.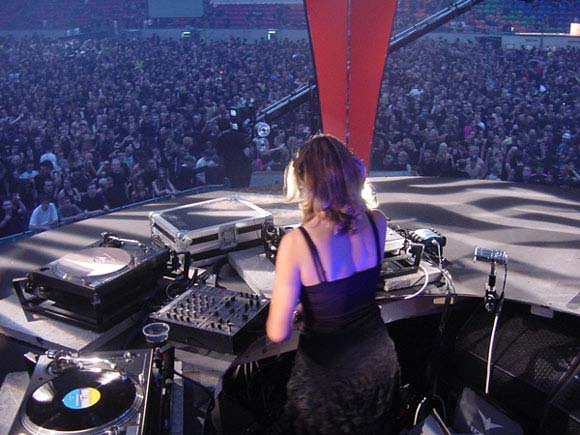 ---



Hardcore
- Lady Dana, Skorp, Pila & Chronotrigger 'Oh god damn, I'm great (RNO 3)
- Lady Dana & Skorp 'Booming Track' (RNO 5)
- 1080 'Dev Rhythm' (RNO 6)
- Dana ft. Bass-D & King Matthew & Skorp 'The execution' (MOH 5)
- Lady Dana ft. Bass-D & King Matthew 'Rock Stady' (MOH 7)
- Lady Dana, Skorp & Chronotrigger 'Hardcore Planet' (RNO 7)
- Lady Dana & Chronotrigger 'The Show' (RNO 7)
- Lady Dana ft. Bass-D & King Matthew 'Rock that' (MOH16)
- Lady Dana & Neophyte 'Gangsta' (Neo 8)
- Lady Dana 'Ladies first' (Third Movement)
Hardstyle
- Unit 4 'Relax' (Q-dance)
- Unit 4 'The Ultimate' (Q-dance)
Mix CD's
- Heroes of Hardcore
- Mysteryland 1997
- Global Nation – live 18 oct. 1997
- Qlimax vol. 1
- Qlimax vol. 3
- HouseQlassics –The Hits
- Hardbass

Best Parties
- Thunderdome on tour
- All Mysteryland festivals
- Masters of Hardcore
- Nr. One – Italy
- Nightmare in LA – USA
- Scorpio – Spain
- Qlubtempo 1 to 10
- 1991-1992 Oldstyle Outburst
- HouseQlassics
- Qlimax 1 to 6
- Shockers, Rai – Amsterdam
- Sensation 'black edition' Arena –Amsterdam




DJing on stage
05-09-2003 ----- Mad Club 03:00-05:00 ----- Lausanne Zwitserland
06-09-2003 ----- Hardcore Rave 01:00-02:15 ----- Platte Zaal Maastricht
06-09-2003 ----- Antwerp is Burning Outdoor 04:30-06:30 ----- Terrein Middenvijver Antwerpen
11-09-2003 ----- Girls Love DJ''s ----- Supperclub Amsterdam
19-09-2003 ----- Mambo Beach 00:00-02:00 ----- Curacao
26-09-2003 ----- The Ultimate Seduction 00:30-01:30 ----- Alcazar Puttershoek
26-09-2003 ----- Danscafé Eindelijk 03:30-05:00 ----- Almere
27-09-2003 ----- De Buitenwacht 00:00-02:00 ----- Kampen
03-10-2003 ----- NRGIZER / Temple of Dance 01:30-03:30 ----- Leunen
04-10-2003 ----- Hardbass Extreme 03:30-05:00 ----- Silverdôme Zoetermeer
04-10-2003 ----- Carmania ----- Zeelandhallen Goes
05-10-2003 ----- Oldstyle ----- Rome/Italy
10-10-2003 ----- Tidy Weekender #4 ----- Perstatyn North Wales UK
11-10-2003 ----- Tranzexperience ----- Tampere/Finland
17-10-2003 ----- Club Circus 02:00-04:00 ----- Nancy/France
24-10-2003 ----- De Hoeve 00:00-02:00 ----- Groesbeek
08-11-2003 ----- XXellerator 03:00-05:00 ----- Matrixx Nijmegen
29-11-2003 ----- Trinity Project-Part III ----- Sweden
Bookings
---
---