Kiki Moorse, Melissa Logan, Alex Murray-Leslie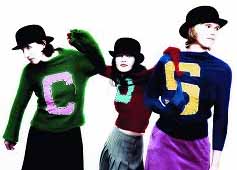 break the rules .... and have fun at the same time !
---

November 2003 release:
"Chicks on Speed. It's a Project"
the book by Checks on Speed

Planned is the book launch and exhibition tour (begun in October 2003, continuing into 2004) at Deitch Project Space in New York, Palais de Tokyo in Paris and Von Rot in Berlin.



---

October 2003 release
"99 Cents"
3rd new album (COS)
A big loud glam rock electro-pop explosion !

Includung the song 'We Don't Play Guitars'
(taken from single 'We Don't Play Guitars)'.Album special guests: Peaches (on 'We Don't Play Guitars'), Miss Kittin (on 'Shick Shavin'), Talking Head/Tom Tom Club's Tina Weymouth, Adult's Nicola Kuperus, Le Tigre (label mates).



It was always almost impossible for Chicks On Speed to be put into "a box" by any journalist, as they were constantly working in every possible direction in every possible medium at the same time. Chicks On Speed diversified through making clothes (now available in boutiques in Tokyo, New York and New Zealand), doing graphic design for magazines, painting boob monsters on the exterior of a building in Melbourne, Australia, playing for 5 minutes in front of the prince of Norway in a park in moss, hosting a weekly berlin radio show, running their own web shop .... and generally just by doing all this and making pop music hits at the same time.
Chicks have been been actively involved in the field of graphics design, being invited to design record
covers for Jim O'rourke, Fennez and Pita Rehberg for the record label Mego, Vienna, pages for sleze
nation and continually design all of their own cd covers, posters and web sites, sometimes
collaborating with graphics design stars Tina Frank and Walter Schoenauer.
They are currently working on a book with the London publisher Booth-Clibborn, to be released in
November, this year, titled "Chicks on Speed, It's a project!".

Chicks on Speed started as a fake band behind the Munich art academy in 1997, instead of attending classes they would organize their weekly illegal parties under the name Seppi bar. The three members, Kiki Moorse (Germany), Melissa Logan (New York) and Alex Murray-Leslie (Australia) came together from all over the globe to create their own personal, international, "do it yourself" melting pot style. Establishing themselves in the fields of pop music, painting, graphic design, fashion and performing at "happenings" in art galleries, the 3 quickly received a reputation as being a group who liked to BREAK THE RULES and have fun at the same time.
Chicks on Speed never wanted to be a band, but somehow, they sort of slipped into becoming a band, after touring the Usa 6 times over the last 4 years and playing numerous festivals in Australia and Europe.
They were invited to support the b52's on their 25th anniversary show in New York in 2001 at Webster Hall and opened for Kraftwerk and Underworld on the Big Day Out tour of Australia in 2002.
Chicks On Speed collaborations with other artists have always been a very strong focus within their work. They collaborated with Karl Lagerfeld in 2001 on the cover photo of "Fashion Rules!", worked with the Viennese producer team Gerhard Potuznik and Ramon Bauer on 3 albums, created a fashion collection with Jeremy Scott in 2003 called "Overalls for all!" and invited female musicians to contribute to their soon to the" 99 cents" album , including Tina Weymouth from Tom Tom Club and Talking Heads, Peaches, Nicola from Adult and Miss Kittin. They are also currently working with Cristian Vogel in Barcelona on their 4th album to be released in early 2004.
The Chicks have run their own record label 'Chicks Cn Speed' records with Juergen Soeder and upstart (Peter Wacha), since 1997. COS records release Chicks music and that of Le Tigre, Angie Reed, Dat Politics, Kevin Blechdom and Silvester Boy, supporting their favorite music in the international music arena. The label has had a major impact on the presence of women in the field electronic music, with the ambition of creating a long term infrastructure for and with other women together.

Chicks On Speed
Discography


---

Chix 52
EP, 2000

Chicks On Speed and DJ Hell "Warm Leatherette" (GO records)
(Giorgio Moroder production)

Chicks On Speed and Muse "Euro Trash Girl" (GO records)

Chicks On Speed and DMX krew "Smash Metal" (GO records)

Patrick Pulsinger and Chicks On Speed (Gaier/Reents)
"Mind your own Business"

Chicks On Speed. featuring Christopher Just "Glamour Girl"

Chicks On Speed and Barabara Morgenstern
"Kaltes Klares Wasser" Malaria

---

on Chicks On Speed Records

99 Cents
album (2cd), 2004

Chicks On Speed - The Un-Releases
(COSR-0) (limited edition, sold out)


Chicks On Speed -The Re-Releases of The Un-Releases

Chicks On Speed - Will Save Us All (album lp/cd)

Chicks On Speed - Chix52 (12'' ep, CDs)

Chicks On Speed/Kreidler - Sessions (12''/mini-cd)



Chicks On Speed - Fashion Rules ! (12'')

Chicks On Speed - We dn't Play Guitar (single 12" Ep, CD)

" We dn't Play Guitar "( CD cover)


Chicks On Speed - 99 Cents (album)


---

"We may take off our skirts, but we won't wear any pants"

---

" During punk there were a lot of active women on the scene, and now there seems to be a trend reawakening that women can relate and aspire to what is going on in electronic music"

---

"It's Munich that pushed us to be creative as we didn't feel part of what is already existing here, a bit boring some of it. We started doing this due to the whole techno DJ scene here. It is this scene that nurtured us from the beginning, people like Upstart from Disko B or DJ Hell, and of course DMX Krew in London"

---

"Our influences are Virginia Woolf, Flying Lizards, Kleenex, Daniel Pflumm, Pan sonic, Kreidler, Super Collider, Pipilotti Rist, Tony Ousler, Adib Fricke, Kai Althoff, Mause, Graf Hadik, Hecker, Andreas Dorrau, Holger Hiller, Nick Cave and Kylie Minogue, Bob Dylan, The Orb, Molly Ringwald, Jill Mingo, Piers Martin, Vivienne Westwood, Michelle Rheiner, Mari Funaki, Madonna, Prince, DMX Krew, Young Gods, Sonic Youth, The Human League, The Normal, Le Car, Sam and Valley, Ultravox, Joni Mitchell, Kathleen Hannah and Bikini Kill, Boy George, K Records, Upstart, DJ Hell, Dakar and Grinser, Blondie, Ryoji Ikeda, Carsten Nicolai, Anthrax"

---

" We feel we are part of a long tradition of being independent, of specialization in one field. The media would call this a "cross over"

---

"Visual installations/music and exhibitions are all important mediums for us"

---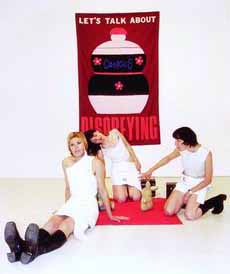 ---
---
---
-->>


Your demo to CHECKS ON SPEED RECORDS:
tel: +49-89-5438230/2, fax +49-89-5438441
Lindwurmstr. 71, 80337 Munchen, Germny
e-mail



<<--