---

PRODUECR
-Completely redesigned User Interface
-Cutting edge mixing environment
-Dynamic Console View
-Universal Bus Architecture
-Unlimited mixing capabilities with unlimited potential tracks, real-time effects, auxiliary sends, and buses
-Advanced MIDI routing & synth Layering
-Patch effects, trim audio, and roll out loops without disrupting the audio stream
-MIDI Groove Clips
-Support for VST effects & instruments
-Multi-port MTC and MIDI Sync transmission
-Confidence recording of audio, MIDI, and automation
-Track Inspector, optional vertical patch point and meter in Track view
-Producer Edition Exclusives Lexicon Pantheon Reverb
-Integrated per-track Ultrafunk Channel EQ
-Ultrafunk Sonitus:fx suite
-VSampler 3.0 DXi multi-format digital sampler (includes 2 CD-ROMs of sample content)
New customers US dollars 719.00
Registered Cakewalk customers US dollars 349.00

STUDIO
-Completely redesigned User Interface
-Cutting edge mixing environment
-Dynamic Console View
-Universal Bus Architecture
-Unlimited mixing capabilities with unlimited potential tracks, real-time effects, auxiliary sends, and buses
-Advanced MIDI routing & synth Layering
-Patch effects, trim audio, and roll out loops without disrupting the audio stream
-MIDI Groove Clips
-Support for VST effects & instruments
-Multi-port MTC and MIDI Sync transmission
-Confidence recording of audio, MIDI, and automation
-Track Inspector, optional vertical patch point and meter in Track view
New customers US dollars 479.00
Registered Cakewalk customers US dollars 199



---
---
---


SONAR 3 Producer Edition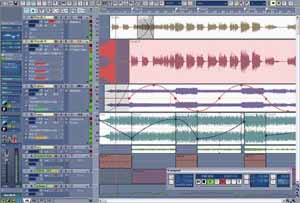 SONAR 3 includes over 100 new features and enhancements including:


* User Interface. Take a Tour through some of the new UI enhancements.
SONAR's user interface has been completely streamlined for version 3.0 to moe ease-of-use, efficiency, and flexibility. Everything from control style and layout, toolbars, and even colors have been updated, along with many usability improvement.




Lexicon Pro Pantheon Reverb
For the first time, SONAR customers have access to the classic Lexicon Reverbs plug-in .


Pantheon features
* Classic Lexicon Reverb known throughout the recording world
* 35 factory presets, plus a powerful editor for creating additional presets
* Six Reverb types including Hall, Chamber, Plate, Room, and Ambience
* Sixteen user adjustable parameters for fine tuning the reverb
* Advanced yet easy-to-use interface
* Floating point DSP processing
* Mono and Stereo Operation
* 16 and 24 bit compatible
* Efficient CPU Utilization
* Sample Rates up to 96kHz

Per-Channel EQ
Ultrafunk Channel EQ is a 6-band parametric equalizer with 5 filter types that can be individually selected, edited, and automated for each band. Includes several different display modes that let you customize how you see and edit the EQ: EQ Plot, single band, multiband, or all bands in a separate window.


Assignable FX Controls
Instant access to any 4 effects parameters that are patched into your audio channel or bus , without opening the plug-in property page. You can choose which parameters are accessible directly from the channel strip, and edit or automate them with ease. SONAR 3 remembers which controls were assigned so they are ready to go the next time you patch the effect.


Ultrafunk Sonitus:fx Suite
Automatable audio effects. New for SONAR 3, effects have been enhanced with DirectX automation. The suite includes:
* Compressor
* Gate
* Modulator
* Multiband Compressor
* Parametric Equalizer
* Phase
* Reverb
* Surround
* Tempo-syncing Delay
* Wahwah



VSampler 3.0 DXi
A DXi digital sampler that offers extensive editing capabilities.

Key Features
* 4 LFOs & 4 freely assignable EGs
* 4 step sequencers
* Full automation and project tempo sync
* Built-in effects
* 128 voice polyphony
* 16 stereo outputs
* Includes 2 CDs of sample content

Supported sample formats:
* AIF samples
* AKAI (AKAI S1000/S3000 CD and AKAI S5000/S6000 .AKP)
* Downloadable Sounds (.DLS)
* Gigasampler (.GIG)
* HALion (.FXB, .FXP)
* LM4 Drumkits
* SoundFonts (.SF2)
* WAV samples


Audio hardware
* Use any Windows compatible audio device via ASIO or WDM , from your stock soundcard to dedicated Pro Tools | HD hardware

Automatable DX & VST audio effects·
* Includes 28 different audio effects which covers all the bases and also provides multiple reverbs, compressors, and other effects so you can get the right sound
* Includes: Lexicon Pantheon Reverb,Complete Ultrafunk Sonitus:fx suite, Alien Connection's ReValver SE guitar rack simulator, Audio FX2 Tape Saturation,DSP-FX by Power Technology,And more
* Enhance your capabilities with additional DirectX or VST plug-ins
* VST support provided through the Cakewalk VST Adapter.

Software synthesizers (DXi and VST ) instruments include:Audio Simulation's DreamStation 2.0 DXi, Cyclone DXi, EDIROL's Virtual Sound Canvas 2.0 DXi, VSampler 3.0 DXi
ReWire clients and soft synths are directly routed through SONAR's bussing architecture for enhanced processing and seamless integration into your mix


Global control surface support

* SONAR 3's support for control surface hardware gives you tactile control of your mix, audio effects, and soft synths
* Features dedicated support for control surfaces from CM Labs, EDIROL, JL Cooper, Mackie, Radikal, Roland, Tascam, and many others
* Use Learn Mode to quickly configure any MIDI device to act as a control surface

Track view

Track view is the center of your recording and editing environment. Record, edit, sequence, and mix your projects-all from within one global view.
The new on-demand Track Inspector provides convenient access to all channel/bus parameters and plug-ins even when your channels are minimized.
* SONAR 3 places no limit on the number of tracks you can record
* Patch as many effects or synths as your processor can handle
* No limit to effects sends and busses
* Unlimited undo/redo gives you the freedom to explore new directions for your music-without having to commit to them
* Edit History List allows you to instantly jump back and forth to any point in your editing session
* Create and save templates to recall routing, bussing, automation, mixer, and effects settings for new projects
* Assign hot keys to instantly configure SONAR 3 with custom screen layouts for various editing and mixing tasks, and for shortcuts to the editing commands, features, and views that you use most

Mixing environment

SONAR 3 features the latest in 32-bit floating point digital mixing and bussing technology with full delay compensation throughout your signal path. You can mix in the Track view or in the new Console view.

Dynamic Console view
* Unlimited mixing capabilities with unlimited potential audio and MIDI channels, real-time effects and synths, effects sends, and busses
* All parameters can be automated on screen or remotely via hardware
* Dynamic Display Filtering—see all mix parameters or only the ones you need with option for narrow or wide strip widths
* Assignable Channel FX Controls for quick access to plug-in automation
* Assignable MIDI controls for access and automation of MIDI data
* Integrated 6-band per-channel Parametric EQ with plot display
* FX bins and individual effects can be bypassed for quick A/B comparisons of your mix
* Mono toggle on all tracks and buses
* Flexible metering (peak, RMS, peak and RMS, pre-fader, post-fader, and pre-fader post effects) with peak history

Universal Bus Architecture
SONAR also now includes completely configurable, dynamic bussing capabilities.
* Use busses for subgroups, effect sends, master busses, output to different monitor or headphone mixes
* Route busses to other busses or main outputs
* Insert busses and sends on the fly, pre or post fader
* Per-track "input monitoring" switch
* Input monitoring no longer linked to recording and can be toggled on/off per track

Other recording, editing, and mixing enhancements
* Confidence recording—real-time drawing of audio waveforms, MIDI data during recording
* Automate with vector envelopes for precise control over your mix
* Patch effects, trim audio, and roll out loops without disrupting the audio stream
* Fast, offline rendering of soft synths, effects, and tracks for conserving CPU
* Frame-accurate SMPTE/MTC sync with auto-detection of time code
* Transmit MIDI Time Code (MTC) and MIDI Sync to multiple output ports



Loop-based composition tools

With support for both ACID-format audio loops and MIDI groove clips, SONAR 3 provides total integration of loop-based composition to your studio.
* Roll-out loops with click and drag ease
* Features on-the-fly beat matching, and loops follow the pitch and tempo of your projects with no degradation of audio
* Create and export ACID-format audio loops and MIDI Groove Clips for use in other projects
* Find & audition audio loops in real-time from the Loop Explorer view
* Includes loop content from KeyFax, PowerFX, and Smart Loops

Cyclone DXi

Working with samples, and brings a live dynamic to loop-based music


.
* A 16-part, ACID-compatible, multi-out, phrase sampler, loop trigger, composition tool, and loop editor wrapped up in a single DXi synth
* Rearrange, replace, combine, and tweak loop slices to create custom grooves
* Perform and record loop-based compositions in real-time using any MIDI device, MIDI tracks, a computer keyboard, or mouse
* Loaded samples match the tempo and pitch of your project.
* Control gain, pitch, and pan of individual loop slices
* Full control over looping points: a great way to create polyrhythmic textures and work with loops in odd time signatures
* Support for multiple outputs & key mapping



Enhanced MIDI routing and synth layering

* Play multiple or split synths from one MIDI controller
* Route multiple controllers to multiple synths or MIDI devices
* Custom drum maps allow you to create and play kits that span MIDI devices on multiple ports and multiple DXi synths
* Save presets of your favorite MIDI configurations for instant recall

Complete MIDI editing

* Multitrack Piano Roll and Drum Editor both feature polyphonic rhythmic Pattern Brush
* Event List view with display filtering
* Notation, SYSEX, Markers, Tempo, other views
* Non-destructive MIDI editing and mixing with 13 included real-time MIDI FX
* Comprehensive MIDI editing commands: Arpeggiator, DeGlitch, Event Filter, Fit to Time, Fit Improvisation, Groove Quantize, Intelligent Transpose (interval, diatonic, 40 scales, custom), Interpolate (search and replace), Retrograde, Scale Velocity

Professional project management & collaboration tools

* Optional per project audio directories
* Consolidate all project files for fast backup or transfer
* Enhanced asset sharing with networked media support
* Search for associated files to locate relevant audio and to keep your projects organized
* Export or bounce multiple tracks and busses to single or separate files, with full control over what mix elements are printed to the output file (effects, automation, synth output, ReWire client output, mute/solo, mono/stereo, etc.)
* Import/export OMFI & Broadcast Wave files for cross-platform collaboration with Digital Performer, Logic, Nuendo, Pro Tools, and others




---
---
---
Feature overview

* Multitrack recording, editing, mixing, and delivery of projects
* Centralized user interface for recording, editing, and mixing
* Graphical envelope automation control of audio, MIDI, synths, effects
* Professional metering (peak, RMS, peak and RMS, pre-fader, post-fader, and pre-fader post effects)
* Fast navigation tools
* Loop-based composition, construction, and editing tools
* ACID™-loop & MIDI Groove Clip support
* Support for DirectX & VST audio effects
* 29 included audio effects
* Support for DXi & VSTi soft synths
* 5 included DXi soft synths (VSampler 3.0 DXi, Cyclone DXi, Dreamstation DXi 2.0, Virtual Sound Canvas DXi 2.0, Live Synth Pro SE DXi)
* Support for ReWire 1.0 & 2.0 clients (Project5, Reason, more)
* Support for real-time, non-destructive MIDI FX plug-ins
* 13 included MFX plug-ins
* Full plug-in delay compensation across signal path
* Cyclone DXi 16-part, beat matching phrase sampler
* Integrate multiple MIDI-compatible control surfaces (Mackie, CM Labs, more)
* Support for unlimited custom screen layouts and colorization
* User-definable keyboard shortcuts
* Multitrack Piano Roll and Drum Editor with polyphonic rhythmic Pattern Brush
* Custom, multi-port drum mapping
* Full notation of MIDI with lyrics, chord symbols, guitar tablature, more
* Event List view with display filtering
* Tempo view with list and graph displays
* Markers view
* Non-destructive slip editing (trimming)
* Unlimited undo/redo with edit history
* Advanced project and file management tools
* OMFI & Broadcast Wave import/export for cross platform collaboration with Digital Performer, Logic, Nuendo, and Pro Tools studios
* Import media & projects in multiple formats: AIF, ASF, AU, AVI, Broadcast Wave, MIDI, MP2, MP3, MPEG, MPG, OMFI, SND, WAV, proprietary Cakewalk formats (.bun, .cwb, .cwp, .wrk)
* Export: WAV, ACID-format WAV, Broadcast Wave, AVI, OMFI, MIDI, MP3*, Real Audio G2, Windows Media 9, proprietary Cakewalk formats (.cwb, .cwp)
* 32-bit floating point resolution
* Audio bit-depths and sample rates up to 24-bit/96 kHz
* Rock-solid synchronization of audio, MIDI, video, external hardware
* Sample accurate internal timing resolution for audio, soft synths and automation; 960 PPQN for external MIDI devices
* Frame-accurate SMPTE sync with auto-detection of timecode
* Yamaha OPT Level 1 MIDI Hardware Link support
* Multi-monitor support
* Multi-processor support
* ASIO & WDM compatibility
* Optimized for Windows XP/2000
* Hassle-free copy protection (serial number on installation)
*SONAR 3 includes 30 day MP3 Encoder trial



---
---


FAQ

What is "Hassle-free copy right protection"?
Hassle free means you don't need a dongle or other intrusive devices when using SONAR 3 in your computer. Cakewalk trust customers and believe they will adhere to the copyright policy of one license per computer. You get a serial number and enter it during installation. Then you are free to work on SONAR 3 as you please. If you register your serial number, you will be eligible for updates, news, contests, special offers and other fun stuff.

What does Cakewalk send me when I upgrade to SONAR 3?
You will receive the full version on CD along with the complete manual. When you purchase Producer Edition you also get 2 professional sample content CDs for VSampler 3.0 DXi.

Is Producer Edition really worth the extra money?
You get the Ultrafunk Sonitus:fx suite which alone is worth $299. Plus you get the Lexicon Pantheon Reverb plug-in which is exclusive to SONAR 3 and is valued at $499. You also get the Vsampler 3.0 DXi which is valued at $149 and includes 2 sample content CDs valued at $99. And that's without mentioning per-channel Ultrafunk EQ, and assignable FX controls.

Can I keep SONAR 2 installed when I install SONAR 3?
Yes. You can run both programs side by side until you feel comfortable with SONAR 3.

Can meters be displayed horizontally in the Track view like in SONAR 2?
Yes. You can choose to display meters vertically or horizontally to suit your mixing needs.

Does Sonic Timeworks EQ and CompressorX come with SONAR 3?
No. Those plug-ins were exclusive to SONAR 2 XL and were not carried over. For those of you who have SONAR 2 installed in your system, you will be able to continue using those plug-ins in SONAR 3.

Can I use the Ultrafunk, VSampler and Lexicon plug-ins outside of SONAR 3?
You can use the Ultrafunk Sonitus:fx suite and the VSampler 3.0 DXi outside of SONAR in DX or DXi compatible applications. The Lexicon reverb only works inside SONAR 3.

Does VSampler 3.0 DXi support AKAI samples?
Yes. VSampler 3.0 DXi supports CD. PRG and .AKP formats.

What's the difference between the Lexicon Pantheon and the Lexicon Pantheon LE version?
The Pantheon version included in Producer Edition features 35 factory presets while Pantheon LE, included in the Studio Edition only has 20. Also, the Pantheon version has 16 user adjustable parameters for fine tuning the reverb while Pantheon LE has 5.

In September 2003, I purchased SONAR 2 at my local music store. Am I entitled to an upgrade offer?
Yes. Anyone who purchased a retail copy of SONAR 2 in September 2003 at music stores is entitled to a free upgrade to SONAR 3.


---
---