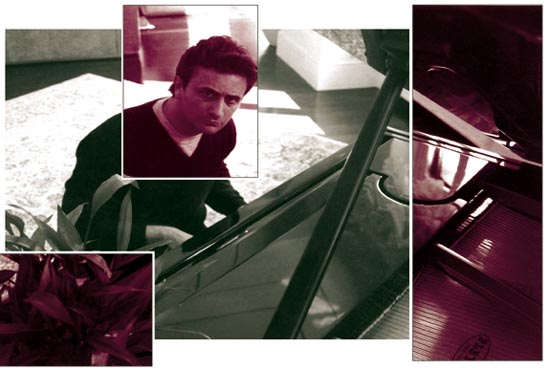 January , 2004

Now available: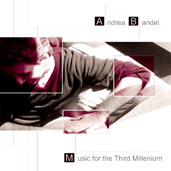 ANDREA BANDEL
"Music for the Third Millenium"
(2004-Album)

---

Born in Venice in 1966, he studied the violin under Antonio Maci and Franco Fantini, and composition under Adriano Guarnieri and Mario Garuti at the G.Verdi conservatory in Milan and orchestra direction with Carlo Maria Giulini and
Franco Gallini.
He gained a diploma in the violin, and later the proficiency diploma in Geneva with Corrado Romano.
After an intense period of concert activities, he dedicated himself entirely to composition and, in particular, to film scores.
He worked with Pino Donaggio, arranging and writing pieces of sound track for various films, amongst which we remember La Chance by Aldo Lado, Trauma by Dario Argento, Racket by Luigi Perello and Così fan tutte by Tinto Brass.
Furthermore he arranged and directed the orchestra in the films, Storia di una ragazza by Liliana Cavani, Trasgredire by Tinto Brass and Segreto di Stato by Giuseppe Ferrara. He participated in the XXI National Cinema Competition in Lastra a Signa (Florence), winning the first prize in absolute for the best sound track.
Also he worked (arranger) with Tullio De Piscopo, Dario Baldan Bembo, Davide De Marinis, Cinzia (Cattivi Pensieri).
The production of chamber and symphony music showed itself to be determining in his compositional experience. In the numerous pieces created in this field, all published and performed by famous soloists, one can clearly grasp the trajectories of a musical language that is soundly linked with the tonal dialectic, almost wanting to rediscover its many expressive potentialities. Others of intense lyricism interrupt the brilliant and virtuosic moments where - to cite the words of a music critic's review - the
music pa ses like the sequence of a slow "rêverie" , fragile and rich, continuously recreating itself.

---

Nato a Venezia nel 1966, intraprende gli studi di violino con Antonio Maci e Franco Fantini, di composizione con Adriano Guarnieri e Mario Garuti presso il conservatorio G. Verdi di Milano e di direzione d'orchestra con Carlo Maria Giulini e Franco Gallini.
Diplomatosi in violino, consegue successivamente il diploma di perfezionamento a Ginevra con Corrado Romano (maestro di Uto Ughi).
Dopo un intenso periodo di attività concertistica, si dedica completamente alla composizione e, in particolare, alla musica da film. Collabora con Pino Donaggio arrangiando e scrivendo brani di colonne sonore di vari film, tra i quali ricordiamo La Chance di Aldo Lado, Trauma di Dario Argento, Racket di Luigi Perelli e Così fan tutte di Tinto Brass.
Inoltre arrangia e dirige l'orchestra nei film, Trasgredire di Tinto Brass e Segreto di Stato di Giuseppe Ferrara. Partecipa al XXI Concorso Nazionale del Cinema di Lastra a Signa (Firenze), conseguendo il primo premio assoluto per la migliore colonna sonora.
Collabora inoltre come arrangiatore con Tullio De Piscopo, Dario Baldan Bembo, Davide De Marinis, Cinzia dei Cattivi Pensieri ed altri.
La produzione di musica da camera e sinfonica si rivela determinante per la sua esperienza compositiva. Nei numerosi brani realizzati in quest' ambito, tutti editi ed eseguiti da solisti di chiara fama, si colgono con chiarezza le traiettorie di un linguaggio musicale saldamente legato alla dialettica tonale, quasi a volerne riscoprire le molteplici potenzialità espressive. I momenti brillanti e virtuosistici sono intercalati da altri di intenso lirismo, dove - per citare le parole della recensione di un critico musicale - la musica transita come la sequenza di una lenta "rêverie", ricreandosi di continuo, fragile e ricca.

ANDREA BANDEL

If a unifying category exists in modern or post-modern art, able to save us from the trouble and effort of labelling every trend and classifying every work carried out, it is perhaps represented by eclecticism. The period marked by the Post War Avant-gardes that had proudly swept away the heritage of the preceding tradition - having ended, many young composers recuperated a language thatwas inexpressible until a few decades ago, primarily enlarging the cultural horizons somewhat. So, new reference points
have been added to the central European tradition, once the only shining light.
These new points have enabled a less tormented and freer passage across the great sea of modern composition.
Pop music from Europe and beyond, Jazz, rock, funky and songs constitute a
terrain of comparison and daily study for many composers of our times.
Even Andrea Bandel demonstrates a constant tension of research in his music, in the sense of a continuous need to acquire new words, in order to construct a language that is surprising in its range of expression. Bandel manages to master and possess every style that really interests him. Every composition on this CD returns to a time and an experience that has represented an important end in its time in the activities of this young Milanese composer: the Argentine tango, the "cultured" European tradition, atonal music, Jazz and as many others are relived time by time with the profound knowledge of the equal dignity of their value.

Bandel's six compositions
(in order: Aphorism of a tango, Dernier Acte, Assembly for solo violin, Apology, Apotheosis and Pictures)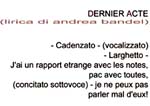 'Dernier Acte' (taken from the "Music for the Third Millenium" booklet)
full size


represent six phases of a creative route that is precisely resolved by eclecticism, but would be misleading to interpret as a dispersion of creative energies or a series of fatal diversions. Instead, by looking at them closely they are composed of a picture that is certainly heterogeneous but coherent within itself, in that it is always possible to recognize the common traits of an unsettled and curious personality, able to master a language, not quoting it with lesser of greater knowledge, but managing to
make it his own and to "live it" by operating from within. Let us listen to a composition such as Pictures, the most recently written piece: it seems the work of an American musician,
trained in Jazz and struggling with a piece that aspires to the "cultured" European tradition.
Who would think that it is instead the work of a brilliant violinist, educated therefore in the classical tradition? The fact is that words such as swing or funky, within this piece, are notgeneric indications but open out into a world of sounds that time by timeimpresses radical and precise development onto the composition.
Certain pages for the piano that seem to be left to the improvised taste of the interpreter, are instead lovingly recreated and defined in the smallest details in the score; they hide like an instinctive gesture, made agile and natural by habitual and deeply confident practice of this style.
Let us think of Apotheosis, not just a simple homage to Argentine tango but
evidence of a deep affinity between the musician and this language that, unlike the Aphorism of a tango, is re-evoked as in a vague transparency: the outlines and the subtle melancholy of the dance remain while all the rest is recreated following an intellectual operation that belongs to the life and experience of the composer.
However, these two different compositional dimensions do not demonstrate any
solution of continuity but are harmonized in a complete and coherent picture. Let us continue with our review: Dernier Acte, Assembly for solo violin and Apology are the pieces nearest to the "cultured" tradition. However, the first seems to have links with that current of Gestualism typical of the 1970s, even if it evokes an extenuated and visionary atmosphere in the central section, almostexpressionist lyricism but with a dramatic tension (even melodramatic) of great emotive impact. The second, a violin piece that exalts the technical-virtuosic and timbre-expressive details of the instrument, seems to return to the polyphonic writing of Bach at one moment, then to the severity of Hindemith or the rhythmic dancing of Bartók.
The symphonic tradition of the early twentieth century, primarily of Stravinsky and Prokof'ev, also flourishes in the pages of the Apology, the third piece.
And yet, in all three of these apparently different compositions, the common
feature of the Bandel's style emerges that primarily lies in the evocative capacity, typical of much film music (and, in fact, he has composed a lot of film music) and in the presence of a rhythm that animates each composition from within until elevating it to a real expressive parameter. Even when the result can be placed within a tonal language, Bandel's music
is dominated by a secure sense of the measure that puts the composer far from dangerous falls in level or from trespassing towards that second-rate taste that, in these cases, is the most frequent snare of the composer. Bandel does not flee from the topos par excellence of the tonal language, the melody (uncomfortable heritage of the tradition, even offended in the period of the neo avant-garde) because he knows that amongst those who compose them with ease and with taste and those whofruitlessly follow the seductive secret, he
belongs to the former.
It is not in fact a question of difficulty: good melodies are either easy or impossible and it is vainto look for them if one does not possess a pinch of that blessed "inspiration" that, abhorred, on principle by generations of composers, continues to be a problem with which the accounts, it seems, have never been completely closed.




Se esiste nell'arte moderna o post-moderna una categoria unificante, in grado di sollevarci dal fastidio e dalla fatica di etichettare ogni tendenza e classificare ogni opera compiuta, questa è forse rappresentata dall'eclettismo. Trascorsa l'epoca segnata dalle Avanguardie nel Secondo Dopoguerra, che avevano orgogliosamente fatto tabula rasa del retaggio della
tradizione precedente, molti giovani compositori hanno recuperato un linguaggio fino a qualche decennio fa improferibile, oltretutto ampliandone alquanto gli orizzonti culturali.
Così, alla tradizione eurocentrica, un tempo unico illuminante faro, si sono aggiunti nuovi punti di riferimento che hanno permesso una navigazione meno tormentata e più libera nel gran mare del moderno comporre. Musica popolare europea e non, Jazz, rock, funky e canzoni costituiscono così un terreno di confronto e di studio quotidiano per molti
compositori del nostro tempo.
Anche Andrea Bandel testimonia nella sua musica una costante tensione di ricerca, nel senso di un bisogno continuo di acquisire vocaboli nuovi, per costruire un linguaggio che sorprende per la varietà di modi. Bandel riesce a impadronirsi e a fare suo ogni stile che realmente lo interessi.
Ogni composizione di questo CD rimanda a un tempo e a un'esperienza che nell'attività di questo giovane compositore milanese ha rappresentato a suo tempo una meta importante: il tango argentino, la tradizione europea "colta", la musica atonale, il Jazz e quant'altro vengono volta per voltarivissuti con la profonda consapevolezza della pari dignità del loro
valore.
Le sei composizioni di Bandel (nell'ordine: Aforisma di un tango, Dernier Acte, Assemblaggio per violino solo, Apologia, Apoteosi e Quadri) rappresentano sei fasi di un percorso creativo che si risolve appunto nel segno dell'eclettismo e che tuttavia sarebbe fuorviante interpretare come una dispersione di energie creative o una serie di fatali sviamenti. A ben
vedere invece esse si compongono in un quadro certamente eterogeneo ma in sé coerente nel quale sono pur sempre ravvisabili i tratti comuni di una personalità inquieta e curiosa, capace di impadronirsi di un linguaggio non citandolo con minore o maggiore consapevolezza, ma riuscendo a farlo proprio e a "viverlo" operando al suo interno.
Ascoltiamo una composizione come Quadri, l'ultima scritta in ordine di tempo: sembra opera di un musicista americano, di formazione Jazz, alle prese con un brano che ammicca alla tradizione "colta" europea. Chi penserebbe che è invece il brano di un compositore italiano di studi conservatoriali, allievo di Adriano Guarnieri e di Mario Garuti, brillante
violinista, ed educato quindi alla tradizione classica? Il fatto è che parole come swing o funky, all'interno di questo brano, non sono generiche indicazioni ma schiudono un mondo di suoni che volta per volta imprime alla composizione una svolta radicale e precisa, e certe pagine pianistiche che sembrerebbero lasciate al gusto improvvisativo dell'interprete e che sono invece amorevolmente ricreate e definite nei minimi particolari in partitura, nascono come un gesto istintivo, reso agile e naturale da una pratica abituale e di profonda
confidenza con questo stile.

Pensiamo ad Apoteosi, non un semplice omaggio al tango argentino ma la testimonianza di una profonda affinità tra il musicista e questo linguaggio che a differenza di Aforisma di un tango, viene rievocato come in vaga trasparenza: della danza restano i contorni e la sottile malinconia mentre tutto il resto è ricreato secondo un'operazione intellettuale che appartiene al vissuto e all'esperienza del compositore. Tuttavia, queste due diverse dimensioni compositive non mostrano alcuna soluzione di continuità ma si armonizzano in un quadro compiuto e coerente.

Continuiamo nella nostra rassegna: Dernier Acte, Assemblaggio per violino solo e Apologia sono i brani che maggiormente si avvicinano alla tradizione "colta". Il primo sembra però riallacciarsi a quella corrente del Gestualismo tipica degli anni Settanta, anche se nella sezione centrale evoca atmosfere di un lirismo estenuato e visionario, quasi espressionista
ma con una tensione drammatica (persino melodrammatica) di grande impatto emotivo.
Il secondo, un brano violinistico che esalta le peculiarità tecnico-virtuosistiche e timbrico-espressive dello strumento, sembra rimandare ora alla scrittura polifonica di Bach, ora a quella severa di Hindemith o ritmicamente danzante di Bartók. La tradizione sinfonica di primo Novecento, soprattutto di Stravinsky e Prokof'ev affiorainfine dalle pagine di Apologia, il terzo brano.

Eppure in tutte e tre queste composizioni, apparentemente così diverse, emerge il tratto comune dello stile di Bandel che risiede anzitutto nella capacità evocativa, tipica di molta musica da film (e di musica da film, in effetti, l'autore ne ha composta parecchia) e nella presenza di un ritmo che anima dall'interno ogni composizione fino a elevarsi a vero e proprio parametro espressivo. Anche quando il risultato sia inquadrabile all'interno del linguaggio tonale, la musica di Bandel è dominata da un sicuro senso della misura che
mette il compositore al sicuro da pericolose cadute di livello o di sconfinamento verso quel gusto deteriore che in questi casi è la più frequente insidia del compositore.

Bandel non rifugge il topos per eccellenza del linguaggio tonale, la melodia (retaggio scomodo della tradizione, persino oltraggiato nell'epoca delle neoavanguardie) perché sa che tra quelli che le compongono con facilità e con gusto e quelli che ne inseguono inutilmente il seducente segreto, egli appartiene ai primi.
Non è infatti questione di difficoltà: le buone melodie o sono facili o impossibili ed è vano
cercarle se non si è provvisti di un pizzico di quella benedetta "ispirazione" che, aborrita in linea di principio da generazioni di compositori, continua a essere un problema con il quale i conti, a quanto pare, non sono mai stati chiusi del tutto.



---
Andrea Bandel
Discography / collaborations
---




2004
Andrea Bandel
"Music for the Third Millenium"
(Album)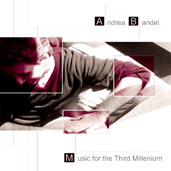 ---


2001
Ennio Morricone, Andrea Bandel, Franco Cerri, Paolo Cattaneo
"Images"
(Album)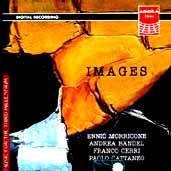 ---

1993

Trauma
(soundtrack, album)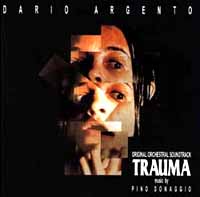 ---
---
---
---