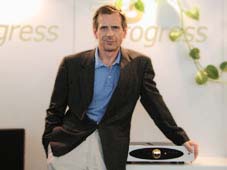 Manrico Casagrande,
with a technical-economic background, is the general manager of the company and was involved in consumer electronics and home entertainment since 1971.
AUDIO 4 & C. Srl is the exclusive distributor for Italy of: KEF, MERIDIAN, PROTON, IXOS, QUAD, CREEK , JOLIDA, ADCOM and others. AUDIO 4 & C also distributes world-wide the products: QUIET, NOIZ, TProgress, AERON and Ecostop. AUDIO 4 & C is associated with Northwood, founded and directed by Antonio Casagrande, a factory specialized in the construction of electronics equipment and hi-fi and professional loudspeakers and owner of brand names Quiet and Noiz. The Aeron and TProgress brands, property of Audio 4, are distributed world-wide. Aeron hi-fi anf home theatre components, TProgress DVD Players, Plasma monitors and other products of high technology are manufactures by the most advanced manufacturers that follow the specific design of the technical staff of Audio 4.


AUDIO 4 & C. Srl has been founded in 1984 by Manrico Casagrande , and has offices, laboratory, show room and warehouse in
Milan (Italy), via Polidoro da Caravaggio n° 33


on a surface of beyond 16500 square feet.
AUDIO 4 has 7 employees and other external collaborators and counsellors for a total of beyond 30 persons.

The distribution in Italy is made with the co-operation of 25 salesmen and over 1000 active hi-fi and home theatre retailers and professional installers that cover all the national territory. The international distribution for the own brand names Aeron, TProgress, Quiet and Noiz is made through local distributors in many important countries and is expanding rapidly.The after sales service is co-ordinated by the central laboratory of Audio 4 through 32 laboratories localized in the main provinces of Italy.
Thanks to the direct management of all the spare parts, Audio 4 offers an efficient repair service.

Audio 4, differently from all other companies, has its warehouse, and offers therefore a delivery time within 24/48 hours on all the national territory. Moreover, before the delivery, all goods are managed without external intermediaries and this guarantees a greater attention in handling the products with more guarantee for our customers.The philosophies to which Audio 4 inspires are :
- Selection of best products chosen with our long experience.
- Great attention to small things.
- Attention to the requirements of the customer.
-Careful after sales service.
- Availability of the products and the spare parts.
- Competitive Selling prices.
AUDIO 4 & C. Srl is member of the board of the two most important Italian associations for electronic products: ANDEC (Associazione Nazionale Distributori Elettronica di Consumo), that includes all the most important companies that represent about 95% of the total market and APAF (Associazione per La Promozione dell'Alta Fedeltà). Manrico Casagrande is currently the ANDEC president.
---
Manrico Casagrande
Exclusive interview

(P)& (C) Future Style (2004)





























---
---
---