---
---

ARTURIA
Minimoog V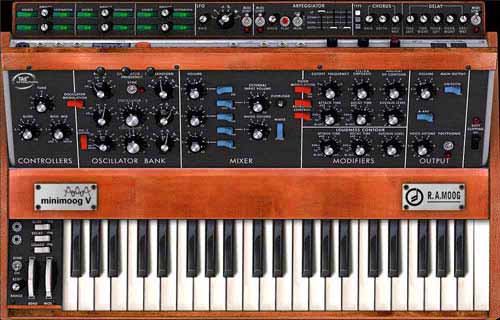 Software synth
based on TAE (standing for True Analog Emulation)
Arturia proprietary technology for emulating analog circuits





---
Required Configuration:




PC : Pentium II 500 MHz, 128 MB of RAM, Windows 9x/2000/ME/XP



.......


MAC :G3 500 MHz, 128 MB of RAM, MacOS 9.1 or higher, Mac OS X 10.2


Sound Card :Any sound card compatible with DirectX, ASIO, SoundManager or CoreAudio

Disk space :25 MB maximum

---




1971. At the NAMM convention, Bob Moog introduces the Minimoog, the very first compact and affordable synthesizer for musicians. With its excellent fat sound and its unparalleled filters, the Minimoog became responsible for some of the warmer and best analog synth bass, lead and whistle sounds ever.

2004. At the NAMM show, Arturia introduces the minimoog V, a reproduction of the Minimoog. Offering all the features of the original, the software version also brings polyphony, MIDI management, presets. And taking advantage of the possibilities of modern tools, beyond the control panel are some additional hidden functions: a modulation matrix, a LFO, an arpegiator, a chorus and a delay.




Original features and specifications
-3 oscillators offering multiple waveforms. The third oscillator can modulate either the first two oscillators or the filter.
-1 mixer with a built-in overload circuit
-1 legendary 24 dB/oct resonant filter
-2 ADSR envelope generators
-1 external audio input
-1 external oscillator and filter modulation input

Plus some Arturia new features
-1 modulation matrix offering up to six different connections between 12 sources and 32 destinations
-1 LFO which can be synchronised on the tempo of the host sequencer
-1 arpegiator which can also be synchronised in the same way
-1 three-mode chorus
-1 stereo delay to be synchronised via MIDI
-Possibility to synchronise Osc2 on Osc1

The Moog Modular V comes loaded with more than 400 presets made by a selection of the most talented sound designers.

The implementation of TAE in Moog Modular V results in:
-aliasing-free oscillators, at no extra CPU cost.
-better reproduction of analog oscillators: the condensers' unload and the oscillators' instability are simulated, helping to reproduce a typical warm sound.
-very accurate reproduction of the legendary Moog 24 dB low-pass filter.
-implementation of soft clipping, i.e. reproduction of the filters' current limiting function.



Technical specifications
Version 1.0

-Stereo synthesizer
-Mono / polyphonic (up to 64 voices per instrument)
-Soft clipping function
-No aliasing from 0.1 Hz to 16 kHz
-64-bit floating point precision
-Sampling rate: up to 96 kHz
-More than 400 presets, made by professionals
-Playable through a MIDI keyboard
-9 oscillators
-2 LFOs
-3 filter slots
-1 noise generator
-6 ADSR envelopes
-2 VCAs
-16 auxiliary VCAs with modulation inputs
-24-step sequencer
-1 filter bank (14 bandwidths available)
-1 stereo delay
-1 chorus


Compatibility Matrix


---
---
---
---
---
---
---
---
---
---
---

---
Isao Tomita
(on Minimoog V):
"I feel very nostalgic when I see this revival of the Moog modular synthesizer which I have used regularly for years. The interface using patch cable is gorgeous and the sound is just what it should be. For the new generation, I would like to say, please take the time to challenge the sound design, which was quite painful for me sometimes. And discover the unparalleled possibilities of this awesome piece of software "
---
---

Estimated release date: End February - Early March 2004

A 425-paged paper manual is provided in 3 languages: French, English and Japanese