---
---

ARBORETUM
HyperEngine-AV

Video, audio and text editor for Mac OS X






Requirements
Apple Macintosh computer with a G4 processor (500MHz or faster recommended)
512MB of RAM, 10MB of free hard drive space
A FireWire port for video transfer
a CD-ROM
Mac OS X v10.2 or later
A color monitor that supports at least 800 X 600 resolution is recommended

---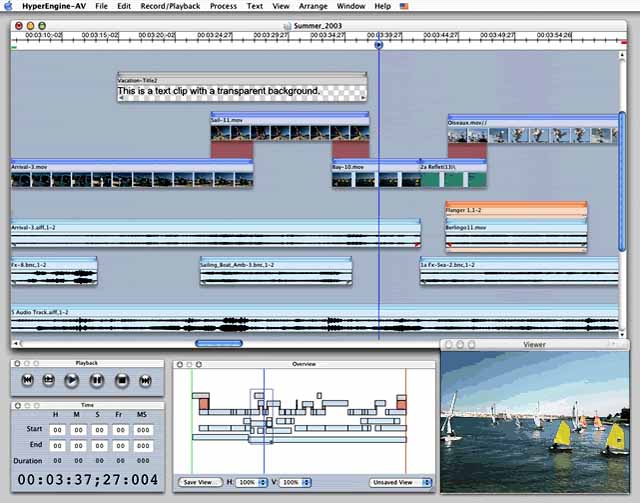 HyperEngine-AV imports all commonly accepted Mac formats including:
AIFF, Audio CD, AVI, BMP, DLS, DV, FLC (some limitations may apply), GIF, JPEG/JFIF, MPEG-1, MP3, M3U (MP3 Playlist files), MPEG-4 (MP4), Photoshop*, PICS, PICT, PNG, QuickTime,
SF2 (SoundFont 2), Sound, Text, TIFF*, and WAV.

HyperEngine-AV exports movies and audio as:
AIFF, AVI, BMP, DV Stream, FLC, JPEG/JFIF, JPEG 2000 (Mac OS X only), MPEG-4, PICT, PNG, QuickTime, System 7 Sound, Text, TIFF, and WAV.


---

HyperEngine-AV's free-form document window, lets you quickly and easily combine video, photo, audio and text media for the creation of dv quality slide shows,business presentatio , familly movies, corporate presentations or your own feature films.
Clips can be imported or captured in real time from a FireWire DV camera using remote machine control, then easily organized along the timeline to make movies.

Drag and drop your movie, sound, picture and text files from the finder or capture movies from your Firewire DV camera, Move your clips around using HyperEngine-AV's exclusive trackless free form environment.

Create real time transitions just by stacking movies on top of each other.

A full set of editing features is available at the tip of your mouse. Fades, time-stretch, trim, duplicate, merge and many more are included.

Process video with Quicktime as well as other third party effect plug-ins all in real time.

Process audio with Arboretum's plug-ins. New with the release of HyperEngine-AV 1.2.3: a free Reverb plug-in on top of the 10 Hyperprism plug-ins .


All QuickTime video effects , including edge detection, emboss, film noise, and color tint are available and can be applied to any video clip; a real time preview box takes the guesswork out of adjusting effect parameters. Supported formats are dv, mov, mpeg-4, jpg, tiff, gif and more by means of the program's built-in QuickTime® format translator.
Supported formats are DV, mov, mpeg-4, jpg, tiff, gif and more by means of the program's built-in QuickTime format translator.



HyperEngine-AV and Audio

Audio clips can be edited and processed to generate soundtracks.
The program comes with a wide variety of free studio-quality effects from Arboretum's acclaimed Hyperprism suite of processors includingReverb.
More can be added via a flexible plug-in architecture - including the popular Ray Gun and Ray Gun Pro for cleaning up scratchy vinyl, tape hiss, hum, and other problem recordings.
HyperEngine-AV also comes with over 70 royalty-free audio clips from celebrated sound designer Frank Serafine (Star Trek, TRON, Poltergeist, Hunt for Red October, Virtuosity).


HyperEngine-AV and Text

To import or create and display credits, section titles, subtitles or karaoke lyrics.
Text boxes can be placed over video clips or keyed against an editable background with adjustable duration for scrolling.
Set font, size, type, color, style, alignment, scroll direction and auto clip duration. Place text against transparent background or user-defined background color.

The Overview window offers multiple features such as direct import and move of clips, instant zoom to any parts of the project that the user has recorded and a wide range of independent x and y zoom sizes.

Since all clips generate their own magnetic grid, it is easy to accurately splice, trim, split, time stretch (resulting in quality speed motion change for video and tempo change for audio) and synchronize all media elements in just single mouse strokes.


Features

Built-in video transitions include :

Alpha Compositor
Channel Compositor
Chroma Key (compositors)

Crossfade
Explode
Implode
Zoom (transitions)

Gradient Wipe
Iris
Matrix Wipe
Push
Radial
Slide and Wipes

Built-in video effects include :

Alpha Gain
Brightness
ColorSync
HSL Balance

RGB Balance (adjustments)
Blur
Edge Detection
Emboss
General Convolution
Sharpen (filters)

Color Style
Color Tint with B&W/Sepia/X-Ray/Cobalt settings
Film Noise
Lens Flare (special effects)


Free Hyperprism built-in audio effect processors include :


Auto Pan
Band Pass
Band Reject
Flanger
Hi Pass
Lo Pass
More Stereo
New! Reverb
Ring Modulator Tremolo
Vibrato

The remaining Hyperprism range of audio effect processors (Bass Maximizer, Chorus, Compressor, Doppler, Double Chorus, Echo, EchoTranz, Formant Pitch Shifter, Frequency Shifter, Hall Reverb , Harmonic Exciter, High Shelf , HyperPhaser, HyperVerb, Limiter, Low Shelf, M-S Matrix, Multi Delay, Multi Phaser, Noise Gate, Noise Generator, Parametric EQ, Phaser, Quasi Stereo, Single Delay, Sonic Decimator, Stereo Dynamics, Tube/Tape Saturator) as well as Ray Gun and Ray Gun Pro are available as separate plug-in products with the HyperEngine-AV release.






---
Buy online

HyperEngine-AV 1.2.3 US dollars99.00

---
---
---
---
---
Contacts
Company office and sales department
Arboretum Systems, Inc. - 2 Moonstone - Irvine, CA 92602, Usa
Tel. 1-714-389-4983 , Fax: 1-714-389-4984
Toll Free (Order Phone): 1 800 700 7390
info

Technical support
Arboretum Systems, Inc. - 131 W. 138th St, #3B - New York, NY 10030 , Usa
Tel. 1-212-234-2650 - Fax: 1-212-234-7548
, info


---