---
Apple Mac Mini
6,5" x 6,5" x 2"
cm. 16,51 x 16,51 x 5,08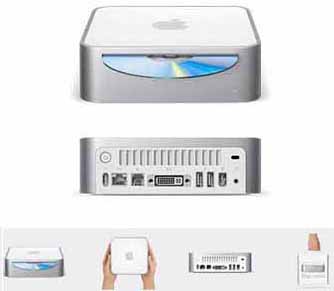 1.25 GHz - 40GB



US dollars 499.00


---

Euro 499,00
(Eur 415,00 IVA/vat escl.)





1.25GHz PowerPC G4
256MB DDR333 SDRAM
ATI Radeon 9200 with 32MB DDR video memory
40GB Ultra ATA hard drive
Combo drive
DVI or VGA video output
AirPort Extreme and Bluetooth optional


1.42 GHz - 80GB



US dollars 599.00


---

Euro 599,00
(Eur 499,00 IVA escl)





1.42GHz PowerPC G4
256MB DDR333 SDRAM
ATI Radeon 9200 with 32MB DDR video memory
80GB Ultra ATA hard drive
Combo drive
DVI or VGA video output
AirPort Extreme and Bluetooth optional
All models also include one FireWire 400 port, two USB 2.0 ports, 10/100 Ethernet and a 56k V.92 modem.

---


Included in the Box
- Mac mini
- Mac OS X v.10.3 Panther, iLife '05 and more
- DVI to VGA adapter
- Power cable
- Electronic documentation

Advanced Operating System
The Mac mini comes with Mac OS X Panther

iLife '05
The Mac mini comes bundled with Apple's iLife '05, featuring the latest versions of iTunes, iPhoto, iMovie, iDVD and GarageBand. So you can make a movie instantly : just plug in your camcorder and use iMovie. Download songs and albums from the iTunes Music Store and make your own custom mix CD. Record a song, then burn it to a CD.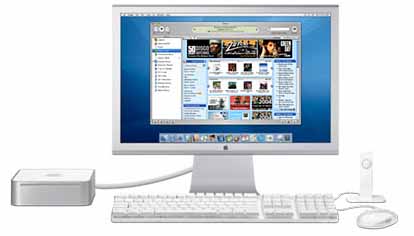 Keyboard & Mouse
Mac mini ships without a keyboard and mouse. You can use your own USB-based devices or add the Apple Keyboard and Mouse. Or choose the Apple Wireless Keyboard and Mouse and free yourself from desktop cable clutter (requires internal Bluetooth module).



Wireless Options
You can customize your Mac mini with an internal Bluetooth module for wireless access to printers, cell phones, PDAs, input devices and other peripherals. And get ready for the freedom of wireless networking from anywhere in your home by adding an AirPort Extreme Card. (These options are not user-installable on Mac mini and can be added later only by an authorized service provider.)

SuperDrive and More
You can also configure your Mac mini with a slot-loading SuperDrive that plays and burns both CDs and DVDs. Or choose extra memory (up to 1GB), a larger hard drive (up to 80GB).

Connect. Plug. Play.
Mac mini works with both Mac and PC-compatible peripherals, so it's easy to upgrade from an older Mac or PC system. Simply connect your USB mouse and keyboard, then hook up your DVI or VGA display (adapter included). Next, plug in and turn on. Operating system : Mac OS X

Pint-sized Perfection
6.5 inches square, 2 inches tall and featuring sleek anodized aluminum styling

Densely-packed Power
Squeezed in under the cover of the Mac mini lies a G4 processor, room for up to 1GB PC2700 main memory, a Radeon 9200 graphics chip, and a hard drive (up to 80GB) .

Connections
You can onnect your digital devices, such as cameras, iPod, printer, camcorder or keyboard to the Mac mini over USB 2.0 or FireWire. The Mac Mini also features built-in 10/100 BASE-T Ethernet, a 56K v.92 fax modem, DVI/VGA port and an audio/headphone jack.