---
---

Akai MPC 1000
MUSIC PRODUCTION CENTRE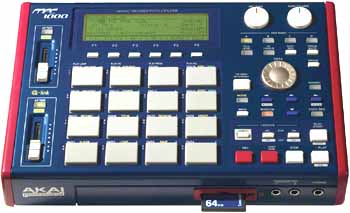 ---
---


Small (not much bigger than an A4 sheet of paper) the MPC1000 inherits many of the major features of its older Akai MCP series .
It ideal for carrying around to a gig, to a session… wherever
Alternative to computer based systems.

Drum machine and 64-track MIDI sequencer.

MPC1000 features the sixteen characteristic velocity and pressure sensitive pads that have been an established (and essential) component of the MPC series since its inception.
Also retained is the MPC's 'feel' and 'groove' so that you can be sure that your beats and sequences just swing.
It also features the original MP60's intuitive transport and locate controls, the NOTE REPEAT function plus new additions such as the two Q-Link sliders that allow real-time interaction with tuning, filter cutoff, layer switching, attack and decay.
Two separate multi-effects processors (plus a master output effects processor), resonant multi-mode filters, 4-way sample layering and velocity switching per pad, two MIDI ins and 32 MIDI channels via the two MIDI outputs, multiple audio outputs as standard, footswitch inputs for 'hands-free' .

Compact flash as a storage medium.
MPC1000 supports the "MASS STORAGE CLASS" USB standard: when connected to a Mac or PC via the MPC1000's USB port, the Mac/PC sees the MPC1000 as a Compact Flash card reader without the need for any cumbersome driver installation on your computer (you can use "USB MASS STORAGE CLASS" devices with Windows 2000/Me/XP or later, and MacOS 9.x/10.x. Requires a USB connection on your Mac/PC plus the appropriate support in your computer's OS). This simple implementation allows you to drag and drop data between your desktop and the MPC1000's CF card to build up sound library on your CF card or vice versa to back up data on your CF card.

With regard to internal memory, you get 16Mb of on-board RAM as standard but this can be expanded up to 128 MB.

---

KEY FEATURES

-Established friendly and intuitive user interface of MPC series.
-Easy-to-use MIDI sequencer/drum sampler offering alternative to computer based products.
-Great-feeling, velocity and pressure sensitive pads for expressive programming.
-A 16 levels function giving you one sound on all pads with varied level, tuning, attack, decay or filter per pad.
-Two separate effects processors and one main out effect processor; all which can be used simultaneously.
-4-pole filters (two 2-pole filters) filtering for each of the 32 voices.
-Two Q-Link sliders for realtime performance control.
-2 x MIDI In and 2 x MIDI Out.
-32 MIDI channels.
-16Mb RAM standard, expandable to 128Mb .
-Internal preset sounds in flash.
-Save/load your sound and sequence data to/from Compact Flash.
-Portable laptop size – ideal for taking your act on the road.


---



MPC1000 SPECIFICATIONS

GENERAL
Display 240 x 64 dot graphic LCD with back light
Memory card slot Compact Flash type 2 (32Mb-2Gb)
Dimension (W x H x D) mm 330 x 75.5 x 228.2 (Max 234.6)
Weight 3.45kg
Power requirement 100-240V

SOUND GENERATOR
Sampling rate 44.1kHz
Sampling capacity 16Mb standard, (11.5 Mb sound memory) exp. to 128Mb
Recording time 136 sec (16Mb mono) 24m28sec (128Mb mono)
Memory expansion slot 144-pin for optional EXM128
Data format 16-bit linear
Polyphony 32
Dynamic filtering 2 x 2-pole filter per voice
Filter type Low pass, band pass, high pass
Preset sound memory 5Mb
Number of programs 24

EFFECTS 2 stereo effects and master effect
Effect type Chorus, Flanger, 4 band EQ, Bit-Grunger, Compressor, Phaser, Tremolo, Auto Pan
Reverb
Master effect: 4 band EQ, Compressor

SEQUENCER
Maximum events 100,000 notes
Resolution 96 parts per 1/4-note (96ppqn)
Sequences 99
Tracks per sequence 64
MIDI output channels 32 (16 channels x 2 output ports)
Song mode 20 songs, 250 steps per song
Drum pads 16 (velocity and pressure sensitive)
Drum pad banks 4
Sync mode MIDI clock

INPUTS / OUTPUTS
Record input (L and R) 1/4-inch stereo phone x 2, balanced -40dBu, input impedance 11k ohms
Max. Input level +10dBu
Digital input RCA-pin x 1 S/PDIF
Stereo output (L and R) 1/4-inch phone x 2 unbalanced +11dBu, output impedance 1k Ohms
Max. output level +17dBu
4 individual outputs 1/4-inch phone x 4 unbalanced +11dBu, output impedance 1k Ohms
Max. output level +17dBu
Phones output 1/4-inch stereo phone x 1, 200mW / 32 ohms
Digital output RCA-pin x 1 S/PDIF
MIDI inputs 5-pin DIN x 2
MIDI outputs 5-pin DIN x 2
USB Slave connector x 1 (supports "USB MASS STORAGE CLASS")
Footswitches 1/4-inch phone x 2

STANDARD ACCESSORIES 32MB Compact Flash card, Power cable, Operator's manual

OPTIONS
EXM128 128MB expansion memory card

COMPATIBILITY
MPC2000XL SEQ, PGM (when PGM file is loaded, only pad assign is loaded. Other edit parameters are ignored), WAV
MPC4000 SEQ, WAV (No PGM compatibility)
MPC3000 No compatibility
Z4/8 .WAV sample data only
S5/6000 .WAV sample data only
S1000/3000 No compatibility




---
For Akai Digital Post Production support and more information:
Sean Weitzmann

---