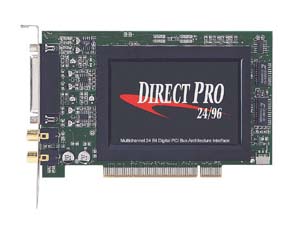 expanded system



Included in the 2496 package you'll find:
-Shielded PCI Card
-Rack Breakout Box
-6" Shielded 25 pin connector
-2496 Manual
-Cakewalk ProAudio 9 CD
-Registration Cards
-Manual & Quick Start Guides



Its 4 studio quality XLR mic preamps are quiete, with a THD+N of .002%, and can be used as line inputs for those looking to maximize studio quality and flexibility. Its powerful on-board DSP processor provides real-time, zero latency DSP effects keeping the host computer running lighting fast. The 2496 also has phantom power, dual headphone and line monitor outs, SPDIF, MIDI, a shielded PCI card for noise-free audio and it comes with a full version of Cakewalk's Pro Audio 9.0 recording software.

The 2496 is compatible with almost all audio recording software ... Steinberg Cubase VST/32 and Nuendo, Cakewalk Home Studio and Sonar, Emagic Logic Audio, Syntrillium Cool Edit Pro 2000 and gets ultra low-latency performance with software synths and samplers like Native Instruments, GigaStudio and Propellerheads Reason.
HARDWARE FEATURE

4 In/6 Out Computer Audio Interface

4 Discrete Transistor XLR Mic Preamps

4 *" Balanced Line Inputs

4 *" Balanced Line Outputs

2 RCA Line Outputs

48 Volt Phantom Power

24 Bit, 96 kHz AD/DA

S/PDIF Digital I/O

MIDI I/O

Headphone Out

Shielded PCI Card

Aardvark Low-Jitter Clock

Powerful On-Board DSP Processor

Shielded 25-Pin Cable

SOFTWARE FEATURES

Zero-Latency Monitoring

10 Channel Real-Time DSP Mixing

3-Stage Input Level Gain

Snapshot Preset Recall

DSP Powered Digital & VU Meters

DSP Effects - Reverb, EQ & Compressor

Pan/Solo/Mute and Level Faders

Drag-n-Drop Digital Patch Bay

True Multi-Client Driver

Simultaneous ASIO, GSIF, Dir X, MME

4 Color Schemes for the Control Panel

Selectable +4dBu/-10dBv

Ultra Low Latency

ASIO Turbo Mode for Soft Synths
4 Discrete Microphone Preamps
The mic preamps in the 2496 are a discrete transistor design. Most other manufacturers soundcards use standard "mic-pre-on-a-chip" solutions, which are not discrete and can lack the clarity and definition needed for professional use. All 4 have phantom power for condenser microphones. These are shielded in the breakout box and combine with quality converters.
Headphone Output



The 2496 has a headphone out right on the front of the unit to give you all the control over your mixes. The headphone gain is easily adjustable via the DSP software, which also does the real-time mixing of 10 channels to help you create the perfect mix.
6 Analog Outputs




The rear-panel of the breakout box features 4 analog main outputs with 24 bit, 96 kHz +4dBu on 1/4" TRS jacks and 2 additional outputs on RCA jacks. All 6 outputs can be used simultaneously to take to a mixer or outboard effects units. These give excellent mix down flexibility and provide plenty of connectivity to the rest of your studio. The 2496 system's 6 outputs are for surround sound mixing.
MIDI In/Out



If you use MIDI instruments in your studio (like synthesizers, drum machines, etc) and want to integrate them with your digital audio system, you can do it via the Direct Pro 24/96 built-in MIDI interface. The Direct Pro 24/96 breakout box features both a MIDI In and MIDI Out jack so you can send MIDI data to and from your favorite synth.
Shielded PCI Card & S/PDIF Digital I/O
Aardvark provides custom shielding on PCI cards. Both the breakout box and the PCI card are designed to be completely noise free. This extra shielding keeps harmful computer noise out of the audio to give a high quality sound.
The 2 RCA connections on the PCI card provide the 24 bit, 96kHz digital In and Out to your computer for digital audio transfers from outboard digital audio gear.
Expandable
The Direct Pro 24/96 system can be expanded. You can expand up to 4 units into one computer. In fact, all Aardvark audio interfaces can be expanded up to 4 units. No other line of computer interfaces allows as much flexibility and expansion as the Aardvark Direct Pro Series.
2496 Software Features
The 2496 hardware has a fully-DSP software control panel. This control panel is packed with user friendly features, and is laid out just like an analog mixer with stereo monitor outputs.
The hardware and software combination of the 2496 replaces the aspect of having an analog mixer, audio interface, and 3 effects units, so you can monitor in real-time while you record direct to the computer with ZERO-latency. This also frees up power for the native processor so you can record more tracks and use more plug-in effects processors.
2496 Control Panel
The brain of the 2496 is the DSP Control Panel, which is designed to replace the need for an external hardware mixer, while still providing real-time mixing and easy monitoring that you get with an analog mixer. All the features are powered by the DSP processor on the PCI Card. So the mixing, monitoring and metering won't slow down your computer. It works in a similar way as an outboard mixer, and works in combination with the 2496 hardware to provide a total digital mixing solution that includes flexible routing, zero-latency monitoring, snapshot preset recall, input level trim, , +4/-10 selectable I/O and true digital peak metering.
The Direct Pro 2496 Control Panel
The Direct Pro 2496 Control Panel is the DSP software control interface that completely controls the hardware. It has complete mixing capabilities built right into it and is extremely easy to use. The Control Panel is laid out just like a mixer and functions almost exactly as if you had a small mixer sitting next to your computer. It can be seen as a 10 channel mixer with a 2 channel monitor output that can be routed to any of the 6 line outputs or the headphone output for monitoring. 6 of the channels are from the physical 6 inputs of the box (4 analog and 2 digital), and the other channels are from the software application. Any combination of previously recorded audio tracks can be played back, mixed and monitored individually or in subgroups, while simultaneously recording additional audio tracks from the 2496. This control panel comes in 4 colors that you can change as often as you'd like.
Compressor, EQ and Reverb
The Direct Pro 24/96's real-time, on-board DSP effects are also accessed via the software mixer. The 100% DSP generated Reverb/Echo, Compressor/Limiter, and Multi-band EQ allow you to add effects to incoming audio "on-input" while recording in real time with no-latency. You can choose between simply monitoring the effects while recording "dry" to multitrack software, or you may record the DSP effects by hitting the REC FX button. You can also choose to audition the effects individually with the effects bypass feature.
3-Stage Input Gain
The input trim (found at the top of each mixer strip on the 2496 Software Control Panel) provides up to 75dB gain on the mic inputs. This gain is done in the analog stage (pre A/D conversion), just like an analog mixer would do. In contrast, most other audio cards provide a minimal amount of gain after the A/D, which dramatically increases the noise. The 2496 software avoids this by sending commands to the analog circuitry in the breakout box to get the best sound possible. This actually has 3 separate gain stages, which are each optimized for that particular gain range to give you the best possible sound.
ASIO Turbo ModeFbay
The enhanced ASIO 2 driver provides low latency performance. Down to 4ms or less with some applications such as software synths and VST instruments. Good forreal-time performance. ASIO driver has a 31-step ASIO Buffer Slider which lets the user dial in the exact buffer size that is optimal for his compute
Snapshot Preset Recall


Hitting the Presets button on the Control Panel activates the Presets window, which lets you save an unlimited number of screen shots to recall at any time later. This is particularly useful when you need to change the patch bay settings or the input levels for different studio sessions. Saving different preset mixes you can get up and running in no time.
Output Routing Patch Bay



This patch bay allow routing of any input signal (as well as the DSP monitor mix) to any output (including the headphone output) in real time with no latency. The right hand choices are the physical outputs, so just drag the source (on the left) to where you want it to go. Tone and Silence signals can also be routed to any output for calibration purposes and system checks.

Software Bundle: Cakewalk Pro Audio 9.0



The 2496 is bundled with a full version of Cakewalk Pro Audio 9.0, a multi-track audio recording and MIDI sequencing software.
Software features:
Record & mix up to 128 tracks of audio
Full featured MIDI sequencer
Supports 24 Bit/ 96kHz
Real Time Effects
MP3 Enabled
Import and sync digital video to audio
Edit & Print Notation w/ Guitar Tablature
Real-Time Guitar Fretboard display
Time Expansion/Compression
Audio-to-Midi Conversion
Fade/Envelope & Crossfade
Direct X Plug-In compatible
Parametric EQ, Reverb, Delay/Echo
Flange, Chorus, Pitch Shifting
Vintage Amp Simulation
---
Specifications
Converters: 24 bit, 96 kHz A/D D/A Shielded Converters
THD+N: .002% @ 1 kHz
Dynamic Range: 110 dB D/A, 100 dB A/D
Frequency Response: 7 Hz-44 kHz, +/- 5 dB at 96 kHz
Sample Rates: 32 kHz, 44.1 kHz, 48 kHz, or 96 kHz
Mic Preamp: Discrete, 8 transistor/channel design; Frequency response at -3 db: 1.6 Hz-200 kHz; EIN at 20-20 kHz, 150 Ohm: -130 dBu; THD at 20 db gain: 0.0005%
Phantom Power: 48Vdc, max current: 40 mA
Analog Inputs: Four Combo 1/4" and XLR Connectors
XLR MIC Inputs (w/ 60 dB Level Trim) and Phantom Power
1/4" UnBal Line Inputs at -10 dBv (w/ 30 dB Level Trim.
1/4" Bal Line Inputs at +4 dBu (w/ 30 dB Level Trim)
Analog Outputs:
Four Line Outputs on 1/4" Connectors: +4 dBu/-10 dBv
Two AUX Outputs on RCA Connectors: -10 dBv
Headphone Output: Stereo Headphone Jack on front
Digital I/O: 24 Bit S/PDIF In/Out, OPTIONAL: AES/EBU In/Out
MIDI I/O: MIDI In/Out on 5-Pin DIN Connectors
Sync I/O: S/PDIF Digital Clock, MIDI
Modes: Full Duplex Simultaneous Record/Play
Expansion: Up to four (4) cards can be used simultaneously in one PC.
Card Type: PCI Bus Architecture, 5" length
Connectors on Card: 25-Pin Connector to Break-Out Box, S/PDIF Digital In/Out
Powerful DSP: 24 Bit, 80 MIPS
Minimum System: 233 MHz w/64 MB RAM
Software Included: Cakewalk Pro Audio 9
---
Software (working on Win 95, 98, ME, 2000 and XP) Compatibility
RETRO AS-1
UNITY DS-1
PHRAZER
OSMOSIS
VOODOO
SONAR - QUICKSTART GUIDE
SONAR A|WDM TUTORIAL
PRO AUDIO 9 - QUICKSTART GUIDE
GUITAR TRACKS II - QUICKSTART GUIDE
LOGIC - QUICKSTART GUIDE
GSIF
GIGASAMPLER - SETUP TIPS
GIGASTUDIO - SETUP TIPS
SAMPLITUDE
REAKTOR - SETUP TIPS
DYNAMO - SETUP TIPS B4 - SETUP TIPS
SPEKTRAL DELAY
ABSYNTH
TRACTOR - SETUP TIPS
PRO 52 - SETUP TIPS
REASON - SETUP TIPS
REBIRTH - SETUP TIPS
RECYCLE
ACID
VEGAS
SOUND FORGE
SIREN
NUENDO
CUBASE - QUICKSTART GUIDE
WAVELAB
COOL EDIT
---
---
---
---
---
Aardvark, 202 E. Washington 306, Ann Arbor, MI 48104 -Usa
Tel: 734-665-8899, Fax: 734-665-0694, e-mail

Italy - Onetime Technologies, Ponti Sul Mincio, Mantova , tel: +39-0376-808-170 Email


Argentina - - SigmaDelta, Buenos Aires, Cap Fed , tel: 54-1-816-0472 Email
Australia - Innovative Music Australia, Mt Waverley Victoria, 03-95400-658 Email
NL- Digital Music Media, Amsterdam,, +31-20 4218934 Email
Brazil- Quanta, Campinas/Sao Paulo, tel: 551-937414644 Email
Chna - Central Music, Chaoyang District, Beijing , tel: +861-085-801115 Email
Czech - DISK Multimedia, Boskovice, Tel.: ++420 501 454 769 Email
Denmark - Gaya Musik , Holbaek, tel: +59-44-34-05 Email
Estonia - Pro Media, Tallinn, Tel: 372-6418006 Email
France -S.C.V. , Roissy Tel.011-33-1-48-63-11-44 Email
Germany - M3C Systemtechnik, Berlin, Tel: + 49-30-7890-790 Email
Greece- V. Demitriadis, Athens, Tel: 003-018-232415 Email
Indonesia- Wisma Musik, Jakarta, Tel: 629-229-260 Email
Japan- High Resolution, Tokyo, tel: +81 (03) 5379-5574 Email
Korea - Asaphaus, Seoul, Tel: 822-263-78141 Email
Mexico - MidiLand, tel: +52-5-5541-2241 Email
New Zealand - Protel International Technologies, Wellington, Tel: +64-4-801-9494 Email
Norway - A Systems , Oslo, tel: +(47) 4130 1440 Email
Poland - Audio Factory, Warszawa , Tel: 482-282-61889 Email
Russia- AT Trade, Moscow, Tel: 7-095-956-1105 Email
South Africa - Tuerk Technologies, Randburg, tel: +27-11-792-8402 Email
Sweden - LEYMAN MUSIC, Goeteborg, tel. (46) 3-1128563 Email
Switzerland - S.T.G. Distribution, Geneva, tel: 412-28300484 Email
UK - Et Cetera, Haslingden, tel: + 44-1-706-228-039 Email