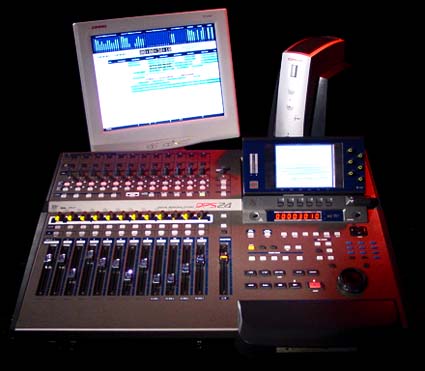 24-tracks of uncompressed 16/20/24-bit recording and playback at 44.1/48/96kHz for high audio quality and a 44-channel automated digital mixer with professional, long throw (100mm) touch sensitive motorised faders. The multi-function rotary encoders above the faders have a collar of LEDs around them so that you can see at a glance what their values are while the large LCD gives precise feedback about how the track is shaping up with a graphic representation of audio cues on a scrolling track sheet. Detailed audio editing with waveform display and 256 levels of undo/redo offers copy, cut, paste, insert, move, etc.; the DSP functions include stereo timestretch, pitch shift, BPM match and others. The DPS24's advanced autolocator provides up to 100 nameable locate positions per project or fast forward/rewind with 'tape chatter' for a familiar tape-like response. Things like MAIN, NEARFIELD and MONO monitoring switchable from the front panel for reference checking a mix, a 2-channel talkback system with a built-in console mic, four configurable mono or stereo effects/aux sends that can either feed the internal 4-channel effects processor or external outboard effects (or, indeed, any combination), balanced XLRs and balanced TRS jacks on all inputs that allow 24 sound sources to remain connected to the DPS24 without re-patching, balanced insert points that also double as direct ADC inputs for use with external pre-amps of your preference, a stereo auxilliary input for use with sub-mixers and more...

Specifications

16/20/24bit uncompressed recording

32/44.1/48/88.2/96kHz sampling rates

44-channel, 20 bus digital mixer with 8 subgroups and 4 stereo effects returns

100mm motorized Q-Touch touch-sensitive faders controlling 5 fader banks

Built-in dynamic and scene automation

Q-Link Navigation

Q-Channel multi-function channel strip

USB port for ak.Sys. Control & Networking Software with TrackView display

8 channel digital I/O plus 16 channel expansion option with ADAT sync

Footswitch port supports ADAT LRC remote

Built-in 5.25 drive bay with CDR support 30 GB internal IDE HD

Timestretch, Pitch Shift, and BPM matching, Reverse and Normalize

28 analog inputs (12 x XLR combo)

Dynamics processor for each mixer channel including L/R master

Balanced inserts on inputs 1-4 allow direct ADC connection for external Mic Preamps

Talkback mic enables uninterrupted headphone / studio monitoring

ASCII keyboard input for track / project naming

5.1 Surround Mixing

High impedance guitar input on front panel

Stereo TrackView in edit mode plus channel linking

Wordclock standard

Supports MIDI clock, MTC and with optional SMPTE LTC

56 bit / 4 bus effects processor with real time vocal pitch corrector

Effects library stores custom effects parameters for instant recall

3 expansion slots

What is the DPS24?
The DPS24 is a self-contained digital studio featuring 24-tracks of random access recording, combined with a 44 channel, 20 bus digital mixer featuring touch sensitive moving faders.
How is the DPS24 different from the DPS16?
The DPS24 is not just a DPS16 with more tracks. The DPS24 is designed to take the recording process to the next level by incorporating professional features.
How many analog inputs does the DPS24 have?
The DPS24 has a full 28 analog inputs arranged in 2 banks of 12 inputs, plus 2 x RCA tape inputs and 2 AUX inputs for bringing in sub-mixers, etc.. Each input channel has a XLR-1/4" balanced combo jack (Inputs A) and a separate line level input (Inputs B) inputs that can be selected with a push button switch located at the top of each channel strip. This virtually eliminates the need for continual re-patching by allowing to have many devices connected. Additionally, the first 4 input channels provide switchable phantom power and balanced inserts on separate SEND/RETURN jacks (TRS) that can also be used as DIRECT channel outs and/or direct ADC inputs. The direct ADC inputs are great if you have invested in external mic-preamps. Just connect the mic-pre to the balanced ADC input on any of the first 4 inputs and the signal goes directly to the A/D converter and bypasses the DPS24's input stage.
Does the DPS24 have any built-in dynamics processing capabilities?
Each channel has its own dedicated dynamics processor that can be accessed in the Channel View page of the MIXER mode. The DPS24's dynamics processing includes a compressor/limiter and a noise gate. A separate dynamics processor is also available on the master L/R outputs.
Is there a high impedance input so a guitar or bass can be connected directly?
Yes, on the front panel there is a Hi-Z input that overrides input 12 when an instrument is connected.
How many tracks can the DPS24 record simultaneously?
The DPS24 can record up to 20 tracks simultaneously with no compromise to performance. However, it's also possible to record all 24 tracks in a special transfer mode designed for transferring material from other recorders into the DPS24. When recording all 24 tracks seamless punches will no longer be possible, but this really shouldn't matter during transfers.
Does the DPS24 use compression when recording?
No. Using compression is not necessarily a good thing. The DPS24 uses linear recording. The recording times available with the standard 30 GB built-in drive provides over 2.5 hours on 24 tracks at 48 kHz, or on 12 tracks at 96kHZ.
How many mixer channels are available?
The DPS24 provides a 44-channel digital mixer consisting of 12 input channels, 24 disk tracks and 4 stereo effects returns. Each channel features level, pan, compressor/limiter/expander, noise gate, 3-band EQ (hi/low shelving, sweepable mid w/variable Q), solo, L/R routing, Group 1 &endash; 8 routing, 4 x pre/post FX sends to the internal FX, and 4 pre/post FX sends to external FX and/or Studio outs for talkback monitoring.
With only 12 faders there must be at least two fader banks right?
Right. Actually there are 5 fader banks. The first bank controls the input levels from the 12 inputs, Bank 2 controls tracks 1-12, while Bank 3 controls tracks 13-24. Bank 4 controls the Group/FX levels (Faders 1-8 control the Group Outs while faders 9-12 control the stereo FX returns), and Bank 5 is a USER bank that allows the 12 faders to be assigned at the users discretion.
Does the DPS24 support built-in automation?
Yes, both dynamic and scene automation are supported. The DPS24 features 100 mm touch-sensitive moving faders with full dynamic automation of level and pan, channel on/off, FX/AUX sends and FX select, with UNDO/REDO. Automation parameters such as levels, mutes and pans can be enabled/disabled during automation recording allowing to capture only what you want. There's also a RECORD SAFE mode that allows to protect individual channels from being accidentally overwritten. With touch-sensitive faders, if you make any mistakes recording your automation it can easily be corrected. At any time during the automation recording process just grab the fader, make the adjustment and the original control movement will be overwritten. Additionally, when you're moving bits and pieces of your audio around in the EDIT mode you have the option of including any automation data associated with the audio region you've specified. This allows the mix automation events (fades, mutes, etc.) to be copied as well, maintaining the integrity of the mix for that region.
What kind of edit functions are available?
The DPS24 supports non-destructive Copy, Cut, Erase, Insert, Paste and Move functions that use an edit "clipboard" in much the same way as computer-based applications. When a Copy is performed, the audio is "copied" to the clipboard and made available for inserting or pasting. Audio regions can be copied within the same project, or between different projects. Additionally, up to two tracks can be viewed in the waveform screen at once, making it easier to edit stereo tracks.
What is non-destructive editing and why is it important?
When performing non-destructive editing there is no duplication, or re-writing, of the audio on the disk. This makes edit functions much faster than on many portable studio products, as well as making the most efficient use of your disk space. For example, when a section of audio is copied from one location to another, the audio is not actually duplicated on the disk . If it were actually copied the audio would exist in two separate locations on the disk drive, which would not be the most efficient use of your disk space. Non-destructive editing uses pointers to reference audio on the disk. So when you "copy" the audio you are only adding a second set of pointers that reference the exact same audio on the disk, not re-writing the same audio to another location on the disk.
What types of DSP functions are supported?
DSP functions include phase-coherent Timestretch, Pitch Shift, BPM Match, Varispeed, Reverse and Normalize. As with the other edit functions, the user has the option of including the automation parameters when manipulating the audio.
Does the DPS24 have built-in effects?
Yes, the DPS24 provides a 4-bus effects processor that features a wide variety of studio quality reverb, delay,chorus, flange and phaser effects. Also included is a real-time vocal pitch corrector designed to make pitch corrections on the fly.
What type of synchronization capabilities does the DPS24 offer?
The DPS24 supports MIDI Time Code (MTC), MIDI Clock and offers an optional SMPTE time code reader/generator.
Does the DPS24 have a built-in VGA port?
No, but it's really not a bad thing. To achieve a VGA display a USB port allow a real-time Track View display via the ak.Sys software running on a PC or Mac computer.
How many channels of digital I/O are available?
The standard configuration provides a co-axial stereo master output on RCA connectors, plus a MPLP (Multi-Purpose Light-Pipe) optical interface that can switch between 2-channel SPDIF mode and 8-channel ADAT mode. There is also an option board that features an additional 16 channels of ADAT In/Out, plus an ADAT sync port.
Will the DPS24 support Surround Mixing?
Surround mixing is definitely in the plans for the DPS24, although it won't be included at the time of its initial release. The plan is to support 5.1 mixing using analog (STEREO/MAIN/NEAR) or digital (MPLP) outputs.