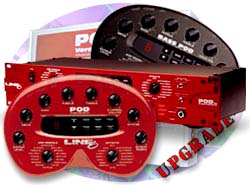 All POD family products feature:
Award winning Line 6 Amp Models that emulate an all-star collection of legendary amplifiers.
36 user memory locations
Stereo Balanced or Unbalanced +4/-10 TRS outputs
Separate Stereo Headphone output
Chromatic Tuner
Cabinet Tuning Mode.The Amp/Direct switch allows POD to be optimized for different applications. Select Direct when running POD directly into a mixer or recorder. Select Amp when using POD as a tone-shaping front end for another amp. POD delivers several tuning modes for the Amp position, selectable at power-up. For example, by default, POD products for guitar expect to be plugged into the guitar input of an open-backed combo. Other tuning modes allow POD to be optimized for connection to the power amp input of a closed-back system, or into closed-back cabinets.
ToneTransfer Compatibility between POD, POD Pro, and Flextone II series amps
Also included the POD Tools CD which contains: Emagic SoundDiver software (PC/Mac) for expanded feature access via MIDI.


---

Both PODs for guitar feature 32 Amp Models, 16 Cab Models, Effects, & more, with A.I.R. direct outs for recording and live setups.


POD Pro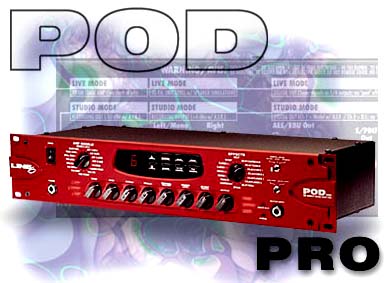 POD Pro Specifications
Amp Models: 32, custmizable
Digital Effects: 16
Factory/ User Presets: 36
Headphone Out: Yes
Digital Out: 24-Bit AES/EBU and S/PDIF
Direct out: Dual-Mode XLR
Configuration: Rack - Mountable
FLOOR BOARD ADDS:
- Remote channel switching • Wah
- Stomp box-style Effects On/Off • Volume Pedal • Tap Tempo • Tuner


SOUND LIBRARY
The POD Sound Library is constantly expanding


---
POD 2.0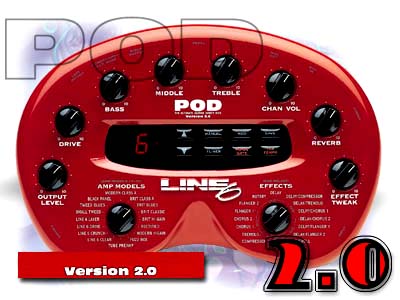 POD 2.0 Specifications
Amp Models: 32 , customizable
Digital Effects: 16
Factory / User Presets: 36
Headphone & Direct Out: 1/4 inch TRS
Mono / Stereo: Stereo

The Remote pedal input is fully compatible with the Line 6 Floor Board and FB4 foot controllers, which add: Remote access to all channels and tap tempo , Chromatic tuner access (Floor Board only) , Wah and volume pedals (Floor Board only) , Stomp Box-style effects on/off (Floor Board only)


---
Bass POD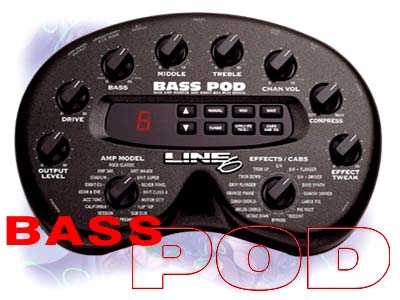 Bass POD Specifications
Bass Amp Models: 16, customizable
Digital Effects: 16
Cabinet Models: 16
User Programmable Channels: 36
Headphone out & Midi: yes
D.I. Output: Direct Out with optional Apply FX to D.I. switch
Configuration: Bass Guitar
ToneTransfer
Any or all of the sounds in Bass POD can be transferred to (and from) any other Bass POD or Bass POD Pro with a simple MIDI connection. In addition, an expanding ToneTransfer library of sounds is available at Line6. Users can search the library by musical style, artist, etc, access tones with SoundDiver software, and add their own tones to the library.
Included Mac/PC SoundDiver software from Emagic for Editing and Sound Exchange


---
Bass POD Pro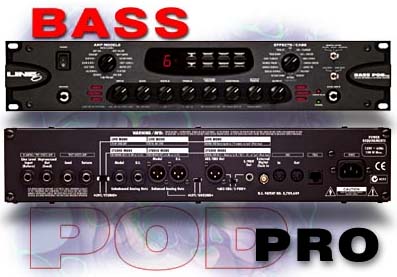 Bass POD Pro is a rackmount version of Bass POD, featuring Line 6 amp and speaker cabinet modeling, bass effects modeling (including programmable compressor), a crossover, noise gate and more. In addition, Bass POD Pro's Dual Output design allows you to have amp/cab/effects tones on one output, and a high quality D.I. (with or without effects).
With 1/4 inch and XLR analog outputs, AES/EBU and SPDIF digital outputs, mono pre and post effect loops, and line level input (great for re-amping or processing non-bass sources), Bass POD Pro is designed for professional recording and performance .

Bass POD Pro Specifications

Bass Amp Models: 16, customizable

Digital Effects: 16

Cabinet Models: 16

DI Output: 24-bit Digital Outputs (ASE/EBU and S/PDIF) with sync to external word clock

Output: Dual Mode XLR Direct Outs 1/4 inch - 10/+4 TRS outputs

User Programmable Channels: 36

Headphone out & Midi: yes

Dual Channel (Amp and DI) Balanced or Unbalanced +4/-10 TRS outputs
Unique dual outputs allow a mix of modeled bass amp sounds and direct sound &emdash; with effects always available at themodeled output and optional on the direct output.

Model Output
Select amp and cab models and effects with A.I.R. The Line 6 innovation, A.I.R. (Acoustically Integrated Recordingoutputs) simulates the interaction of amplifiers, cabinets, speakers, microphones and the recording room during the recording process.

D.I. Output
Direct out available simultaneous with the modeled output. Effects are optional via the Apply FX to D.I. switch

Dual Mode Outputs
Live Mode: Simultaneous feeds for on-stage amp and PA mixer. 1/4 inch model output carries both DI and modeled signalwithout A.I.R. to the stage amp. XLR carries the mic level DI and modeled signals with speaker simulation to the PA.
Studio Mode: Both XLR and 1/4 inch outputs carry the DI and modeled signal with A.I.R. to the recording console. 1/4 inchis -10dBV; XLR is +4dBu.

Compressor
Bass POD Pro has a studio quality compressor modeled from the studio standard LA-2A

Cabinet Tuning Modes
Four cabinet tuning modes let you optimize the output of Bass POD Pro to your choice of speaker/cab configurations.

A Standard Tuning - This setting is ideal for full-range systems (and is the default setting).
B Bass Boost - Setting for small diameter speakers
C Mid Boost - Setting for enhancing mid presence.
D Treble Boost - Setting for driving bass-heavy cabs

ToneTransfer
Any or all of the sounds in Bass POD Pro can be transferred to (and from) any other Bass POD or Bass POD Pro with a simple MIDI connection. In addition, an expanding ToneTransfer library of sounds is available at Line6. Users can search the library by musical style, artist, etc, access tones with SoundDiver software, and add their own tones to the library.

Included Mac/PC SoundDiver software from Emagic for Editing and Sound Exchange


---
Line6 Italy : Mogar Music + 39 02935961 e-mail